Mexico has certainly been a little of cultural shock and brought all sort of introspective thoughts. It's a different country for sure, but the differences and similarities to our original countries are also hilighting some ways in which our time living in the US has changed us too.
But we are slowly starting to understand the Ensenada ways better and to end up where we want to be: our Spanish skills, finding a good, not "gringo labelled" restaurant and breaking the ice with people... Last Wednesday was a succession of these things, so here is the story for us to remember that day.
In order to make a good use of our days, we decided to get our morning drinks outside in the mornings. It forces us to get out of bed (not my most natural propension) and is also an occasion to do some exploration in the morning. After some work on the dinghy (the bottom got detached from the tubes after Redondo Beach) on Yalçın's end and some administrative / pending old work on mine, we decided to get our lunch outside and headed out with craving stomachs but a sense of accomplishment from the morning. To satisfy the former, we had in mind to try one of the restaurants in a rather touristic street nearby. However, as soon as we showed our gringo-looking faces to the vicinity, we started getting hailed by the outdoors advertiser who try to get you to choose their venue by overwhelming you with information about it. From the formulation, you might get that neither Yalçın and I are super fond of choosing a restaurant that way (I used to reply in French and pretend I don't understand to cut short to this in other countries, but as Yalçın and I constantly speak English among one another, it's not an option here), and our past experiences with such places haven't been great, so we instantaneously changed our minds and kept walking inland. Past a couple of blocks, you enter the actual town that is not entirely dedicated to tourism. Our belly were still complaining though, so we'd have to find a place to eat fast! Luckily, it's not that hard of a task in Ensenada, even though my lack of taste for sea food and our desire for outdoor sitting (COVID COVID) makes it slightly challenging. The second place that attracted our attention ended up being a gem: our best tacos ever!
A place between street food and restaurant, the kitchen was on the concrete closed by the signs for the place, with a couple of plastic tables on the neighbouring covered area still outdoor. We understood it was a good choice as we walked in to see employees of the boatyard which rents us our slip who greated us half surprised! The aged woman cooking showed us the two meat options as we advanced in the line: shredded carnitas or full (?) chicken and 24 pesos a tacos. We went for two each, added the toppings and went to pay the food, hoping to have done things more or less in the proper order. All the tables were already taken though, so we prepared ourselves to wait for an opening, an older woman and his son who were eating in the closest table invited us to share their table in a timid English. We accepted the kind gesture, we were outside and distanced enough and super touched by the invitation. The carnitas was delightful, and the tacos by far the best we've had so far! (I'm tempted to trick myself to officially remember them as our first Mexican tacos!) By the end of the meal, the ice broke with the question of how much Spanish did we know? Un poquito, but it's close enough to French that we are trying. And where did they learn English? We are from France and Turkey, how did we like Mexico? ...
We ended up leaving this place with a happy stomach, a happy mind to have finally broken the gringo label-barrier but somewhat sad, we weren't able to return the favor in a decent way after having been offered a coke by our table guest. Traveling comes with its complications and we were mostly super happy!!
On with our next endeavor, we walked to the TelCel store we had spotted earlier and managed to get the prepaid SIM card "Amigo", thanks to a couple of words looked up online beforehand. The name "Amigo", friend in English, had been so misleading when Yalçın was browsing the Google Translated website as the world "friend" was appearing unexpectedly in the middle of phone plans offers - why would a recommendation from a "friend" be so central to getting the SIM card?
Next, we wanted to replenish our produce stock and hadn't found grocery place that was really satisfactory. We had tried a run at Smart and Final, a South California brand, but it had turned out to be quite disappointed, especially the produce section. Carmina, at the front desk of the marina, had given us a recommendation that was supposed to be cheap and better. And indeed it was great! Or more accurately, exactly a regular supermarket, mexican style! We found all the products we were looking for, including patlıcan, eggplant, which had been missing and is a good base for delicious Turkish dishes. We even found bread, which we had been looking for unsuccessfully as well, retreating to not so great vegan pastries/breads made with a different flour or even a home-made mildly successful attempt. So bread, we got, even a baguette-shaped one (I wouldn't entirely call it baguette as, like most French people, I admit, I'm quite picky with term), and it disappeared quite ready by the next lunch!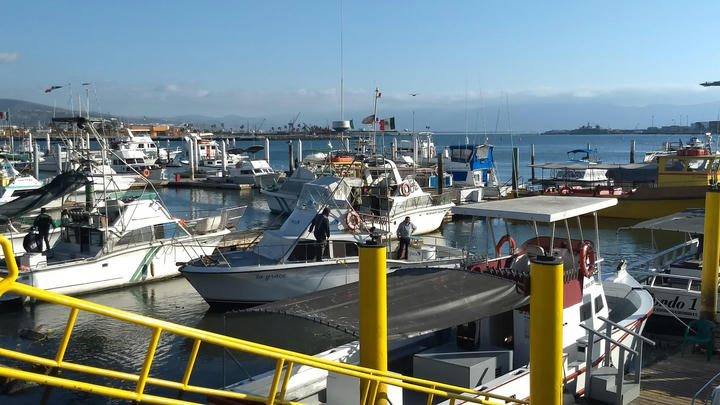 Finally, on our way back to the boat, our bag full of good food, the bridge on the walkway along the port was opened. We had wondered since the first time how it was operated and how a boat like La Grace that we had seen on the other side would go in and out. Believe it or not, the bridge was operated manually!! With a lot of purchase, so it took a looooong time. Similarly, putting the boat back in the water was a long process, during which we had the chance to chat with a Mexican guy who was currently living in Indiana. From beautiful places recommendations further South to politics and comparisons between living in the US and the life in Mexico, the cultural/gringo barrier that we had felt before had definitely taken a hit!