Warning: this article is not about a nice sailing trip but more a record of a nerve-wracking situation that happened to us in Marina del Rey. Therefore, it may be a little boring, but we had to let it out one last time!
We were coming in LA with a to-do list that had built up as we'd figured that we wouldn't have time to complete all our projects in the Bay Area. Moreover, we had the chance to receive parts at Yalçın's sister, instead of having to wait for them and be stuck in the Bay area for too long. Last but not least, we weren't going to sleep on the boat which would be great to revarnish the V-berth wood - the place we usually sleep in - without getting the smell while it dries. We were even getting a custom mattress for that berth, a process that had been unsuccessful in the Bay area and now had to be rushed in a couple of days here. And finally, of course, we were here to visit Yalçın's sister Pınar before making the jump South.
In this picture, we hadn't bother too much to investigate berthing option to dock the boat in LA. The area had so many marinas and we had never had to worry about guest slip availability or pricing so far. So we assumed it would be straightforward... Beginner's mistake!
We chose Marina del Rey, as it was the closest to Pınar and Ramin's, Yalçın's family. We were also hoping to run into Christian Williams, a YouTuber / writer / active owner of the same model of boat. We had been in touch with him through the Ericson forum, had asked advice before purchasing our Tire Bouchon and listen to all his audio books of navigating to Hawaii and back. Who knows, once we settled in Marina del Rey, we might run into him or try to meet him...
Marina del Rey, we read in our crusing guide book, was the largest man-built marina in the world. And it did look huge. It even had traffic lanes in the fairway to separate sailing vessels from motoring crafts. The size was impressive. The prices too, according to our book, $9/foot for a night at a guest slip as a minimum in any of the marinas of the harbor - I must admit we both believe it was a typo as this price was so off and outrageous compared to what we experienced before.
We ended up finding what seemed like a more reasonable option: a county run park was offering guest slips within our regular price range. After our long leg from Morro Bay, we tied there and worked on checking-in. COVID measures, the office was closed, no big deal as they were still checking boats in the phone (we were still on their business hours for 3 more hours), or at least according to a sign posted on the door. After a message on the voicemail and several unreturned follow-up calls, we had no other choice than leaving the boat there and lock ourselves out of the dock fence without any way to open it again when we would want to come - a pretty shitty and stressful situation!
The next morning, we called the office at their opening time - someone on the line this time, fantastic! Just need to send a couple documents to their email address and they'll check us in within minutes. So we drove down to the marin with still some uncertainty on whether we could reach out boat. Lucky for us, we ran into two women working for the park who were actually checking our Tirb. They let us in, but refused to give us the code before they officially checked us in - but we had nothing to worry about "it would only be a couple of minutes". Fair enough, it should arrive in time for us to leave without locking ourselves out and go to our mattress testing appointment.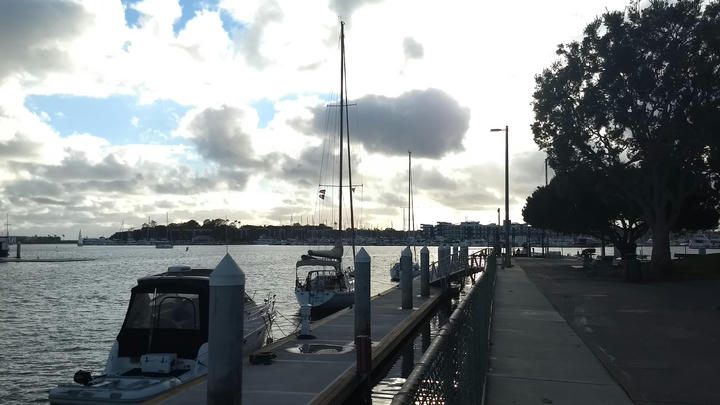 More than one hour later, still no news and still trapped on the boat. At this time, we started to loose our temper. This slip was cheaper than the rest of this crazy marina, but it wasn't cheap cheap either and we hadn't have the chance to use any of the facilities associated to it (shower, bathroom...) or simply use the slip for what it was supposed to be, a safe place to park for our boat, that we could access at our convenience. It was our home and our entire project that we are talking about here!
So we called them back, or more accurately Yalçın called them back and signaled that given the absence of service we had experience, we were not going to pay for that previous and morning, but that we would be happy to finally check-in and lawfully pay for the night to come.
As sane as it sounded to us, the park employee didn't agree at all and gave us an ultimatum: Either you leave by noon and don't pay anything, or stay one more night and pay for 2 nights. Third option if we didn't comply: She would have the harbor sheriff tow us.
Yalçın hanged up. What should we do? Leave now, without any other dock to go in that same marina. We'd have to sail to another port and jeopardize the long-awaited fabrication of our V-berth mattress. Should we just give in, pay both nights, swallow our principles and price and burry the idea of consistency? (How did it make sense that they'd agree to waive the fee if we leave now? If they judge it's due, should it be due either way?)...
That's when Yalçın "unleashed his Turkish side", as we had joked about with Pınar the day before, and he... called the sheriff (to read with a Bob Marley tune in your head: "he called the sheriff...")!
The goal was to ask that they don't tow us blindly, that we were trying to be legal here but that we had a disagreement with the park people and that we were looking to talk to someone "who make the rules" and would agree to hear us - "I don't make the rules" was the main argument of the park employee we talked to.
The sheriff couldn't help, but he directed us to another phone number in the LA county administration, which redirected us to someone else, and someone else again, to finally end up talking with the same park lady on the phone once more.
At this point, Yalçın who had made all these phone calls had started to loose hope. "Since you said you don't make the rules, I tried to find someone who does to explain our situation, but I ended up redirected to you. Is there no solution then?"
But in the meantime, the park employee had contacted the person who was supposed to be at their office and check us in when we arrive yesterday. Apparently, they claimed they had talked to me and that I didn't have the boat insurance papers with me, that I was supposed to come back with them which I never did, likely since they told me that it was not a big deal as we could also check in in the morning!
Interesting...
Yalçın handed me the phone and I explained what had happened the day before. No employee to be found, and insurance papers in hand - she could even check the date and time of the photo I took of these papers when I went for their office - and no call back. She could tell me what I should have done differently so that we could check-in or at least use the facilities. If I had missed anything, we would gladly paid for both nights.
Five minutes later, she had called her manager and announced us that they agreed to waive the first night fee and she would check us in for tonight.
We finally got the code to access the dock and were able to rush to our mattress appointment half an hour too late already.
The next day, we transferred the boat to a mooring ball in King's Harbor, Redondo Beach, which praise itself to be a safe heaven for "boats caught in unfriendly boating conditions". It reads like the weather is at fault here, doesn't it? But after what we've been through in Marina del Rey, we can't help thinking that it also encompass the craziness of the neighboring marinas...