We had left Mazatlan with the satisfying feeling to be on top of our boat project list. We had addressed some long standing issues like the main sail or the goose-neck which had been longing for attention for some time now. Yet, sailing is humbling in that you never know what will fail next and you just gotta be prepared to fix what ever comes up when it comes up!
You haven't arrived until your hook is well set at the bottom
Our way back from Isla Isabel was lovely. The distance was only half compared to the way there. We had departed at dawn and motored on a flat sea for most of the day. No sea sickness on the horizon, we had both been able to get some things done. In the middle of the afternoon, the wind picked up and Yalçın even went for a dip, holding on to a line on our stern, to refresh a little. He even took a shower as the wind slowed down in sight of Chacala, which would be our bay for the night. The wind died altogether, so we turned on the engine to close the 5 miles left to our destination. But a few minutes later, I heard Yalçın turn off the engine. The overheat alarm had triggered. A good thing in itself as it indicated that it was working (it was recently installed and we hadn't had a chance to test if it worked) but a bummer for now. The cause of the overheat? No water was coming out of the exhaust. And for our marine engines which are cooled down by a flow of salt water, it is not good news. Let the surgery begin! Remove the companion way stairs. Done. Check the strainer. Some algae, not a good sign. Cleaned. Let's restart the patient! Any water flowing out? No? Immediate shut down! Down to the water intake through-hole (it tends to be a prime spot for marine growth which results in no suction of salt water at all). Clear, flow is unrestricted. Good! Moving up. Impeller. In bad shape: several arms missing. Planning to operate. Sourcing the replacement at the bottom of the tool locker. Operating. Meanwhile, at the surface... Are we on the rocks yet? Are we in a critical position? Not yet. With close to no wind to maintain steerage, let alone speed, we would eventually end up washed to shore by the swell. I see your panicked looks: it does sound bad, but there are a couple of things to do to alleviate such a tragic fate and they were going through my head as Yalçın was operating on Monsieur Engine down in the cabin. First, if we manage to maintain steerage, we may just end up precisely in the bay where we want to end up; and we were managing to point that way but our trajectory wasn't really going that way. Second, with no sails up, our drifting speed was pretty slow and we only lost 10 feet or so of depth during the entire engine surgery. We were still at a comfortable 50 when things got back in order. And, yet, if the depth had dropped below our comfort level, we could have deployed the anchor in an attempt to set it before being washed up to shore. Anyhow, we still had time before coming to these extreme options but they are comforting to keep in mind. Last, I could try to sail out of there, which is the one thing that I tried but turned out to be challenging (remember, there's no wind) and borderline counterproductive. In the meantime, the surgery was over. When Monsieur started with brand new impeller, water was flowing out of the exhaust through-hole, we were ready to motor and anchor in Chacala Bay. Little spoiler for things to come: the engine didn't start right away, instead we had to press the start button 3-4 times before it would ignite, a problem we had solved in Balandra Bay**. Or at leaindex.mdst, that's what we thought...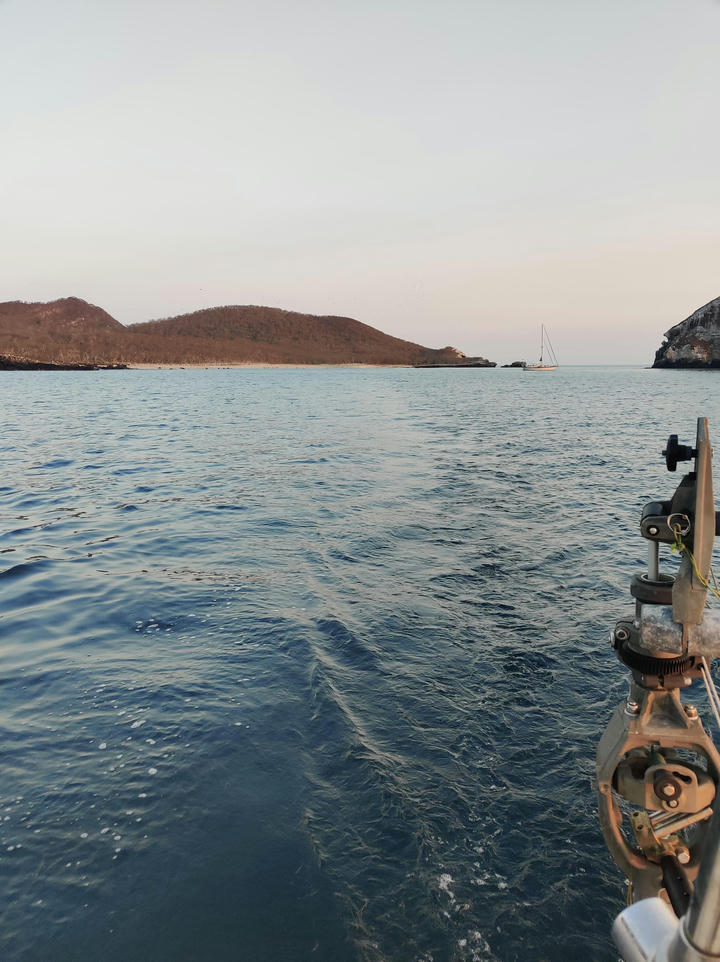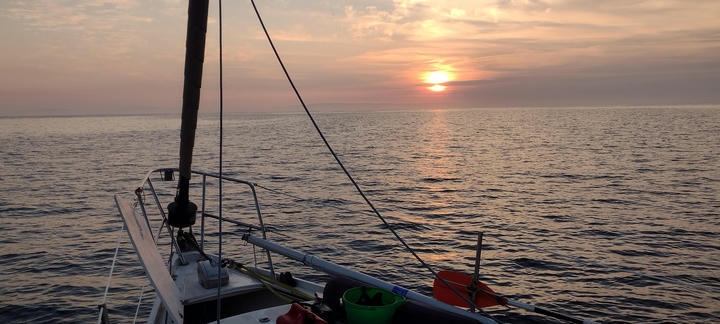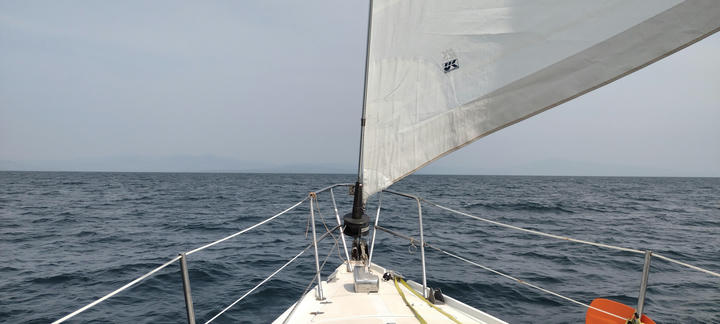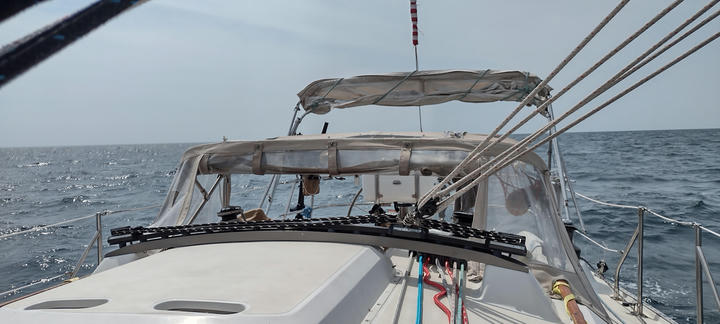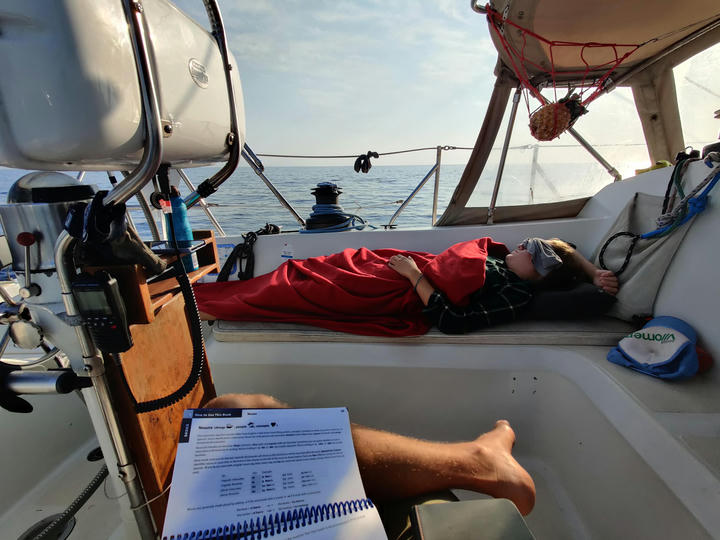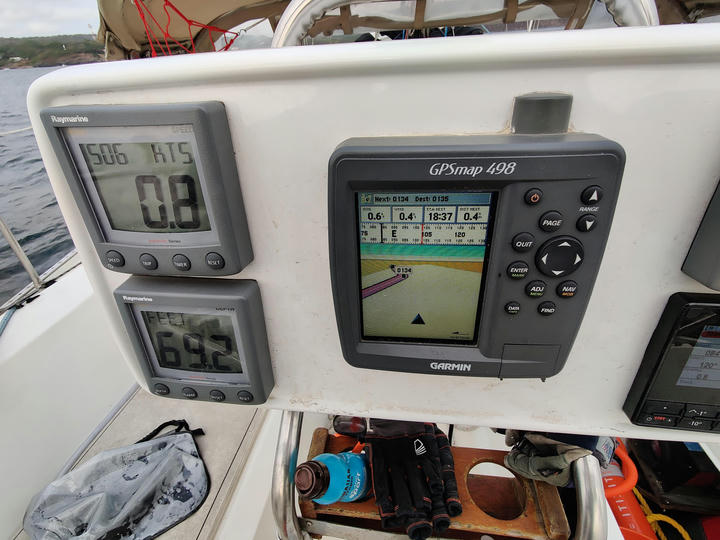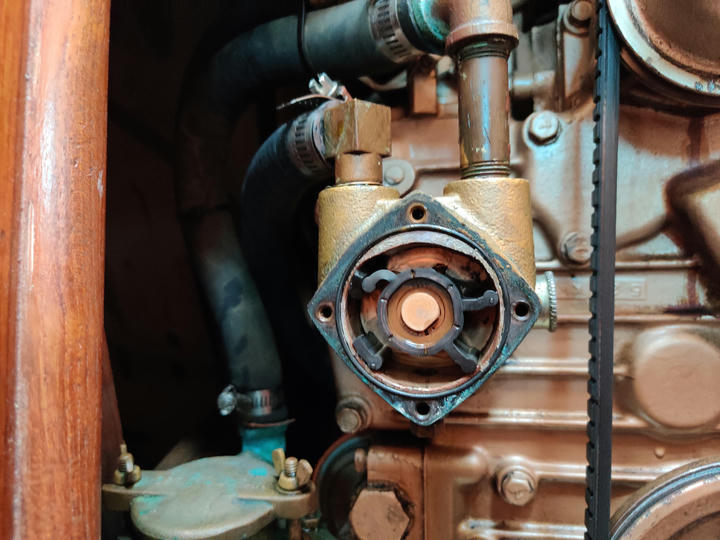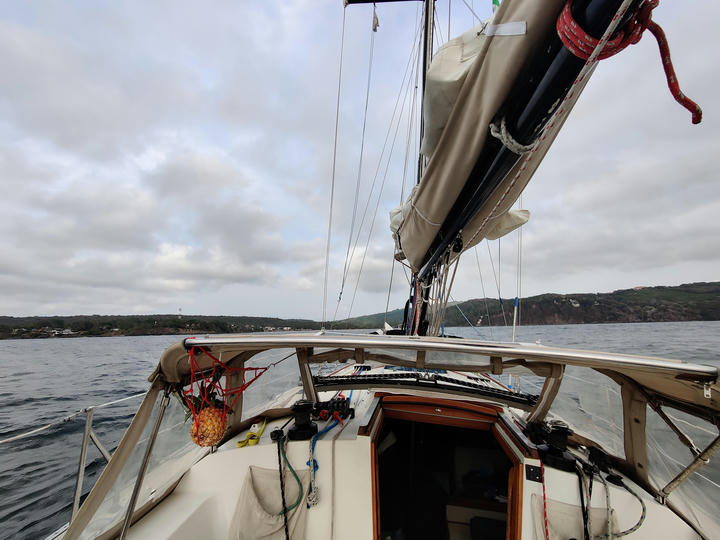 Chacala
We were a little fried by the sail and subsequent actions. Yet, we had a solid plan of getting dinner in Chacala tonight. Yalçın inflated the kayak and we were off at nightfall. We immediately loved the vibe of the town. The beach, that had been so lively when we had anchored, was now dark and mostly deserted, but the action was going on in the back street: A succession of street food booths were installed in the street with outdoor tables, neighboring crepes booths, beach and produce stores. Chacala is apparently a vacation town, with mostly Mexican vacationers. Yet, before even being able to practice our Spanish (even Yalçın had studied underway with the pleasant weather of the day!), we were addressed in English and without being unfriendly, the tone wasn't friendly either. The tacos were good and crepes were next for desert. There again, the tone was rather unwelcoming, despite being able to speak Spanish, which is usually an icebreaker, or at least was with the friendly Mazatlecos that may have set our expectations a little too high. The crepes themselves were welcoming and welcomed, and we even got a small produce refill, but the enthusiasm about Chacala had been suffered a little. As always, it's a matter of expectations! The roll at the anchorage (we knew about that one) and a possibly windy weather window in the following days (which would end up disappearing) motivated us to move on the next day, bound for Yelapa with one layover, and leave Chacala behind.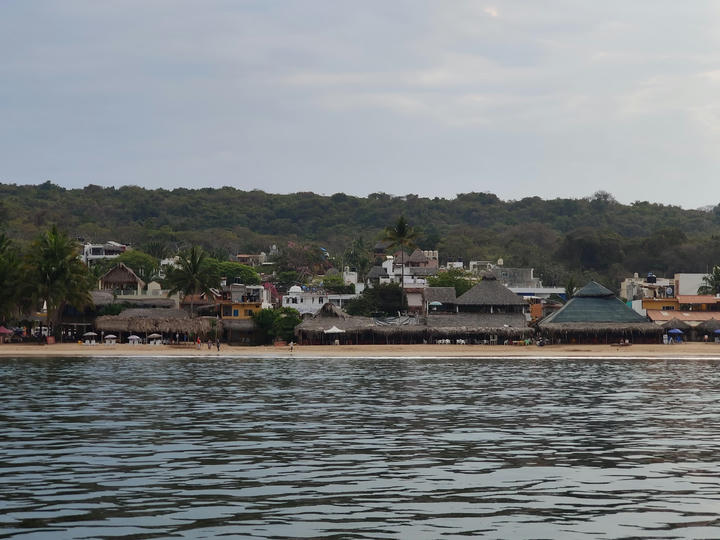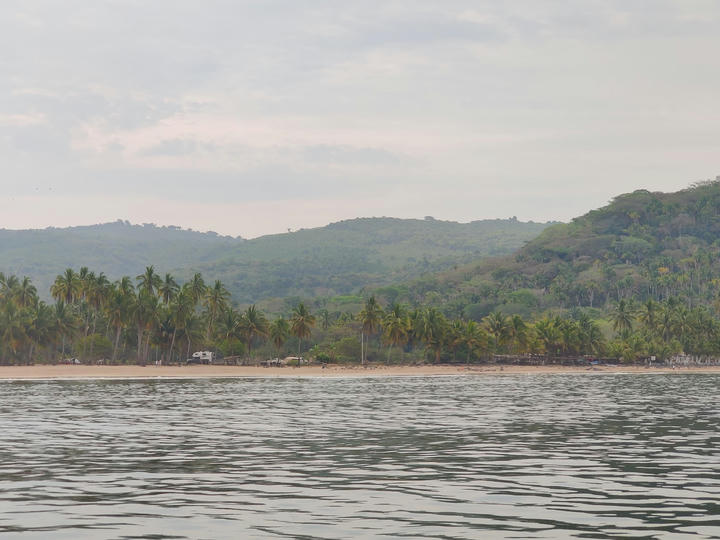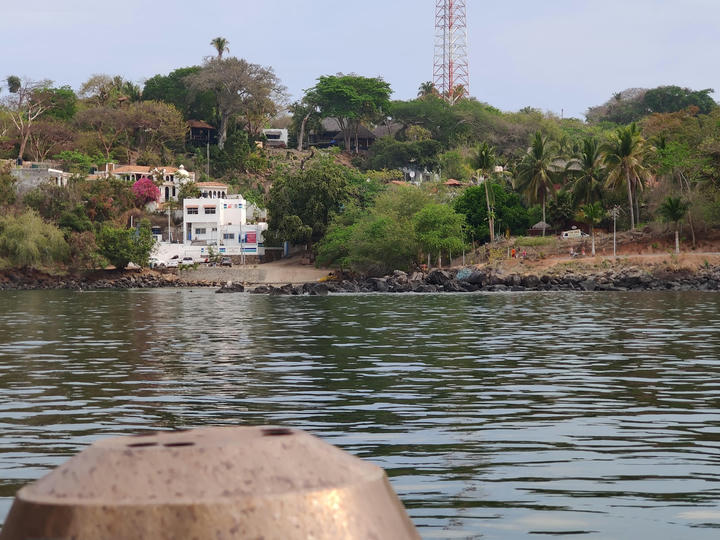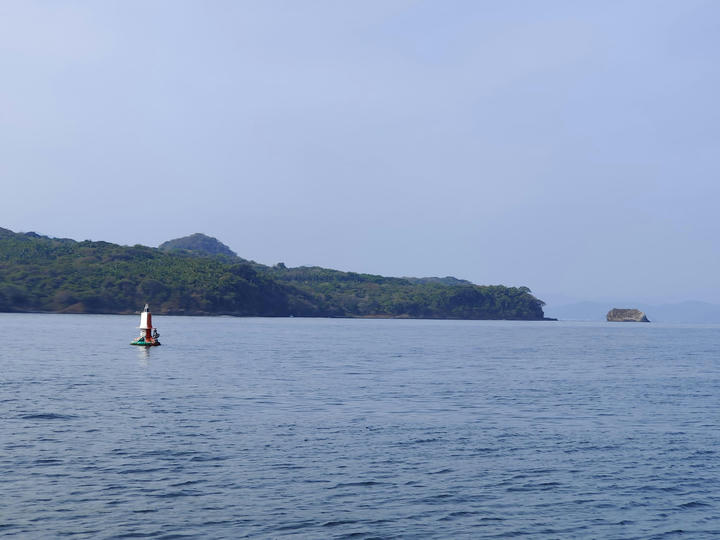 The next day
In the morning, we motored the 15 nm that separated us from the Bahia de Jaltemba, uneventfully anchored Tirb off the town in open but flat waters and kayaked to shore. We got the good surprise of discovering a lively street, with restaurants, stores and people everywhere. After another round of street food where people were more "normal", we took off again, not without getting wet in the process, but this time because the beach slope was surprisingly steep: in two steps, water rose from knees to waist! How are you supposed to board a kayak in these conditions? After performing the final act of the engine surgery - we had noticed an arm of the impeller still hadn't resurfaced and it turned out to be in the next hose - we were off, motoring to Yelapa, in the South of Banderas Bay. Later on, some wind picked up and we hoisted the sails to make the best use of it. We were enthusiastically talking in the cockpit, when we heard an unusual hissing sound. The jib was sliding along the furler foil, directly into the water. Right on, on the deck to collect the sail as it falls and prevent it from going under the boat. Trim the sheet to help hold the clue (the corner of the sail that could fall in the water). With all hands on deck, the jib is soon nicely tied in case after trying to go for a swim, it felt like flying a little. Dang! Was it too hot or something that it wanted to go for a dip (like Yalçın the day before)? Or had Tire-Bouchon decided that we would use the only means of propulsion that we had maintained in Mazatlan, aka the main sail? Would the engine and the jib, jealous, stop to cooperate? Well, at least, they were giving in one at the time we told ourselves to cheer up. We weren't unhappy about the way we handled the situation: it got under controlled quickly and smoothly. It would have probably been another story in 30 knots of wind or at night, but we had a gently breeze (speaking of which, it was dying so we turned on the engine without too much regret). Yet, our halyard was still stuck up the mast and we had to do something about retrieving it, the question was when and how. Would we go up the mast underway? Yalçın looked almost up for the challenge, but I refused: our case wasn't that desperate, it could wait until the next day at anchor, with no wind on the forecast, we would gain little and the mission would be a huge pain in the neck. We were still elaborating strategies to retrieve our halyard without climbing up though. In particular, the halyard being attached to a large plastic piece that is part of the jib furling system, this could be easier to tangle in order to get both the piece and the halyard down. That's precisely the strategy that Yalçın had in mind: use a spi halyard to hoist a line up the mast, try to wrap it up around the plastic piece somehow and pull everything down. My strategy was a little more complex: rig a line around/on top of the forestay and hoist it up using the two spi halyards (one on each side of the forestay), that way, you could hope to end up with a line on top of the plastic piece (maintained by the two halyards) that should go down when you pull down on the lines on each side of the forestay. Not sure how clear the explanation is, but happy to explain around a drink! Yalçın, who is generally eager to solve problems as they come, was anxious to test his technique underway. Worst case: we would loose one halyard and would have enough left to go up the mast. Sadly, it didn't work. We waited for the next day to try the second technique. Yet, it could be qualified as a "all in" technique: if it failed, we could loose both spi halyards and end up having to hoist someone up with the main halyard and the topping lift as a backup, which would only go to the second spreader. That outcome seemed likely as the lines, that had caught things at the top of the mast as intended, didn't seem to agree to go down. Hum... With the both of us yanking on each end at various angles, we eventually managed to bring the whole thing down: the jib halyard and its plastic piece and both spi halyard. Yes! The mood switched directly from 'why the hack did we try that?' to 'we retrieved the halyard without even going up the mast, bingo!': a all-in technique really! It turned out nothing had broken at the top. I probably hadn't attached the soft shackle properly when we had reinstalled the working jib before the crossing, what was surprising then is that it hadn't fallen off before! But for now, we could put it back on, furl it and unfurl it... The working jib was working again, yeah!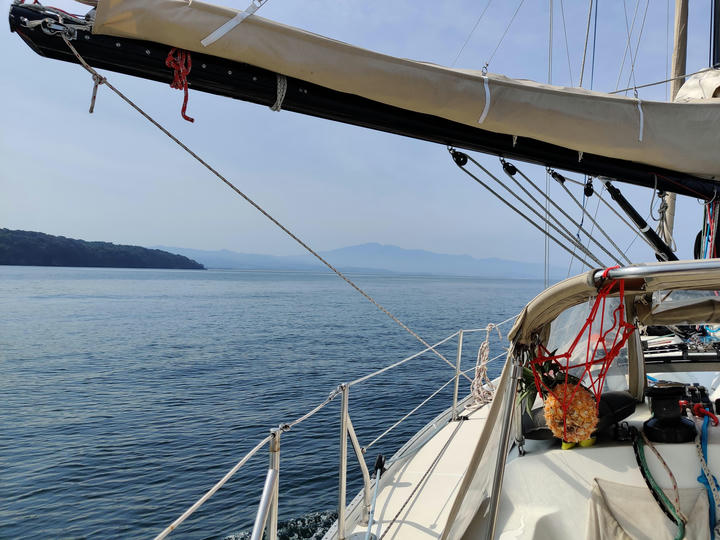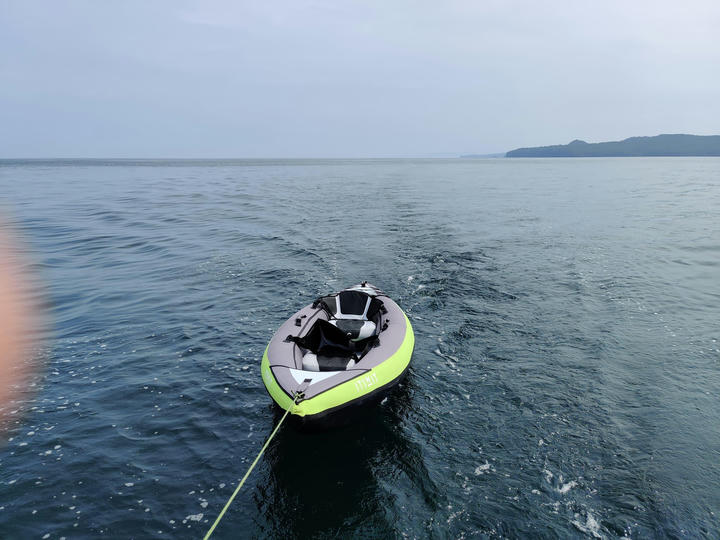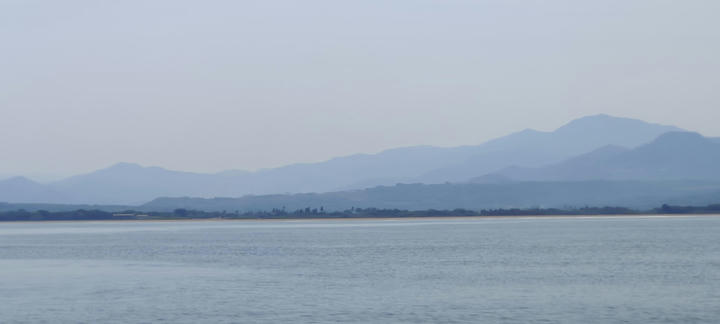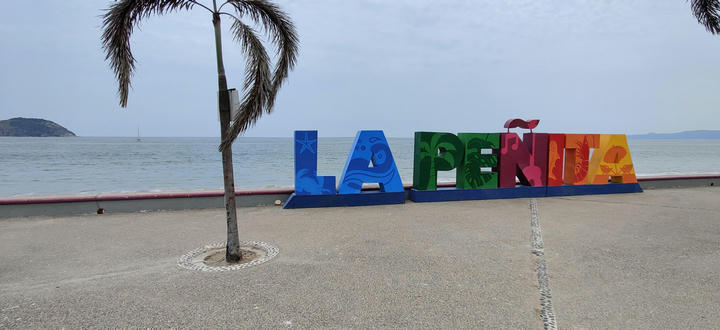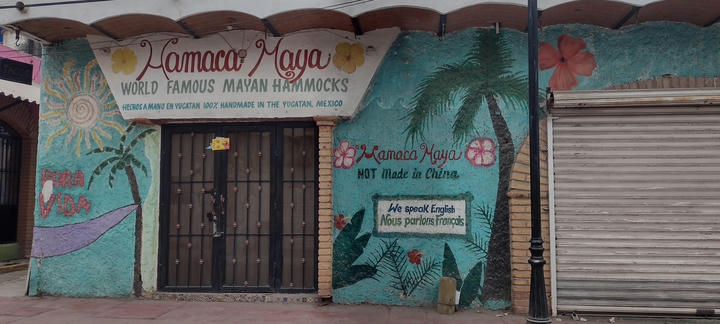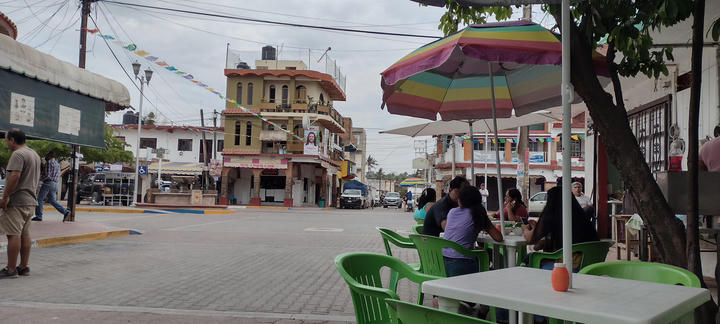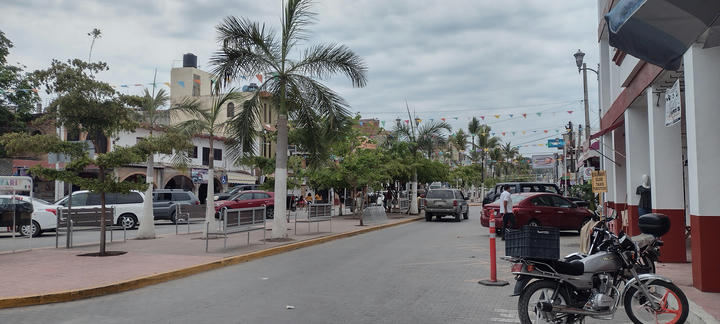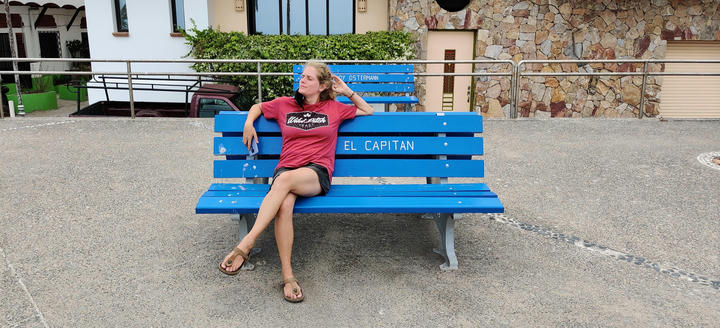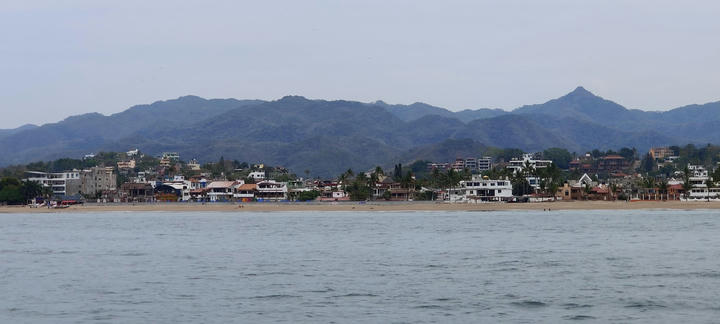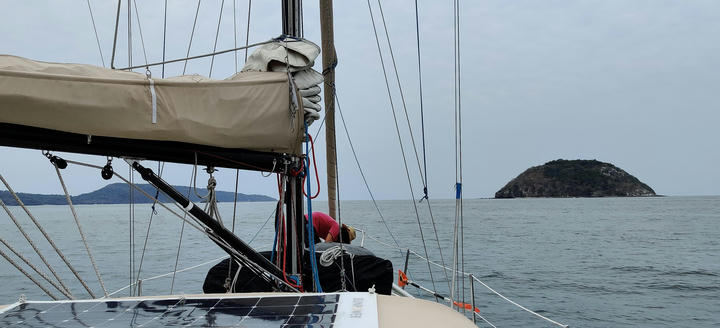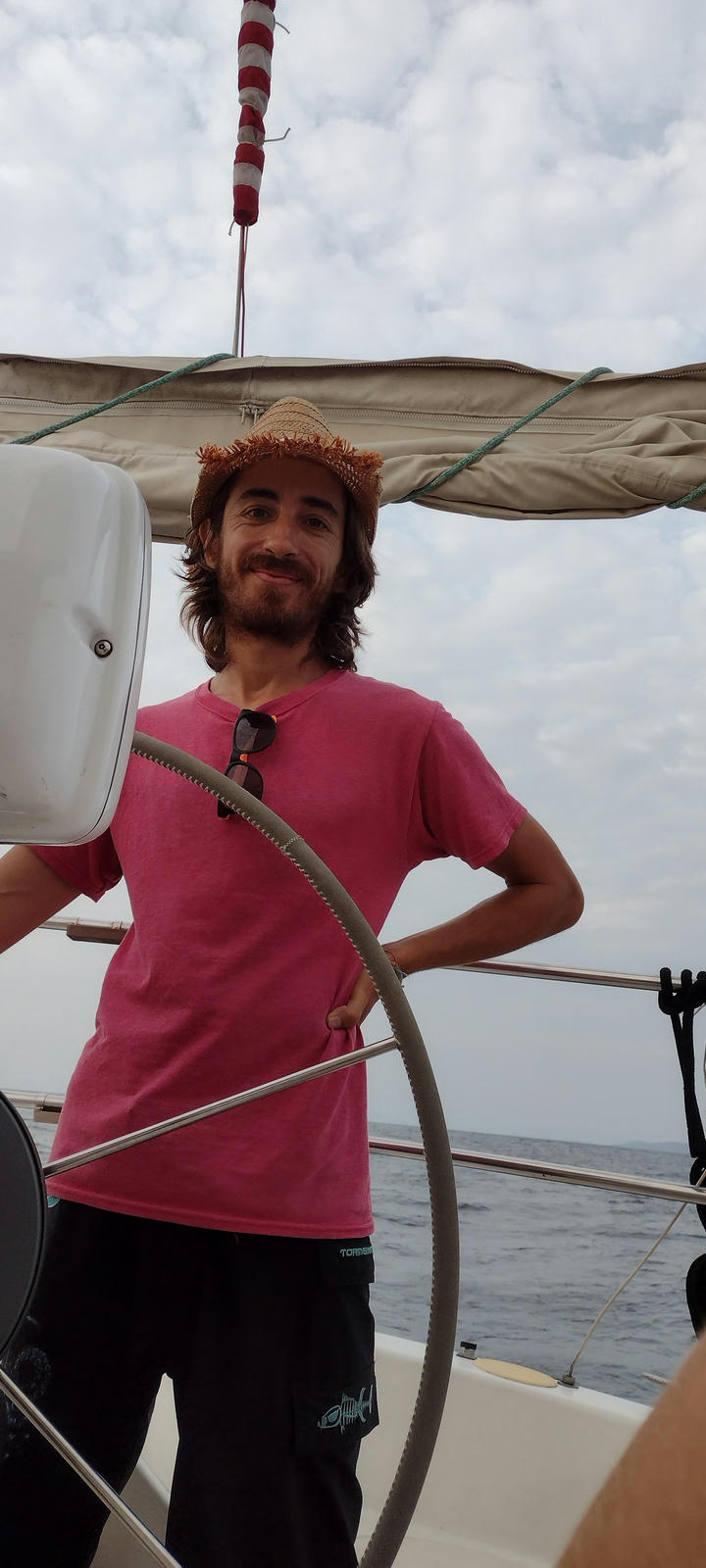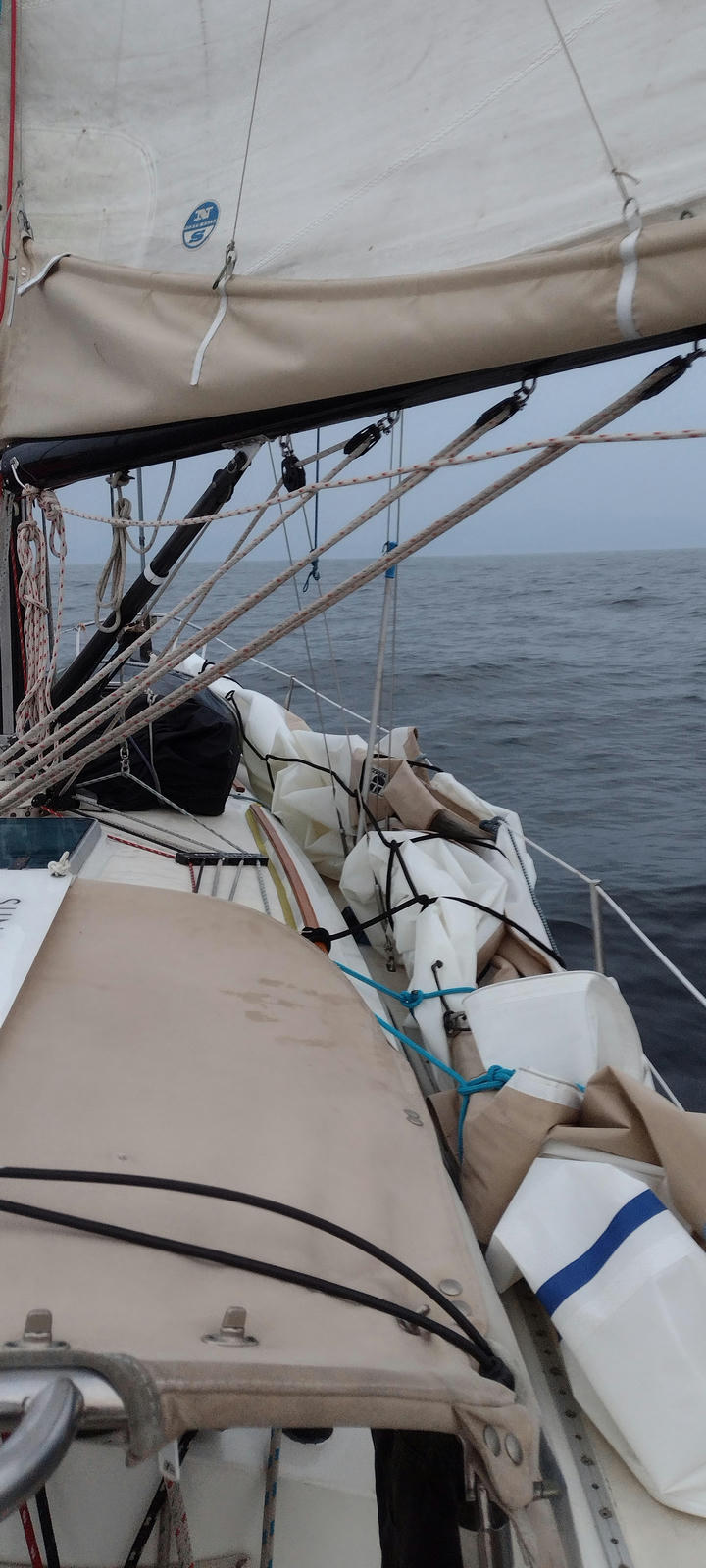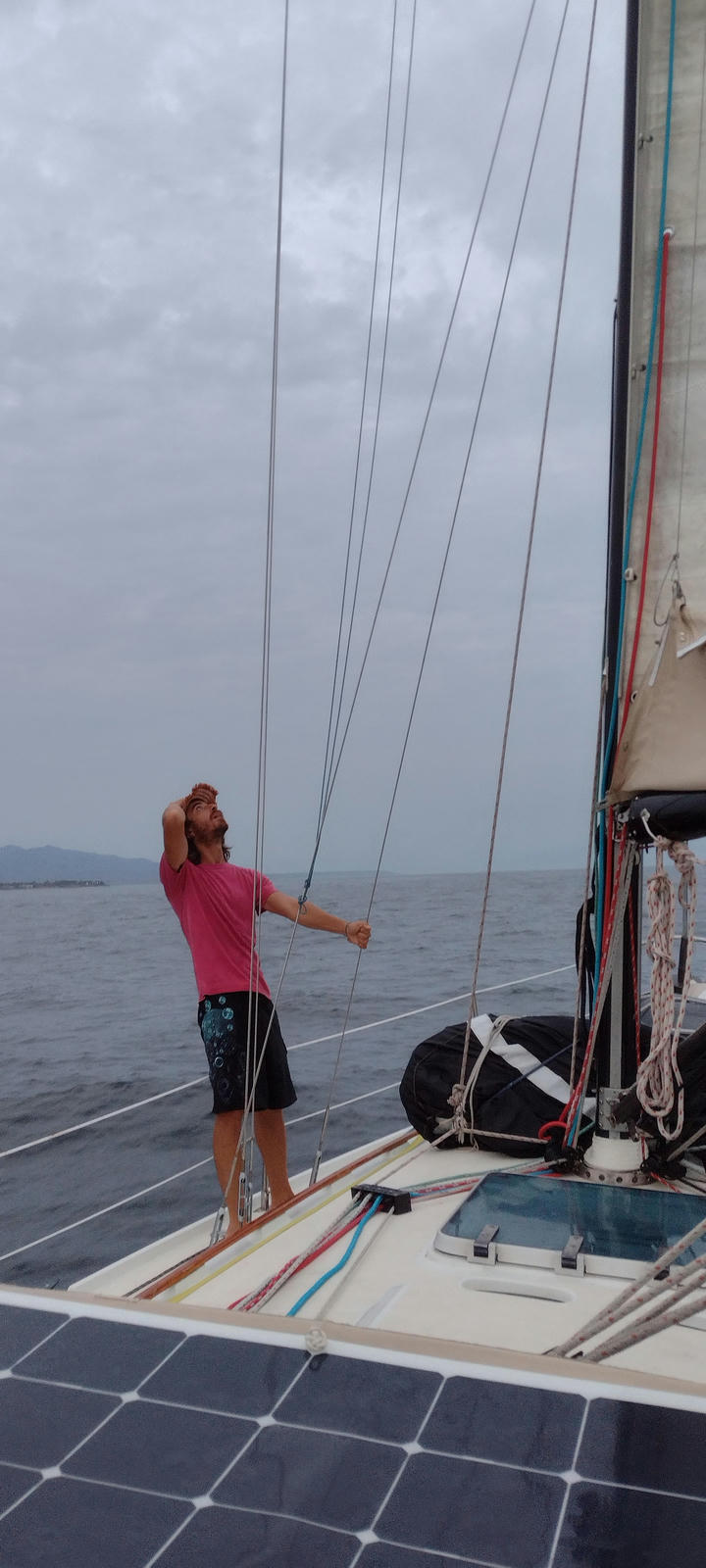 Yelapa, to be renamed "Y-va-pas" ("don't go there" in French) - Unfriendly boating conditions (LINk), level 2
According to our guidebook, Yelapa is part of the Indigenous Community of Chacala. It was described as a little isolated bay where land isn't owned by private people but by the community of inhabitants, a utopian village built on the hills with no cars, only accessible by boat. Only drawback, most of the bay is 100 ft deep or more, which makes anchoring a utopia as well, except for a little shelve on the Eastern side of the bay with reasonable "anchorable" depths. Naturally, that's where we went when we reached Yelapa at night. However, two sailboats were already moored where we were planning on going, and basically a field of pangas and more mooring buoys were using all the shallow parts. Where were we supposed to go? We were exploring our options by sailing in between the moorings a second time when a paddle boarder appeared under the light beam we use to navigate at night. He was offering us one of the moorings for the night, similarly to what Navionics announced. He helped us tie the bow, we negotiated the price for a night, possibly two, made a complicated maneuver to reach the stern mooring ball while the dude seemed to loose patience, and paid our dues for the night after a quick chat, since the dude insisted. Unable to get any sort of receipt of course, we still asked for his name. After a quick dinner at around 2 in the morning (the anchoring shenanigans had taken a while), we went to bed. When we emerged the next day, Edgar (whose name was familiar from the Navionics reviews) came to claim the dues for his mooring for the day. Exactly what I feared: the guy that comes at night with no light to help you, speaks good English, gives you a random mooring and then asks you to pay right on for the night... That was too good to be true! But first, we didn't have many more options and second, who knew what the customs were in this special place? Navionics was mentioning a 'town mooring', perhaps every village person could collect dues for every mooring. Edgar dissipated our illusions, each person or restaurant had their own mooring balls. He needed his for the day as tour boats were supposed to arrive from Puerto Vallarta (the big city nearby), or we would have to pay; moreover, our stern mooring was someone else's. Great! No way we'd pay for the mooring again! We explained the situation, Edgar knew René, who had apparently done his night scam more than once, we would go to land (René had given us the name of the restaurant he worked at, supposedly), find René and talked to him if Edgar'd come with us. But we decided to move the boat first to be on the safe side. The other sailboats had left from the anchorable spot and Edgar had confirmed, we could anchor anywhere. Anchoring there was doable, but quite a handful: we dropped the bow anchor in 70 ft, let out all our scope to drop the stern anchor after a couple of trials to align the boat properly, and took back some scope at the front to end up sitting on 210 ft of chain + rope. Once the painful maneuver completed, we were ready to go to shore, settle our disagreements and finally enjoy the little town which looked beautiful with buildings perched in a lush tropical hill! But another panga was coming at us... This time, it was a parachute trailed by a boat that was going to take off and we were in the way. We'd have to move or it could damage our rig. My gosh! Very well, it didn't look urgent and it waved off our doubts about whether we could manage to enjoy this place without grudge after the mooring scam. The dude recommended another anchoring location far from the shallow shelf (likely too deep from our soundings the night before) or offered to sell us his mooring for the day. In summary, go away or pay! We were definitely getting ready to go away from such an unwelcoming place! We retrieved our jib halyard, prepped the deck for sailing and Yalçın cooked our last piece of sucuk for breakfast. We were enjoying our Turkish breakfast when the dude came back. We had to leave! Yes, we got it, we were going to leave in 1 hour, ok with him? OK, he replies. What a surprise then, when a purple boat came to us and made an ascension gesture with his arms 5 minutes later. He was taking off! Motherfucker! We dropped our plates instantaneously and the engine started at the 4th press of the start button, we retrieved both our anchors and left this place without looking back (maybe a photo or two because, sadly, even though unwelcoming, the village looked really pretty).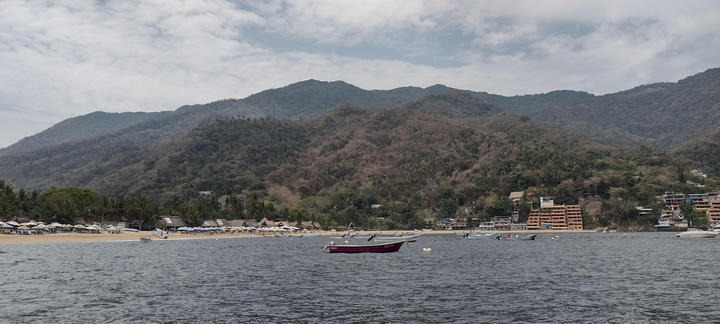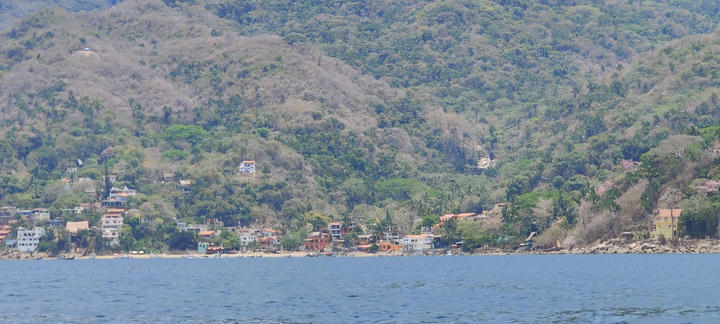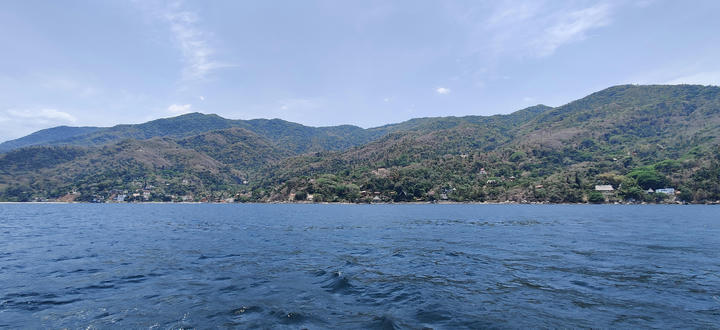 The engine strikes back
So we were motoring away from Yelapa, trying to establish a plan for our future destination. Next anchorage down the road was an emergency anchorage that didn't look very promising, after that was Ipala, 30 nm down, and then, Chamela Bay for another 50 nm. No wind on the forecast for that day nor for the following (the weather window we had originally planned to wait for in Yelapa had simply disappeared) and given the distance, we were in for the night, so Chamela it was. A little wind picked up, we turned off the Monsieur (Engine) and sailed for a bit. 3 knots of speed, we'd seen better but we were not in a rush to touch any land again and the flat seas were making up for lovely conditions. I snoozed for an hour or two in anticipation of our night shifts. When I reemerged, the wind had died, we were under attack of a swrm of tiny insects that were arriving in numbers from God knows where and Yalçın was desperately trying to turn on the engine, which would click but no crank. Was this an nightmare or something? Yalçın went down to investigate our engine failure. I was loosing my temper, performing a genocide against these little bobos (or were they the dreaded no-see-hums?) which seemed to be arriving in always greater numbers from... the water?! It was vain to fight. The anti-mosquito spray seemed to be working to kill them on a surface (or just drawn them?) but they still seemed to like landing on my skin. I detached my hair to maximize my protection and retreated to only killing the ones that would venture on me. The sails were sadly flapping and Yalçın, in the cabin, was methodically trying to trace back the source of our engine problem: the cable from the starter post to the engine panel looked suspicious for a while, but after rigging a new start bottom directly on the starter post to bypass the suspect, it got found innocent of all charges! The starter was still not cranking. I have always been interested in finding a good definition of sanity and craziness, but that day, with the insects that kept coming and us being stuck just out Yelapa, I think I contemplated the edge. I could imagine us in a couple of days, biting in our watermelon without even using ustensiles to cut it open as the bugs were taking all of our attention, barely surviving without any sense of time passing (which was difficult to keep track off anyway as we were constantly switching timezones). We must have been moving a touch as the water became brown, something Yalçın had noticed before, and that looked like little particles in suspension at the surface of the water. With that color, particles of... could it be shit? The rules of the world as we know it seemed to have changed, we were now headed for Mordor in some creepy water... Yalçın below deck was also getting a little desperate: "I'm gonna take out the starter and see if I can open it up, I'm running out of ideas". That last sentence was the main symptom, Yalçın never runs out of ideas! I had to help, Tire-Bouchon had to help. "Allez le boat, a little bit of an effort!". So I started talking to our boat and to Freddie-the-outboard, all the Team Bouchon had to get involved to (paradoxically) help us maintain a little bit of sanity. So I started flattering Tire-Bouchon with the most positive American adjectives I could find: he was the most outstanding, the most amazing, the most talented, the most exceptional boat that ever existed. On the spot, I even surprised myself at the number of adjectives I could find, when something beyond my hopes happened: the distance to the imaginary waypoint we had set on the chart plotter, which had been static for the whole time, went from 11.6 nm to 11.5! My encouragements were working! More realistically, a light breeze had picked up, but either way, I kept encouraging "Tirbby", enumerating the speed over ground progress in a song made up of number, the way a dance teacher counts the tempo when showing a dance: "hey, one point two, one point four et one point four. hey! one point two, one point two, one point six. hey!...". With the boat going above one knot speed (it's really slow even for a sailboat), at least the bugs were blown away by the apparent breeze which was significantly upping my mood. Secretly, the song was also motivating Yalçın who had managed to detach the starter motor from the engine (extremely hard to access) and had open it up to find that one of the inside posts supposed to make the connection during the click that we were hearing, was entirely worn off. Even if he had never worked on a starter motor before, it was not a surprise that no crank would happen in these conditions. Now, he "just had to come up with a fix", which is easier said that done. The breeze was picking up slightly and the song came up to the "two point something, two point something and..." I even saw a three point zero. The digit of our distance to waypoint were slowly changing, triggering mountains of encouragements for our boat. We went two miles that way, trying to sail as efficiently as possible the little air flow on the flat seas, before Yalçın announced he would put the starter back and we should be ready to try again. He explained the trial procedure: Even if the engine started, we would have to kill it the first time, to make sure that everything looked normal after that and check if the fix was reproducible. I had full confidence in the repair. Rightfully so, Monsieur started right on, and started again after all checks had performed performed. The mood spiked up! We had made! The bugs couldn't catch us anymore and we were out of Mordor. I was in awe at Yalçın's perseverance and he was grateful for the positive vibes that had motivated him as much as "Tirbby"! Team Bouchon had made it!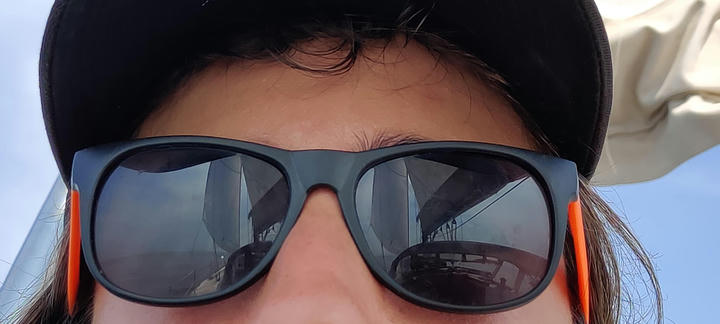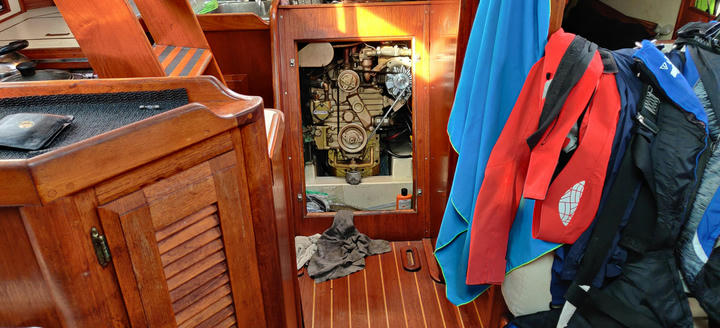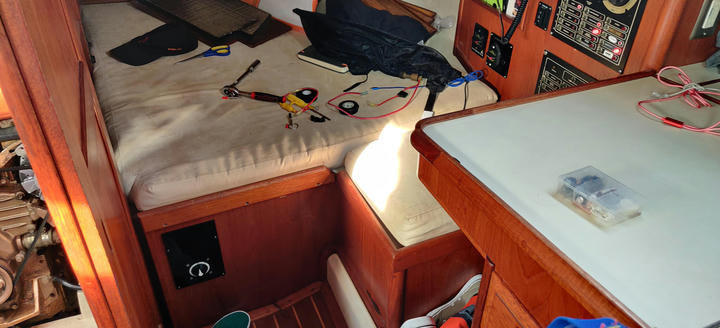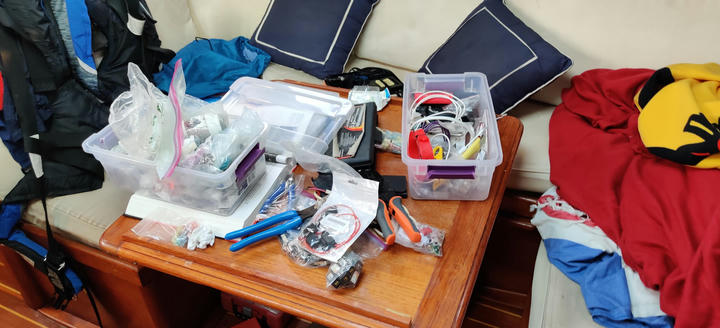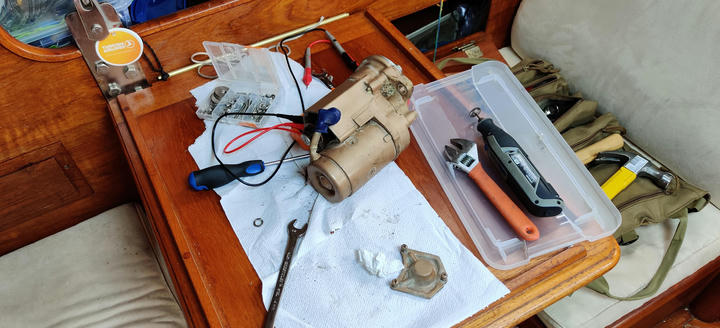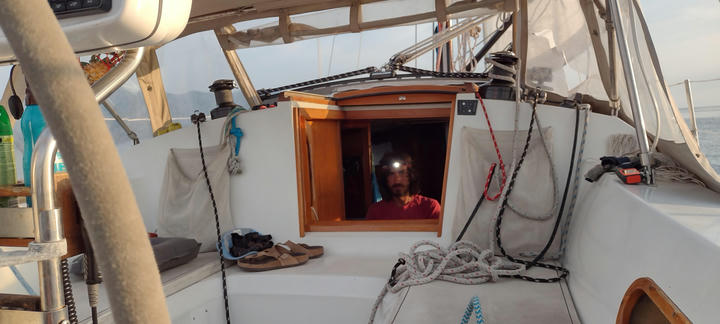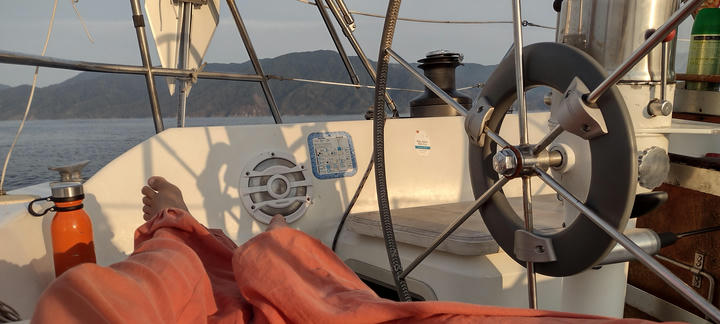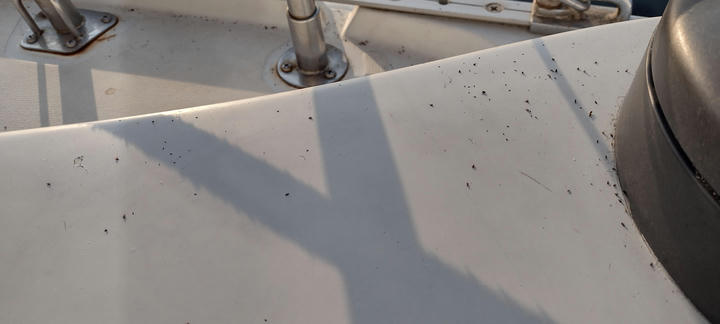 That's it for now for that dark series, but we are still underway as I write, so who knows, there may be more to add up to the bad karma series... and I'm sure they will. I wanted to start this post by emphasizing the beauty I find in the English expression "when the shit hits the fan", which in, a very illustrated fashion, pictures the reality of these little moments. The shit is there, waiting to happen, and then, at a particular moment, it hits (the fan). However, it's really gross to imagine what follows. Don't thank me for the image, I wanted to name the post like that in the first place and I refrained!
PS: And it's a long post and no one is going to read that far anyway :p
May, 9th to May, 12th