"Sailing is the allegory of what I believe in, take your time to consume less". That's what I was thinking as we unfurled our genoa in 10 knots of wind. It is Saturday, April 3rd, probably around 10 or 11 and we have been motoring out of La Paz, first through the long channel and now in the open. Yalçın is in the galley preparing breakfast, I am handling the navigation. Nothing complicated, we have found the loose connection that was preventing our electric autopilot to detect the drive unit and it is now steering the boat effortlessly. There was no wind when we started at 9AM in the morning. Now, the wind is picking up, not a ton but a good 10 knot head wind that is slowing down our forward progress. Since Yalçın just confirmed that he doesn't mind cooking with a little heel, I unfurled the genoa. We are making 4 knots with no main in these 10 knots. Not bad! Of course it's not 4 knots VMG as we have tack into the wind, but who is in a rush? The luxury of taking a little bit longer to reach a destination but without wasting resources to motor into the wind.
And our destination of today is not very far away. We are hoping to anchor in Caleta Lobos, less than 10 miles from La Paz, if it's not too crowded. A good tack (making a lot of progress towards our goal), a bad tack (in order not hit land, you have to tack away and even though you don't make much progress on that tack for a while, it will allow you to make better progress on the next tack), and another good tack later, we close the last mile that separate us from Lobos under engine. The wind has died and Yalçın insists on keeping the breakfast for when we arrive: the nice smell makes me forget all my principles of an hour ago, let's arrive as soon as possible!

Caleta Lobos We passed catamarans and motorboats going up and down the coast, pangas and jetskis. Clearly, we are not the only one to escape the heat of the city. The cove is beautiful but busy, two sailboats are already anchored with two motorboats. We find a little spot for ourselves and finally eat the delicious breakfast of ground beef, potatoes, onions and eggs with tortilla bread, a mix of Turkish and Mexican cuisine! The day is hot, so Yalçın decides to even go for a dip before breakfast. I hesitate but it's windy and I decide to wait for later. We dive again after breakfast. The water isn't as turquoise as by the beach and Yalçın deplores that we can't see the bottom, but it's overall not too bad. We chill in the shadow for the hottest hours of the day before pumping ourselves up for a hike on land, a trail is visible from the boat. We kayak to the little beach on-shore by the mangrove and hike for a couple hours surrounded by desert and cacti. Tire-Bouchon poses for a couple of pretty pictures at anchorage and we even manage to spot a glimpse of the hurricane hole in the previous bay. As the sun sets, we head back to the beach first, to the boat next. One more dip for me after the heat of the hike and I prepare a well-deserved pizza. The night at anchor is beautiful, even more boats have rallied the anchorage, some at night, but the stars are beautiful and I believe we are simply happy to be back... in the cruising game.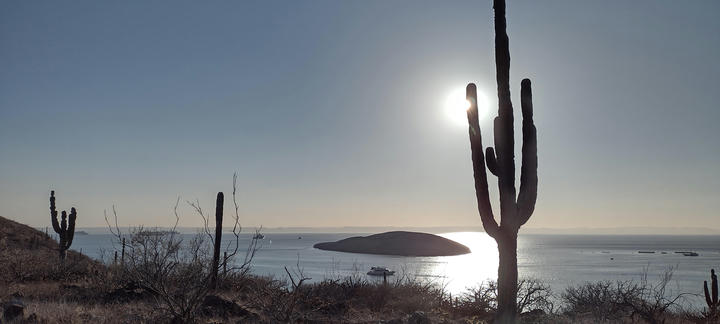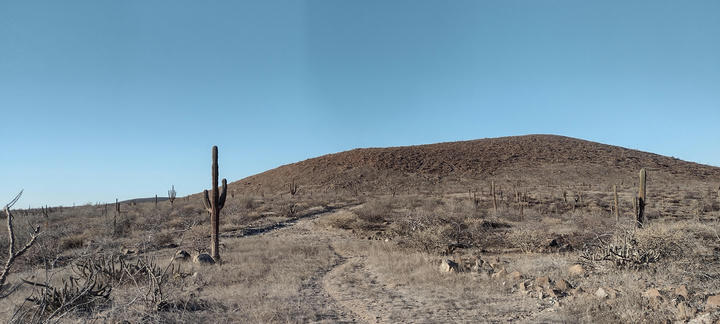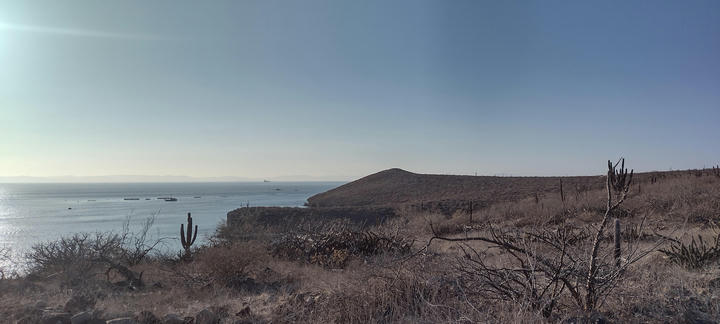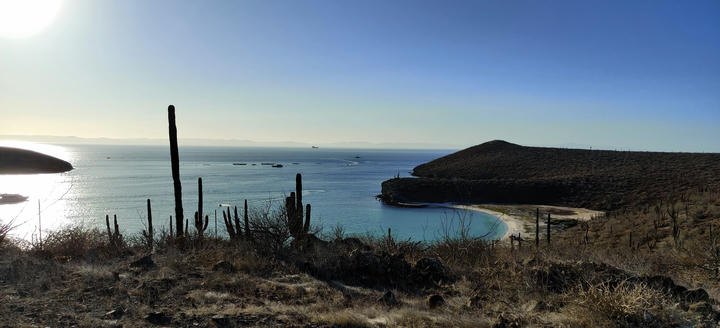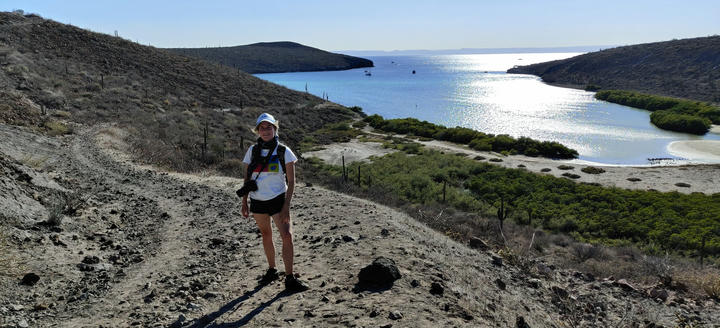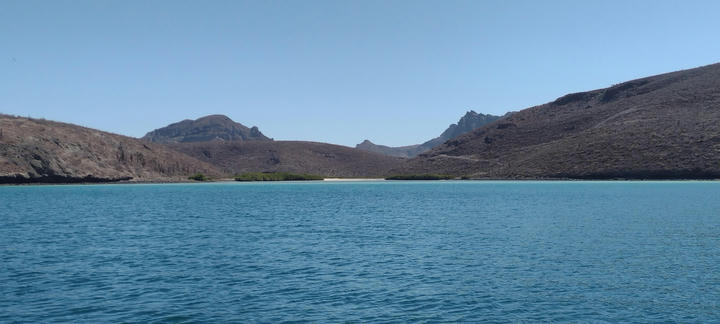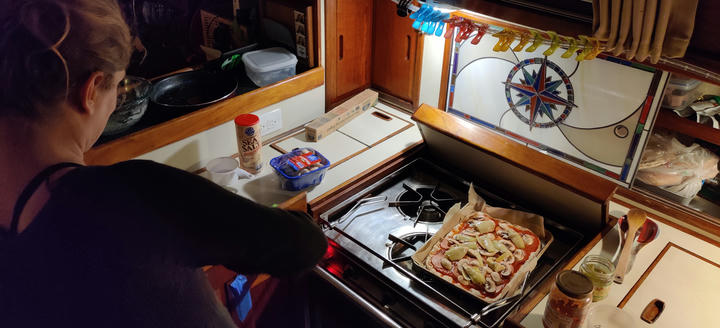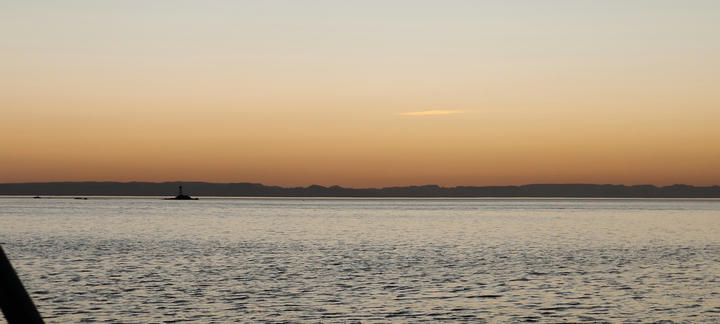 Glamor and less glamor... The next morning, there is only one boat left with us. We wonder when the others went away. The place feels different now that it is empty. I'd be down to move on to the next anchorage (a few miles up North) while Yalçın'd rather mingle here. The black water tank decides for us: it is full, we need to pump out. Two options: either in a city which has a pump-out station (in our case La Paz) or 3 miles offshore. We weigh the anchor, not without a look back at Lobos, and head straight out under engine for 3 miles, where after another underway late breakfast (full-Turkish sucuk sandviç this time!), Yalçın pumps the content of our tank out. I'm tasked with watching out for what flows out, useful but not glamor. Even less glamor is the unclogging the vent part, but once our task is completed we turn back and head to Bahia Balandra and her famous Mushroom Rock.
Bahia Balandra, finally! It doesn't take us long to reach the entrance of the cove and dolphins are here as welcome committee. There are many of them and they come towards the boat before keeping on going. Once anchored, we both jump in the water. This time, it is cristal clear and we can see the bottom even from the boat: an invitation to swim on top of the anchor to double-check that it set correctly and even a dive to the bottom for Yalçın. We are definitely both happy to have moved!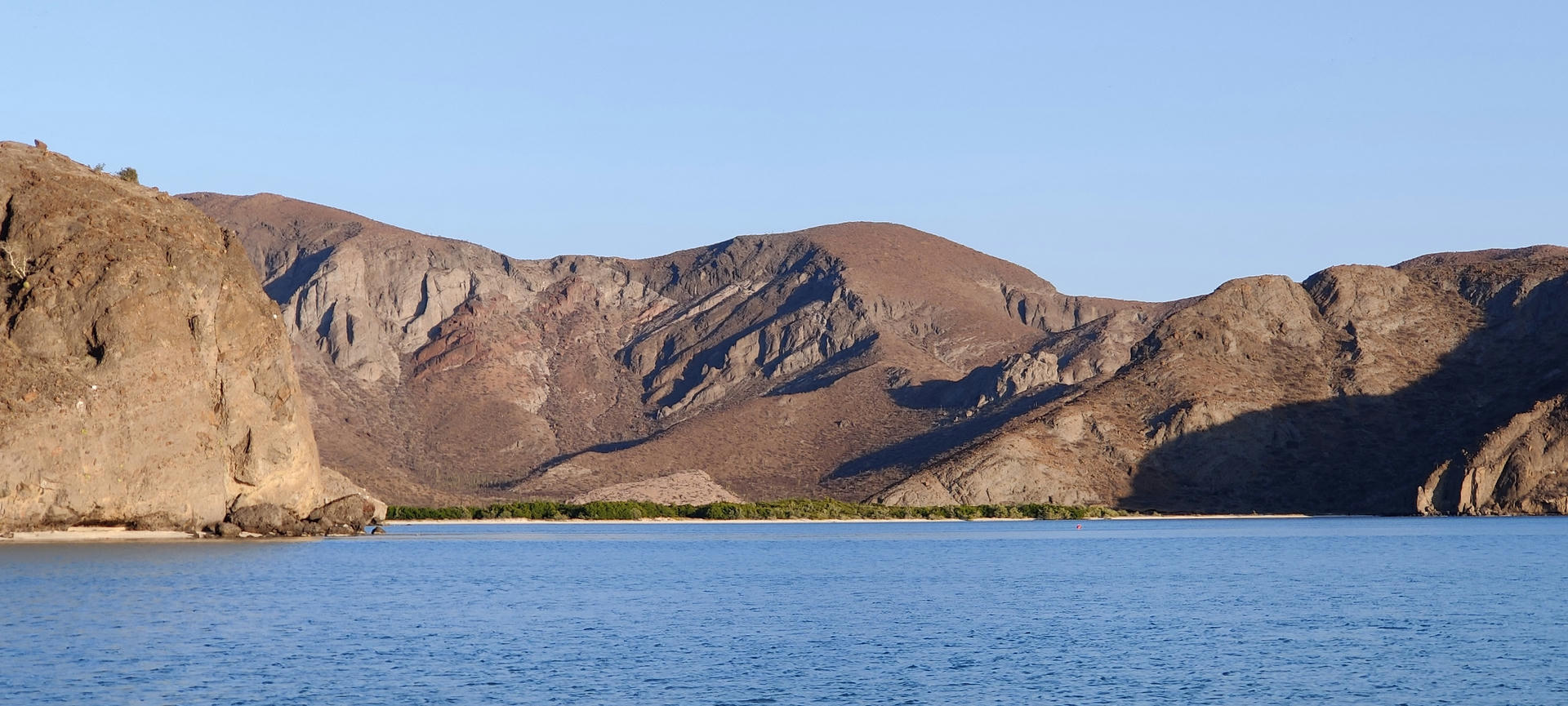 A couple of days in paradise The Balandra landscape is stunning: high rocky mountains facing the sea, white sandy beaches in little coves, turquoise shallows and pure water, with a sea turtle poking its head out of once in a while in various spots (I have hoped that the opportunity of a swim with this creature would present itself, they are so majestic in the water! Sadly, no success despite Yalçın's efforts to make it happen). The Mushroom rock, though iconic and funky, is for sure not the only wonder that this place has to offer. We spent two days kayaking around to snorkel the reefs, playing frisbee on a different beach each day (record to improve is 20 passes!). The kayak was a welcome and peaceful change from the wild dinghy rides in La Paz, we are quite happy to paddle quietly along and finally found a good rythme for paddling in unison. I got really intoon snorkeling. There is this feeling of amazement each time you put your mask under water and realize there's an entire world down there going about their lives: a fish passing by, another one hiding swiftly as a bigger one arrives, some others just peacefully hanging around and almost looking at you! The second day, we started at a reef by the entrance marker and kayaked most of the Southern part of the bay. I jumped in regularly to find, one time, fish almost looking at me or waiting for something (it was by a rock that pelicans use as an island, maybe something happens for the fish when the pelicans splash clumsily in the water and perhaps my dive from the kayak just made the same clumsy impression?) or find myself in a polarized school of fish (these large groups of hundreds of fish that all swim in the same direction to confuse their predators) that literally spiralled around me before leaving. I got started with the identification book and that may help you come along to travel underwater with us (as GoPro images looked a bit tern compared to the reality). Sergent marechal were the most abundant fish, with large and small ones. I was glad such common fish were so pretty. It's a great start! We also saw some King Angelfish, their beautiful colors and their shape make them my favorites so far. We consistently saw long Cornetfish with their tail filament which I have a hard time believing it's not venomous or singing (the guide would mention it I guess). We saw many more, like the Mexican goatfish, the solitary Bullseye Puffer and some that I couldn't remember well enough to identify (the inconvenient if they are too many different species!). Also failed to identify the school individuals but the GoPro take wasn't too bad for that one, here you go!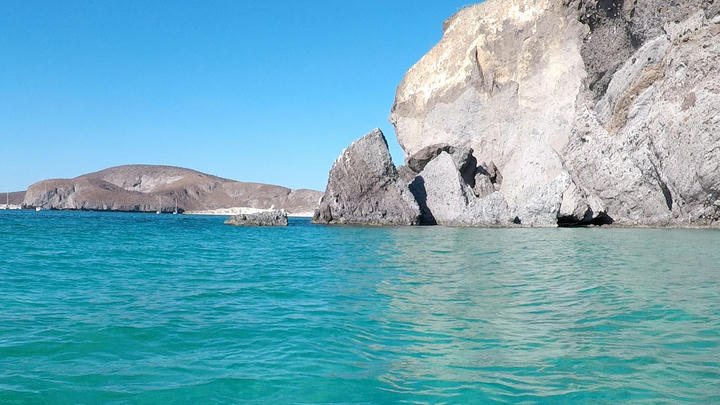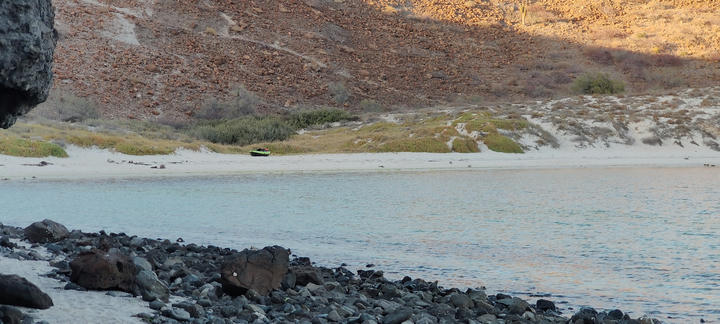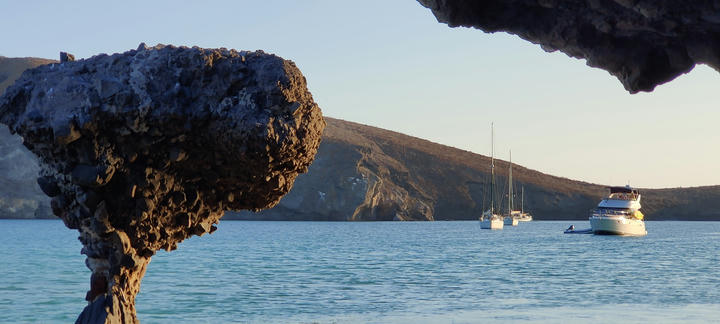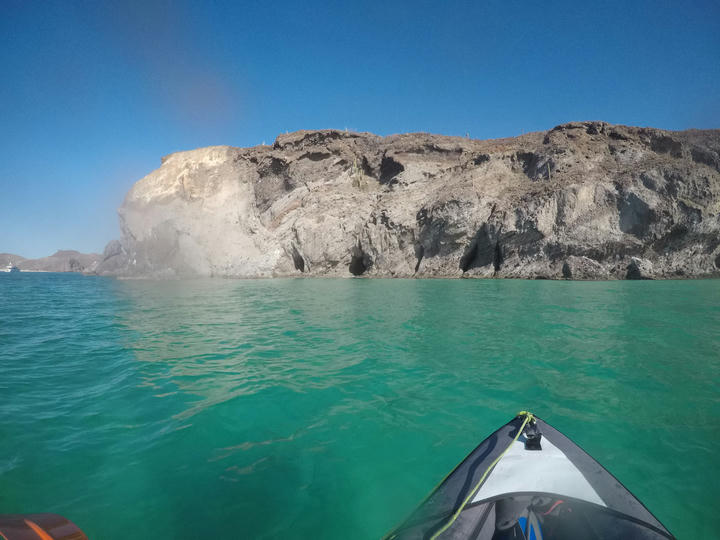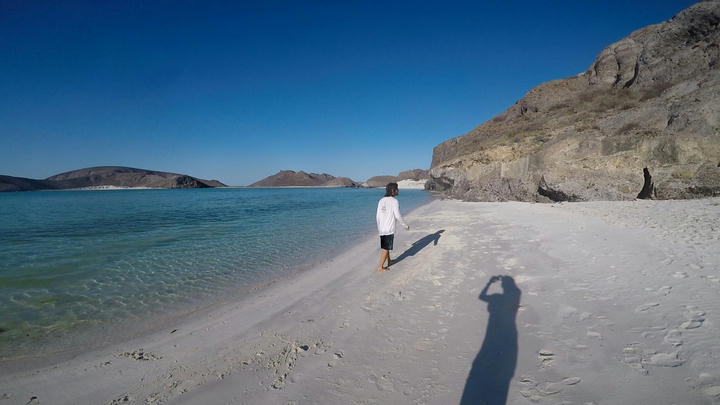 Day and night In contrast with the perfect warm and hot weather of the day, all three nights were hell windy! A sustained 20 knots at anchor wasn't uncommon and I read 30 on our last night (probably the worst of all three). These strong night winds are well-known regional winds called the Coromuels. Sadly, they keep you sharp for parts of the night looking at the position of the boat on the chart to make sure the anchor is holding (in addition of the already on anchor alarm). A reminder that however perfect the place may be, you are still on a boat, still subject to the will of mother nature.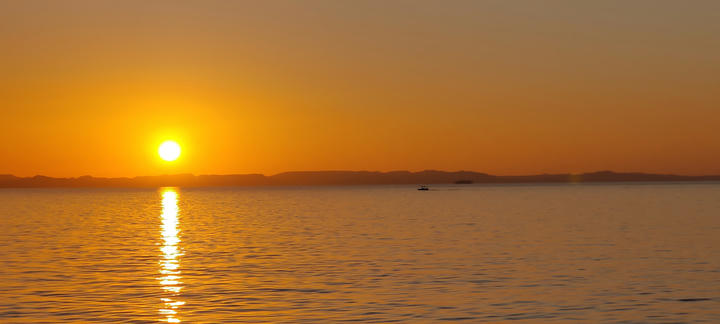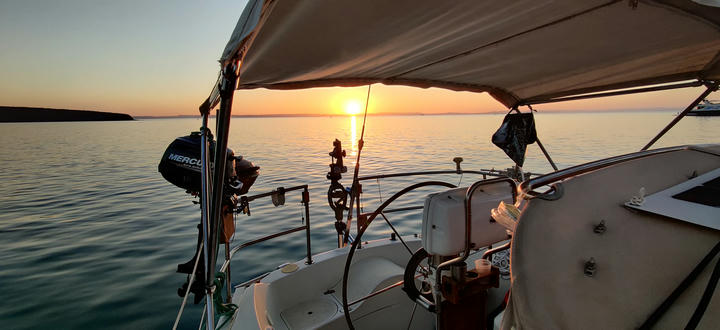 David Paddling around, we'd met another kayaker. David was the skipper of Wiley, another sailboat anchored next to us, and had everything that makes up a salty guy. He had travelled and sailed the world for twenty years (he knew both France and Turkey!) and had now chosen the Sea of Cortez to downsize, settle in (still on a boat though - we are talking about a salty dude!) and wait for 'his girl' who was still in the San Francisco Bay (small world). He was immediately friendly, inquiring the name of our boat and sharing tips on the location he was obviously very familiar with. David has been our first 'cruising friend' and that manifest by our first casual conversation over the radio to comment the sunset and organize our first drinks aboard. He came over the next day with his drink and we cheered at sunset and learnt about one another's lives and future path. David had white hair and a slightly awkward attitude that gives in. After enjoying the sunset, he returned to his boat 'before dark', complaining jokingly that his kayak was not keeping his butt dry. The next morning, he weighed anchor and the other sailboat in the anchorage who had arrived the day before and apparently had common friends with him hailed him unsuccessfully on the radio. A few minutes later, he was off sailing in the horizon. He would soon get internet and restock on milk for his morning coffee. He told us that friendships you make cruising are the strongest as adventures bind people more than land life. We didn't get a chance to meet David long enough for that, but as our first cruising friend, we will likely never forget him.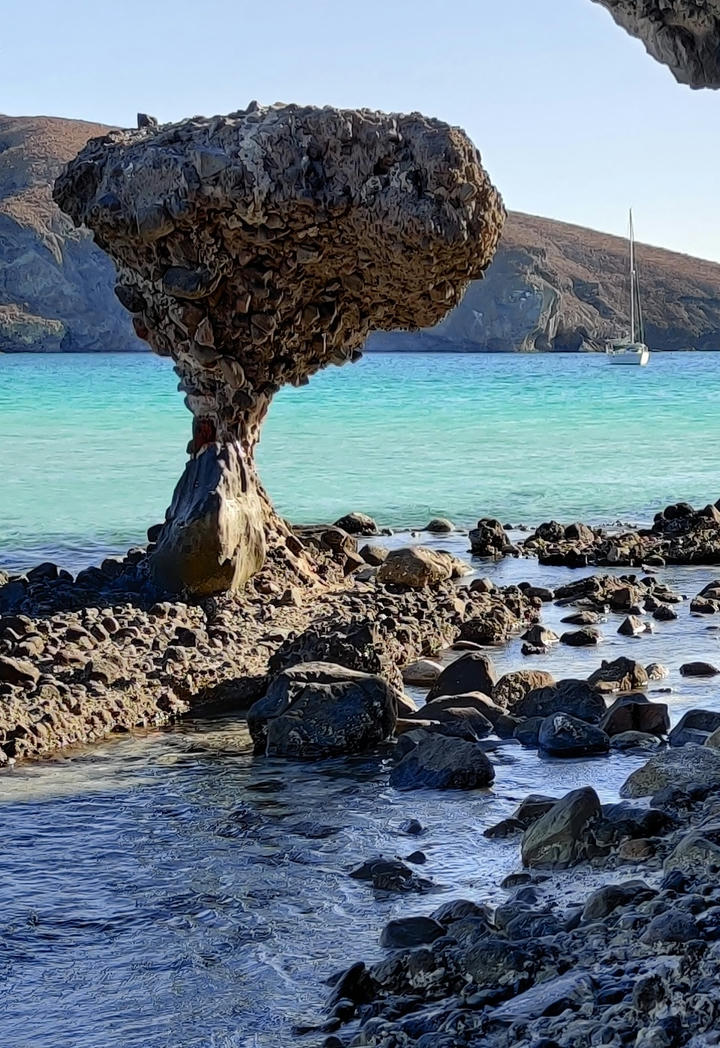 The magic is broken For our third day in Balandra, we had a loose plan of trying to find the entrance through the mangrove that David had talked about, a narrow path that leads to a lake and our first time in this new environment. It sounded exciting! But the day went a little differently. Time passed faster than we thought (we'd learned later that there was a time change in our time zone that weekend, which we didn't even realized!), Yalçın tired himself cleaning the bottom which had gotten a bunch of growth in La Paz (including the minuscule snapping shrimps which make a worrisome sound on the hull that puzzled us for a good 15 minutes at night), a failed morning swim to approach the turtle on my end and the repeated wakes of a particularly busy day for tourist pangas and jetskis, all this got at our mood. Nothing really stood out but a bunch of little things were off to remind us that such a carefree life can't go on forever. We didn't end up going to the mangrove, instead we went back to our plan to return to La Paz, to our to-do lists to try to make the most of our stay over there without getting trapped again, to our boat project list that was still there. Bringing those back into the game felt right as well. We motored out of our paradise to get internet signal to check on the forecast and to see what the world hadn't had the chance to tell us during these few of days of isolation. Cruising full-time like we do is not as relaxing as weekend cruising where you have a limited time to enjoy yourself and not worry about anything else. I found myself taking example on the motivation of chartering people who make the most out of their couple of days of boating in a beautiful place. We can be boating in beautiful places everyday, but life is not all roses, we have to keep the boat in shape and keep things moving. We need to keep making progress South until we are out of the hurricane zone for the season. Sometimes this reality disappears and we can enjoy ourselves like weekend cruisers in beautiful places, but sometimes, reality comes back and chases the magic away. Sailing away is calling and that's not a bad thing.