If we had been disappointed by Bahia Tortuga, the village of Punta Abreojos ended up being a good surprise. We were able to get the tacos we had been longing for in Tortuga, the two grocery stores were nicely stocked, the houses and the neighborhood looked loved by its inhabitants and there was even a paved road on the waterfront, giving airs of a beach town. The entire opposite of the famous Bahia Tortuga. But if we had heard extensively about the latter, we had only come across the name of Punta Abreojos as we were going down the reach. The trip to the village made our day! It's all a matter of expectations I guess: the famous Tortuga had set our expectations so low that seeing yogurt and shopping carts in a grocery store put us in good spirits.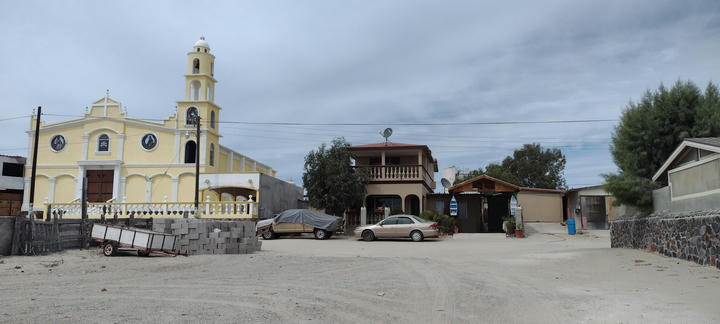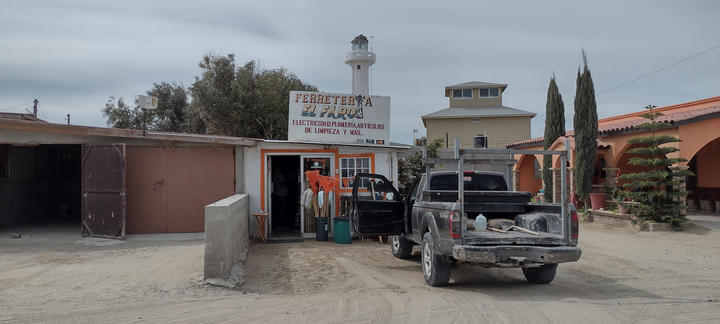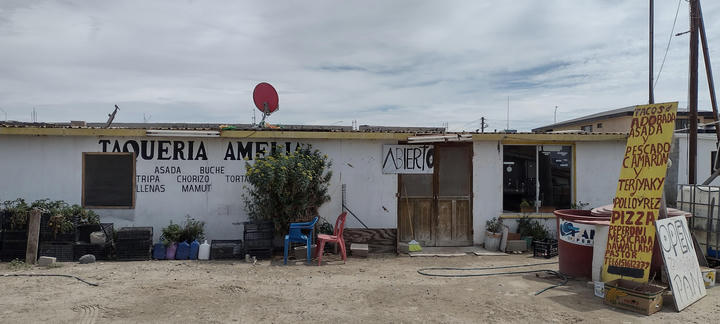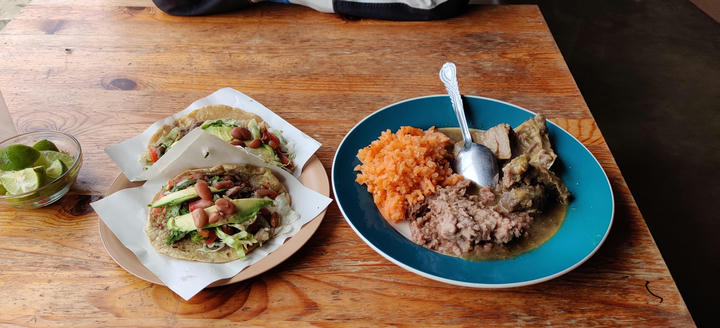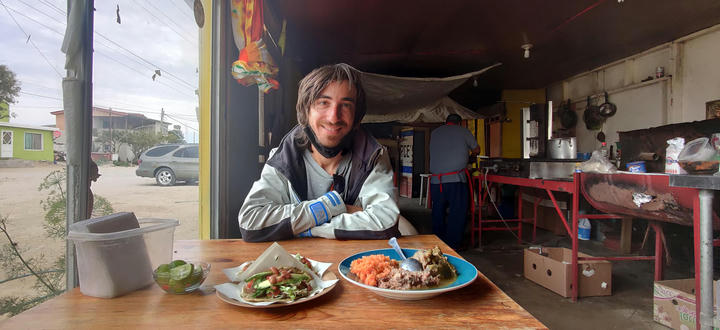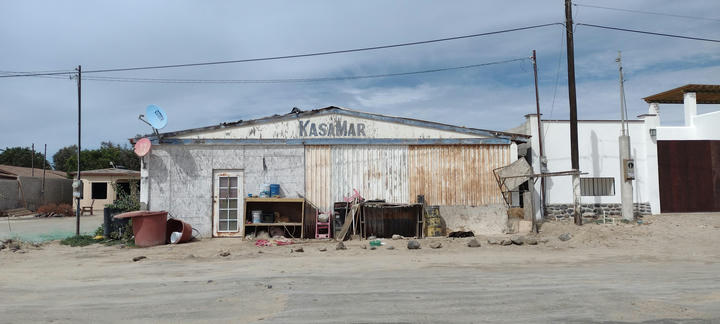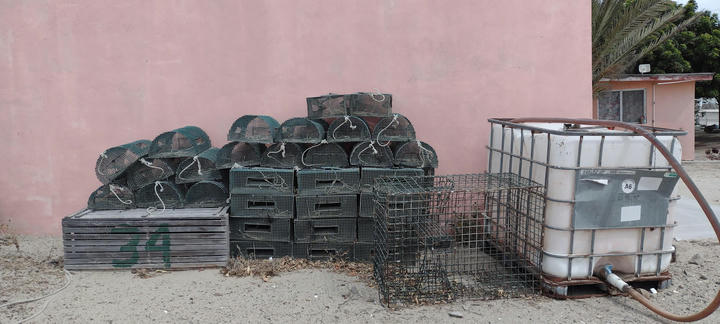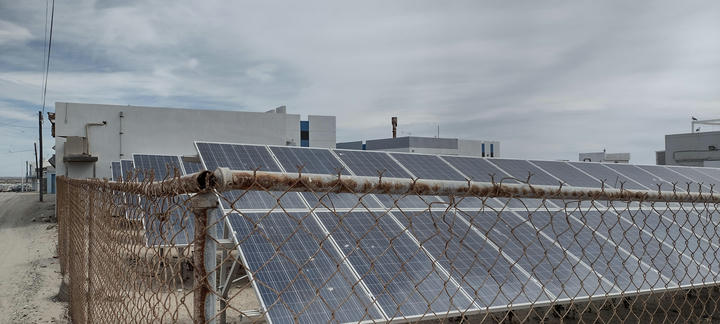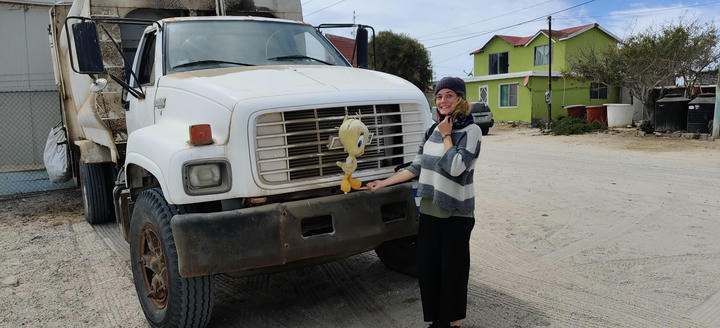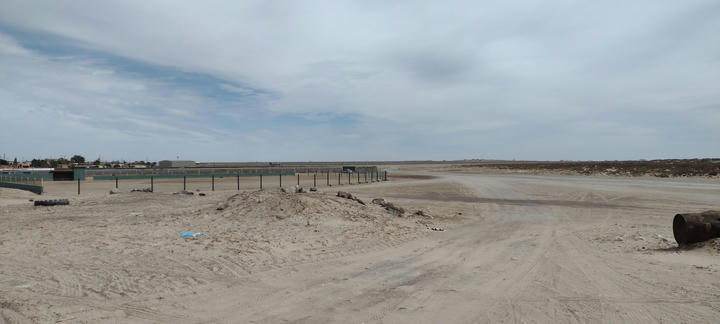 Speaking of expectations, the beach landing with the dinghy was also a worry. Surfs had been breaking on the beach when we arrived the afternoon before, in agreement with what we had read earlier about a challenging beach landing. The panga beach was the place to land. In the morning, the wind was still light and breakers didn't seem to be established yet. Perfect! We decided to go for a morning visit to the town and headed out at around 10. From Isla Cedros, we had been sailing with the dinghy tied on the foredeck which drastically reduced the effort to put it in the water compared to when you have to untie, unroll and inflate it. The landing went smoothly, or way smoother than we had feared and Bouchon-the-dinghy was left on the dry sand amongst pangas on trailers that made him looked tiny. After our town exploration and errands, we made sure to come back before the beginning of the afternoon winds. We were borderline in time, the wind was starting to haul and some breakers had already formed. Was it a coincidence? Fishermen were starting to come in and there was some action going on on the beach with cars, pangas and sea gulls, interested by the leftover fishery likely. We walked our groceries all the way to the waterline, quite far from our dinghy now that the tide had come down, before coming back with the dinghy. We thought this part of the beach had less breakers than the middle one but we were standing in front of one, then two breaking waves with our dinghy ready to go. "After this one, it's good", Yalçın said. He was right, it didn't seem to break anymore: go, go, go! The action plan was that I would paddle as if my life depended on it at the bow, while Yalçın would put the engine down and start it as soon as possible. The wind was helping, pushing us away from the shore, and when Freddy (the engine) started, we were surprisingly far from the beach - I hadn't imagined paddling that fast! Once more, this dinghy landing and take off that we expected complicated turned out surprisingly easy all things considered.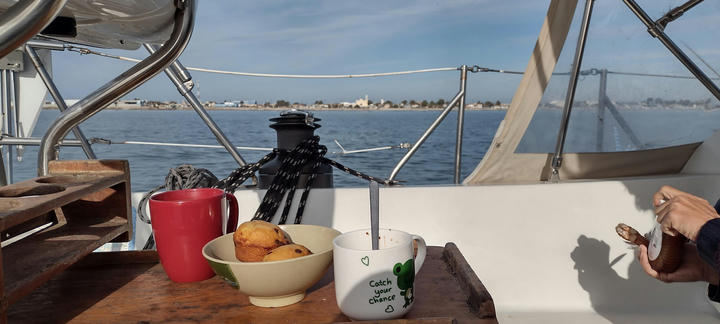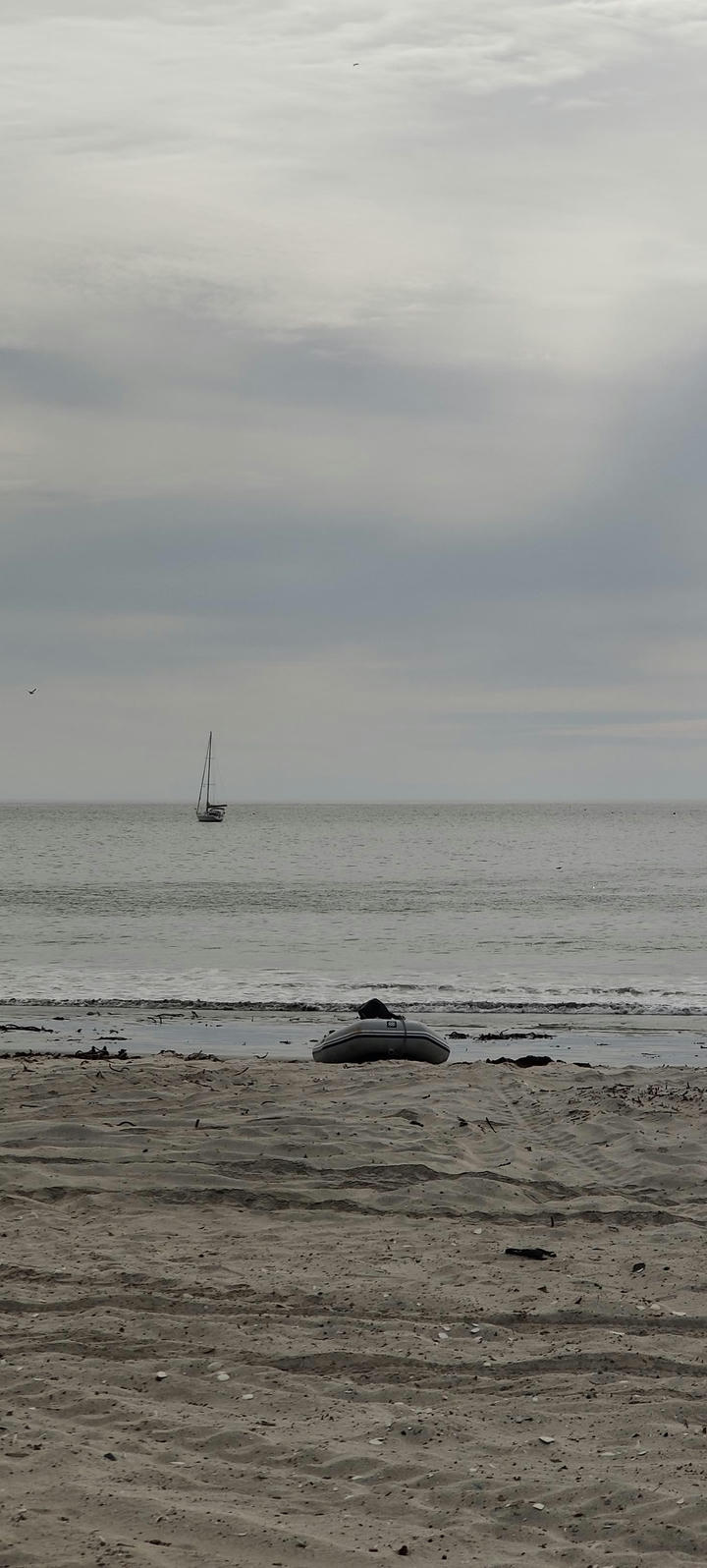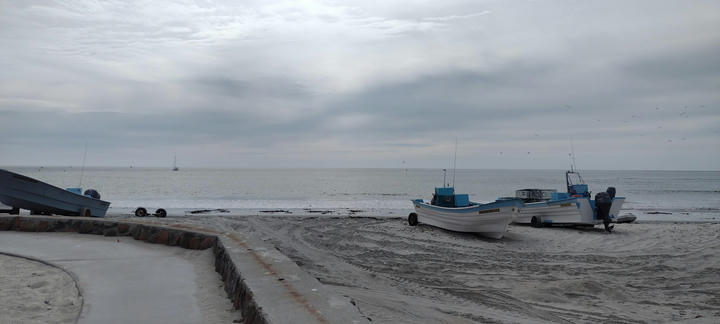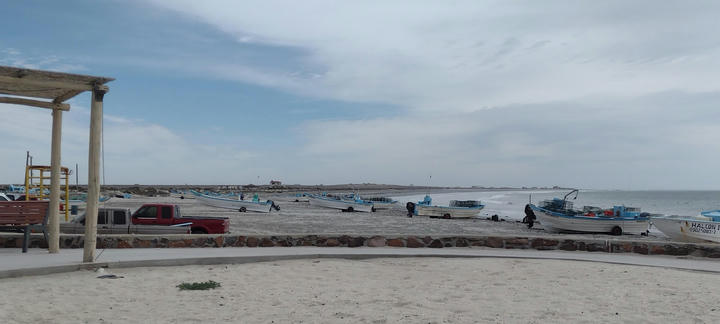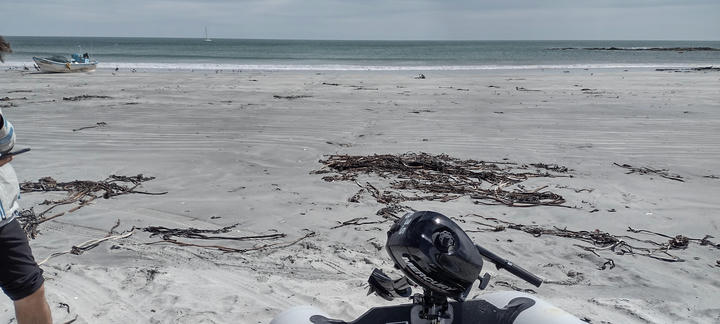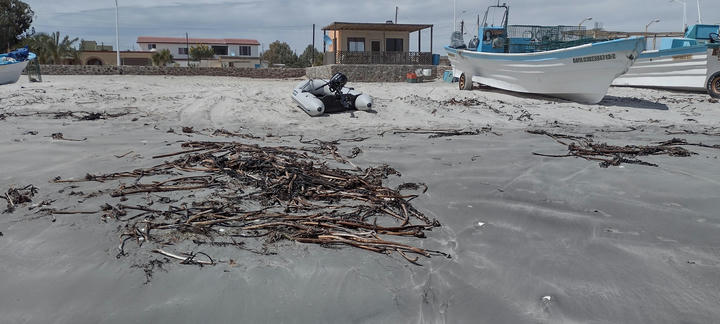 On the other hand, some other high expectations of ours were decieved in that bay. The hope for a good data signal, as I mentioned in the previous blog: There again, the signal was a little better than in the previous bays, but our idea being set on "good signal", we'd only see the half empty glass. And, finally, we had decided to spend a full day in Punta Abreojos in the hope of finding an accredited guide to lead us inside the natural reserve of San Ignacio lagoon. The lagoon is used by gray whales for nursing after their yearly migration from Alaska all the way down to here. Entering the sanctuary allows visitors to see the whales and their calves from really close in their natural environment. We were both pumped! The coast of living being generally cheaper in Mexico, we were hoping the price of the tour would be affordable; we wouldn't even mind paying a little extra if the money was helping to protect and preserve the sanctuary, such development initiatives being uncommon in Baja. Only glitch though, with our little internet, it was difficult to find any info about how to organize such a tour. We could find a blog post from other cruisers: they were able to organize a tour and had paid $200 and a consequent tip for a boat to pick them up at the entrance of the lagoon (you can't go with your own boat), show them around, sometimes close enough to pet the whales (!?), "an expensive but worthwhile the lifetime experience" as they had described it. I felt a little revolted reading their post, afraid to be asked for that kind of money. To try to avoid being "gringo-ed", we decided to talk to the locals at the village for recommendations about how to proceed for a tour. The cook/waiter in the little family run shack where we got our food was kind enough to interrupt his own meal and walk us a block away to the town fishing cooperative and union where we'd get informations. After some wait and being transferred for one person to the other, we gathered, in Spanish, that they could only arrange a panga trip to the entrance of the lagoon from here; from there, our panga driver would hail a lagoon guide on radio channel 68 and transfer us. They didn't know how much the tour would cost with the lagoon tour operator. In addition, it looked clear they would take their cut for a trip we could easily do with Tirb. Did they have the contact of the tour operator? Only the radio, no phone number but they gave us a name. While I was trying to hail repeatedly on the radio both in Spanish and English without any success, Yalçın found a phone number for the name we were given. More success, they picked up and even spoke English. Tours were $55 per person, no cheap but decent! But we needed to book for a minimum of 5 people to get a panga. Hum... Could we be paired up with other visitors? They'd call us back. An hour or so later, they called back to give us anchoring coordinates at the entrance of the lagoon. Nice, but what was about being paired up and the price? $275, and supposedly, it was never a question of pairing up since they'd have to pick us up outside! When I expressed that it was too expensive for us, they didn't seem to understand that was a no go on our end, but were more like "sorry, we can't negotiate". At this point, even with the expectation of an expensive $200 in mind, that was too much, and this is how, bitterly, we missed the whales of Bahia Ballena. It ruined a little our enthusiasm of the morning in the village and I couldn't help but wonder if we should have gone for it, if we were too cheap and would miss "life changing experiences" because of that. A lazy afternoon where Yalçın inaugurated the solar shower after jumping in the freezing water, some bildge cleaning and relaxing in front of a book on our rolling boat, pumped us up for our next leg... We were up for the second Pacific Baja California bight, a 140 to 160 nm trip depending on our final destination. Despite our disappointment of leaving this place without visiting San Ignacio whales, we were hopeful we could see more of these giant mammals at Bahia Magdalena (the 160 nm destination), which also enclosed a lagoon housing whales and seemed overall less of a "money-printing" machine as Yalçın likes to put it!