Sailing is definitely not the most comfortable means of transportation. Nor it is the fastest.
It doesn't feel that slow though after 140 nm in 24 hours.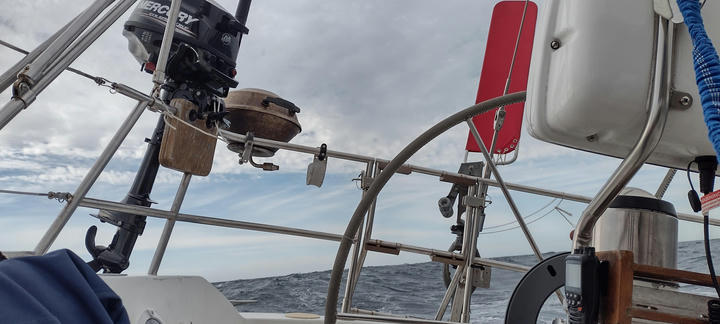 2 reefs in the main. Working jib. Full, partially furled, then furled. High clouds in the skies. Good weather. Westerly winds, waves more on the beam than on the quarter. Rocking, and rolling. Bigger swell than the previous days. Gray seas. Almost not land in sight.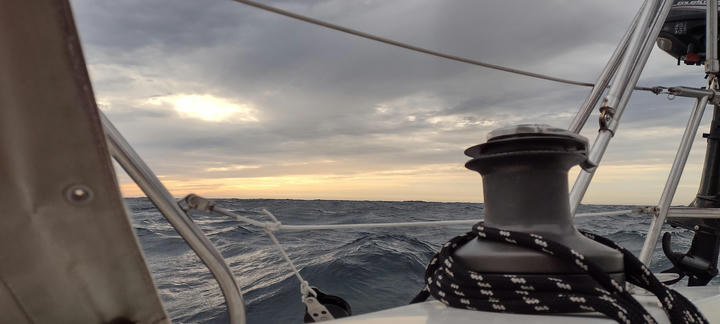 Warm diner. Gorgeous sunset.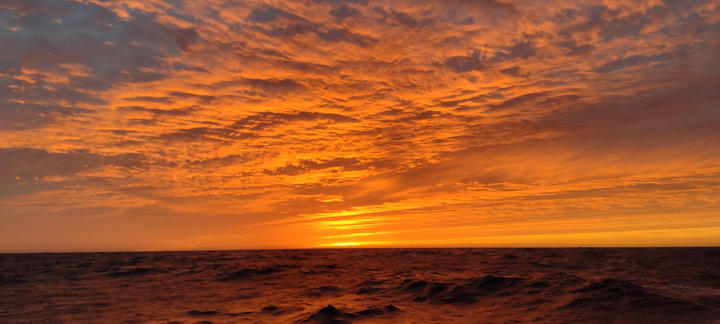 Moonless night, some stars. Shiftish in the afternoon. 3 hour shifts at night. On and off. Shacky. Tethered. Main only. Dead downwind. Shooting stars, make a wish. Windex light up by the mast head tricolor light. Following white capes. Wood creaking. Podcasts. Music. Meditative mood. On and off. 20 knots, sustained. Nothing on the horizon. Wild ride!
Bunk! Did we hit something? I'm pretty sure we stopped for a second. Flashlight, look back. Everything looks normal. At the front? Same. Look inside. Normal too. In the locker, good. Did I dream? Or maybe a "rogue" wave?
Time to sleep. Go down. Grab a biscuit. Take off gears. Restroom. Ready to sleep? Sleeping. And rolling. Winch sounds on deck. Gybe-oh! Time to wake up. 5 minutes for motivation... 5 more. Garmin position sent. Layers. Toilets. Foolies. On deck. Transition briefing. First lights. 25 miles to the waypoint. Minimal talks. Bisous, iyi geceler. Check the horizon, avoid the offshore low depth zones. Lie down in the cockpit. Look around. Check headings, wind speed. Take a sip of water. Hydrate. Fading stars. Wait for it... Sunrise. Through with the night, sight. Land-oh among pink clouds, sight #2.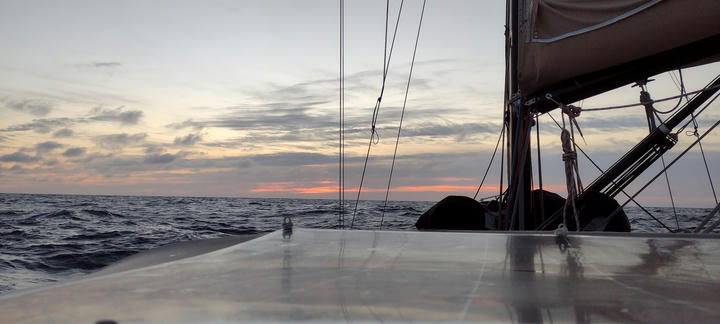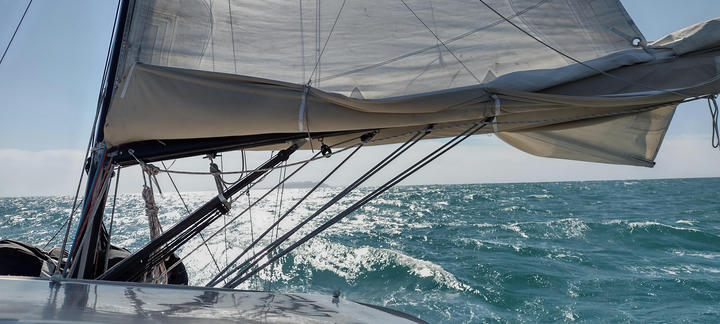 6:14AM. More attention required. Navionics zoomed-out chart wrong, it cuts out the North half of Bahia Santa Maria. Zoom in. Big sun. Card games on the phone. A train of large swells at our stern, one meter or more. Impressive. To gybe back or not to gybe back? Good to have waited, we are headed and on course.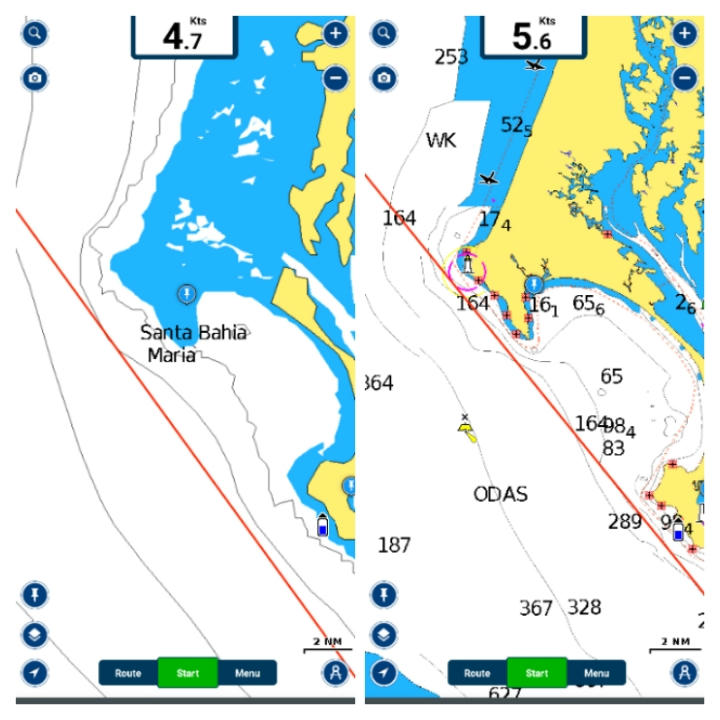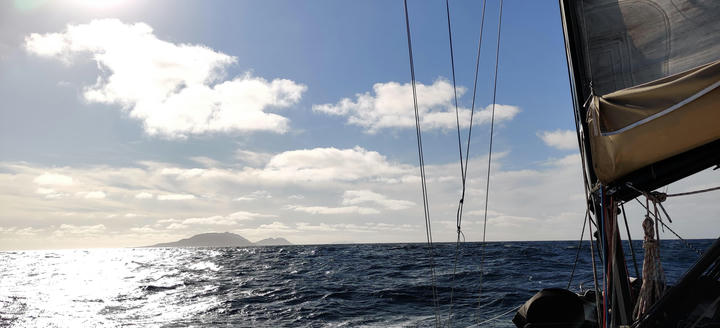 8AM: switch. Günaydın! Finish the game. Decision making: let's check out Bahia Santa Maria. Sleep. Wake up, we are arriving to Bahia Santa Maria. Dodge the breaking reef at the entrance. Head up, beat up. Very windy, bad angle. Unfurl a little bit of jib. Better. Tack. Tack, tack, tack. Is this a sailboat? Are they dragging anchor? From closer it looks okay. They have a little bit of jib out, for stability? I saw 30 knots. Keep tacking our way up.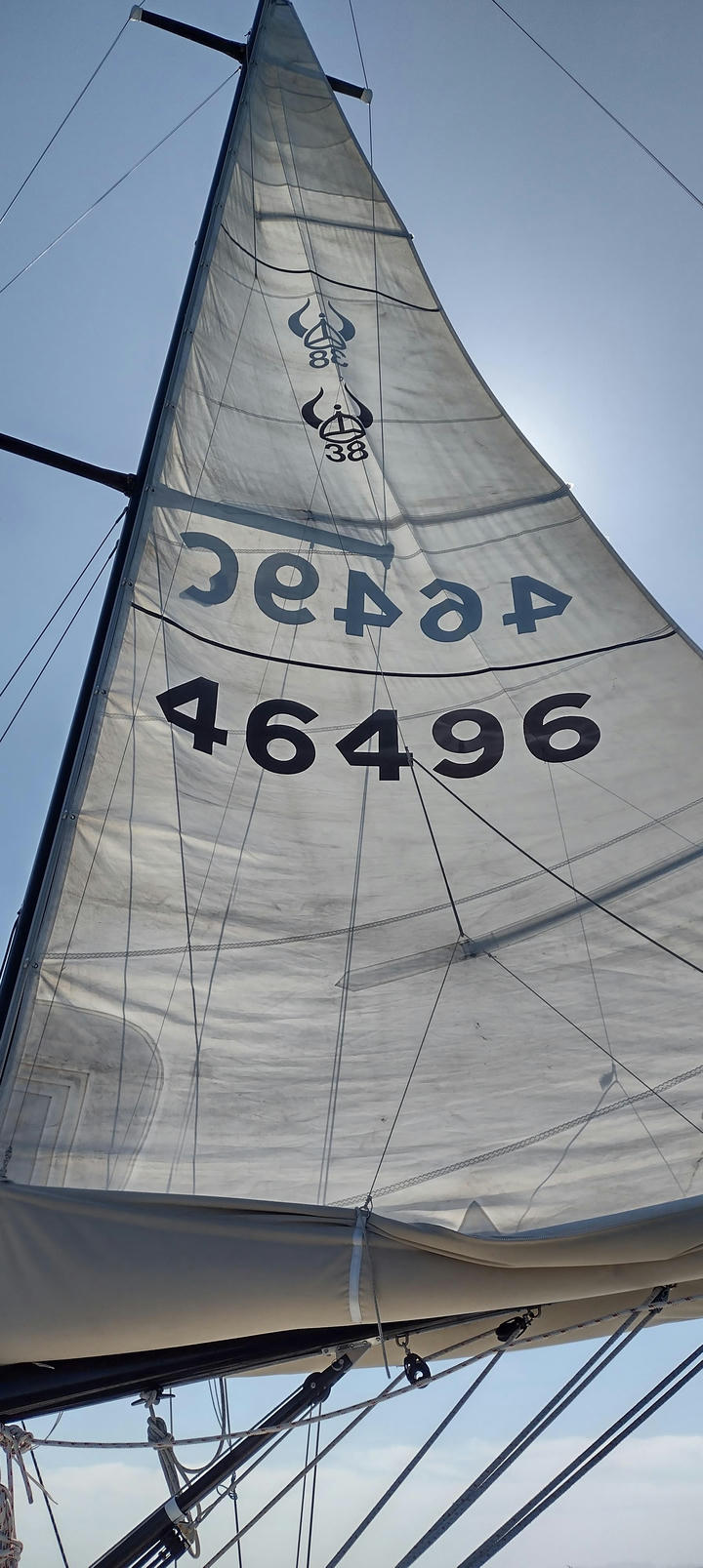 Furl the jib. Engine to drop the main and go. More North and shallow than the other boat, not far from a fisherman's trawler. The shadow on the horizon yesterday? Hard to walk to the bow. Prepped the hook. Walk back to discuss where to anchor. First drop. Bow pushed by the wind: sideway. Pull it up. Windlass! Once more. Down. Help from the engine in *forward* to keep the boat pointing. 120 ft of scope. Reverse to test. Ok. Had been set by the wind earlier anyway. Rush = breakfast. Only after that, we'll decide if we go to Magdalena Bay 20 nm South or stay here for the wind storm coming for the next 24 hours.
Windy for sure, but the anchorage turns out to be pretty flat. We decided to stay and rest.
Welcome to Bahia Santa Maria!