It may sound silly, but we rely on internet for the weather forecast but also for posting regularly these blog posts as well (a bit less crucial in the grand scheme of things). From Turtle Bay, 100 nm separated us from the end of the reach in Punta Abreojos and we really were hoping to get an accurate weather forecast before taking off for another 140 nm passage over the 2nd bight. We were also hoping to gather info on the San Ignacio Laguna, a nursing ground for gray whales and National reserve that you can only visit with an accredited guide, an attraction we wanted to go for.
The internet being poor Bahia Tortuga (or way poorer than what we had anticipated), we were happy to take off for a 50 nm leg to Bahia Asuncion at sunset on Monday, March 8th. In Asuncion, according to Navionics, TelCel (the SIM card we'd gotten in Ensenada) had a strong signal. We had high expectations. We were able to sail on a broad reach most of the way with consistent winds almost all the way to the end and entered the Bahia Asuncion at sunset. Three other sailboats were also anchored there. Finally, we were seeing pairs! Did they also pile up there for the internet? No and no. These boats didn't seem like cruising boats as we got closer but more like parked there long term, and the internet was no better than in Tortuga, which meant very disappointing Edge with an exclamation mark.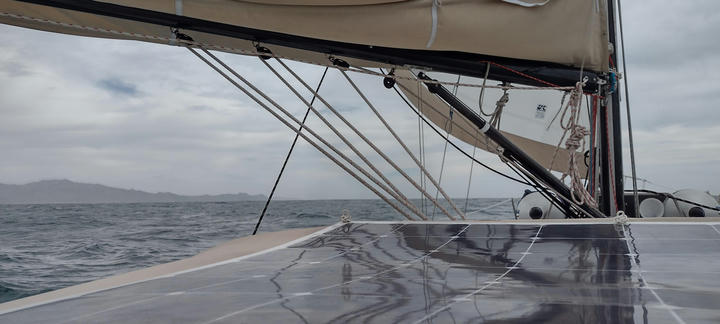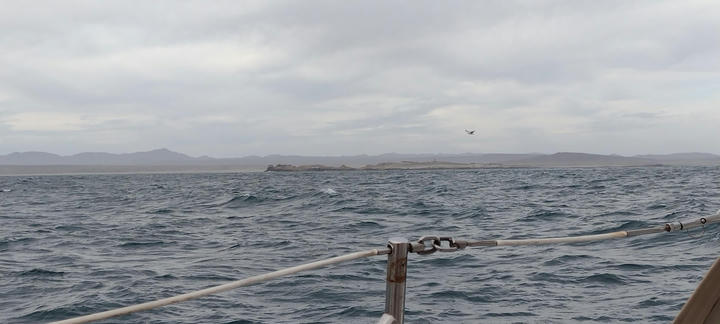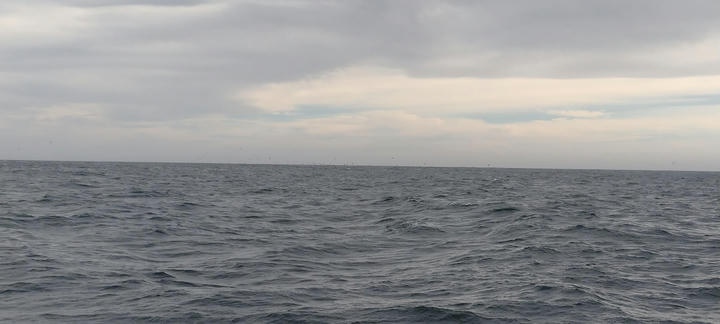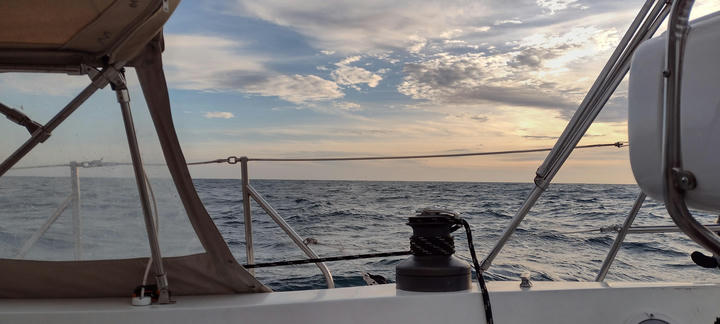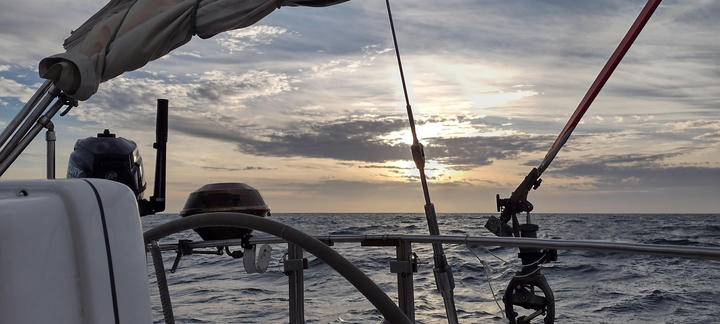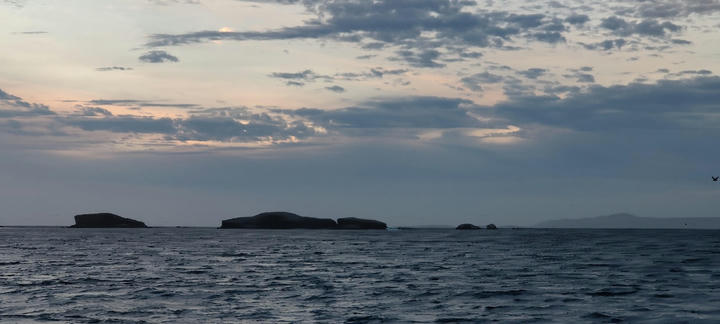 In a tedious and lengthy process, we were able to load a couple of times for the weather forecast to check that it still looked the same. It did. No way to check, not to mention book, a whale tour.
We decided to stay over for a short night, wake up at 5AM and carry on with our descent of the Coast down to Punta Abreojos. It was about a 40 nm trip as the crow flies, but some submerged rocks at the entrance of the bay were adding another 10 nm detour to the whole trip. We motored out of Bahia Asuncion at around 6:30 after a breakfast and salad preparation for the day. The first shift was beautiful in the sunrise with camera shy dolphins escorting us here and there. After an hour or so, some wind had picked up from the NE and we were able to sail at a good 5 knots with Avocet steering the boat. We made overall good progress and Yalçın enjoyed some hand steering in the afternoon. At 4PM, we rounded the Bajo Wright submerged reef and started to turn into the Bay. Two pangas which we going in full speed gave us a warm greating.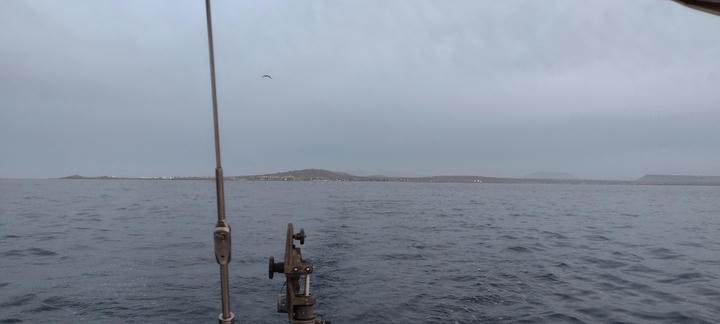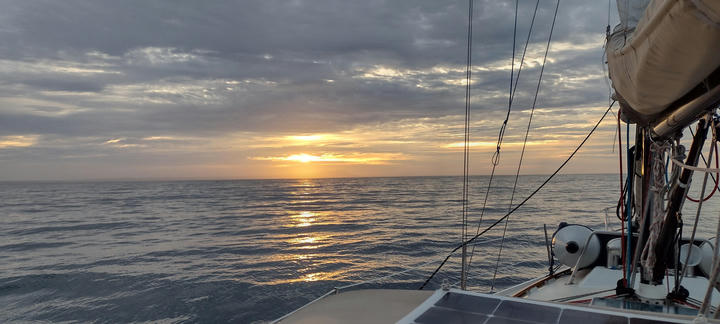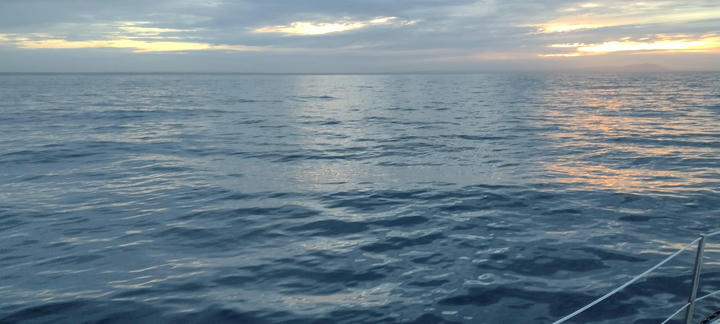 We were soon beating up full rig in 20 knots of wind to reach the anchorage at the North side of the bay that would provide the protection against the swell. The three bays we visited on the middle reach had a rather low landscape and that final beat up was typical, but nonetheless a little nerve wracking. We'd find ourselves overpowered, at the end of an already long leg at the moment when you want to peacefully focus on finding the best anchorage for the night. For that matter, I'm glad we "grew up" (as sailors and with Tirb) in the San Fransisco Bay, where conditions are similar.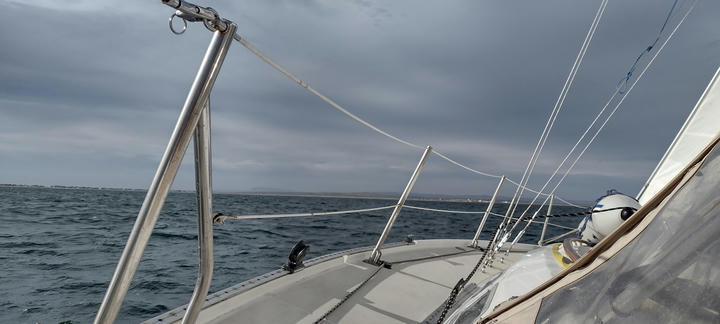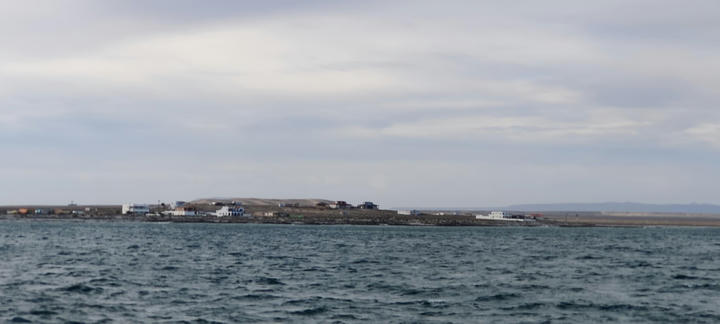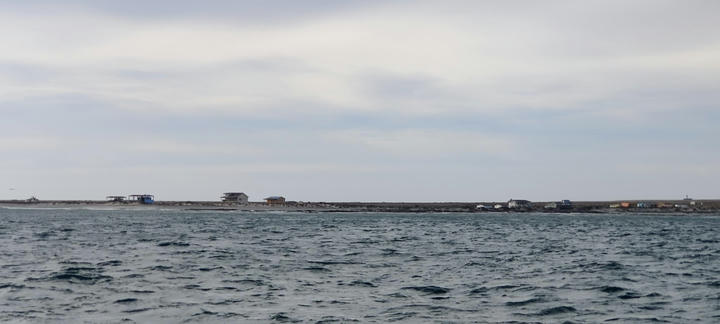 I don't know if it's the wind, the disappointment of, once more, not finding more than Edge internet (without exclamation mark this time, which was a significant improvement for getting the weather forecast, but the only thing we could get really) when Navionics had set our expectations to "excellent cell and data reception" or the surfs breaking on the beach that would make a dinghy landing challenging, but that bay looked hostile. No other sailboat, the pangas were pulled onto the beach, as opposed to anchored with us which was the common practice. Would we be even able to gather information about these whale tours in the lagoon now that we were here?
The mood went up a little after dousing the main, the boat got flatter. After the last mile, we turned on the engine, furled the jib and anchored in 25 feet of water in front of the panga beach. The 15 knots of wind that was still blowing set our anchor nicely in the supposedly sandy bottom (I feel a little sceptical at Navionics info now :p). It was only 5PM, an early arrival by our standards and even more so that we had changed time zone in Bahia Tortuga (who would have though they'd cut the peninsula into two for time purposes!?) and the sun was now setting at 7 instead of 6PM. It was time to recover by having a sunset drink and tortillas. I mean I'm ranting, but life isn't that bad after all and blog posts can wait a little longer, right?
The sunset was really pretty and a whale passing by gave us a little show. Abreojos means "open your eyes" in Spanish and we were ready to do so whether we can get into the Laguna or not.