Tiens bon la barre et tiens bon le vent,
Hisse-et-haut, Santiano,
Si Dieu veut toujours droit devant,

Nous irons jusqu'à San Francisco
.

C'est un fameux trois mâts blanc comme un oiseau

Hisse-et-haut, Santiano,

Dix-huit noeuds, quatre cent tonneaux,

Je suis fier d'y être matelot...

French sea shanty
How funny is it that the most famous French sea shanty talks about sailing to San Francisco? I can't count the times when I sang this song from Avocet or Tire-Bouchon while we were sailing between Berkeley and the city waterfront, a modest distance compared to what the sailors of the shanty are looking at. And when I say "I", Yalçın was singing too, his slightly modified version :p
We were making 4 knots closed haul in 10ish knots of wind. The main sail was up, a first in a long time, probably since we reached La Paz the first time, weeks ago. We were bound for San Francisco, less than 20 nm away.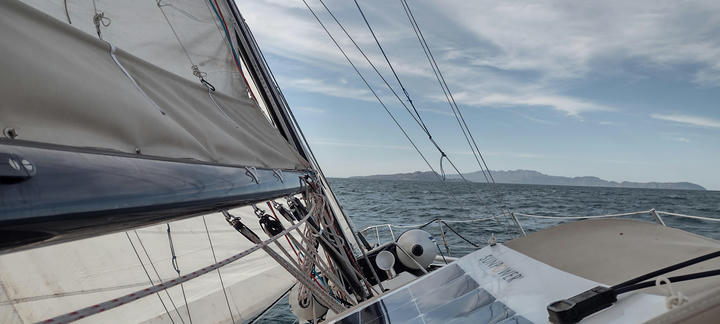 This time, it's not a prank! The next islands to the North are Islas San Francisco, San Jose, Santa Cruz and Santa Catalina. It would be a perfect recap of what you find southbound in "Alta California", if not for the tiny Isla San Diego, by San Jose island, which ruins the perfect progression. We had debated whether to go to that little San Francisco island with its iconic and highly-praised half-crescent sandy beach, as it was another detour off our way South to the mainland. But San Francisco!! We couldn't help the chance to go back one last time, or the irony of having sailed so many miles to end up at our starting point!
Tire-Bouchon was heeling over happily and his large genoa was giving us good speed, even in the moderate conditions, so we could hope to arrive before sunset. It felt weird wearing shoes again as I guess we'd grown used to being barefoot for the past week. We had left our little cove without looking back as a three-story motorboat had anchored next to us and pangas were taking turns to offer their guests a lunch on a desert beach, with loud music on the speakers for the last one. The magic of the place was broken for us and we could only be grateful we got to experience its peacefulness all to ourselves the previous night.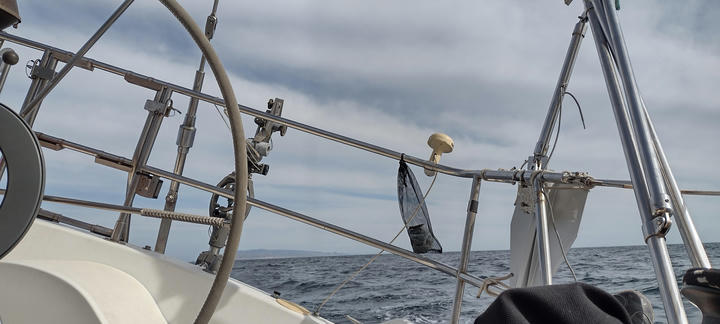 Speaking about peacefulness, sailing had its immediate calming effect on me and I was falling asleep. Cruising life is far less stressful than a working landlife, no doubt, but even at anchor, there is always something to do: taking care of the boat (fixing, cleaning, maintaining, tackling endless list of projects), of ourselves (food, dishes, etc), or exploring. One of the only moments where you can truly relax is underway, where, aside sailing the boat, which can at time be a handful, you are not expected to do anything! And today, on a couple hour sail, there wasn't much: look at the island and steer to it on one tack. We had recently cleaned the hydrovane rudder, so it was off, but Yalçın was happily fulfilling the job as we hadn't sailed in so long. So I snoozed on the cockpit cushion, happy as well. When I reemerged, we were half way between the two islands, with a stunning view on the Baja coast, North of La Paz, loosing all these miles we had sailed South on the other side of the peninsula. The wind was higher, more in the 15 knots range and another sailboat had appeared in the distance. Tirb was now seriously heeled over, and a couple of objects fell from the high side as a reminder that we had lost our good habits of securing our things properly in the cabin.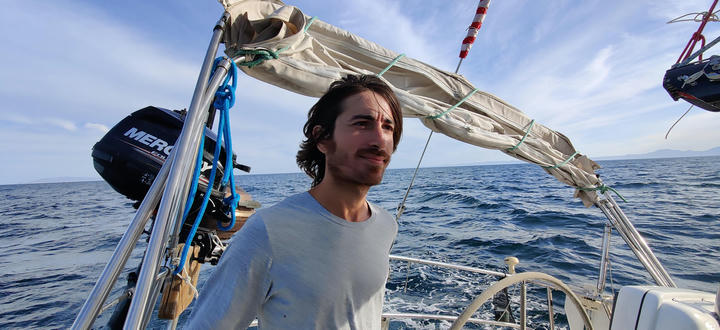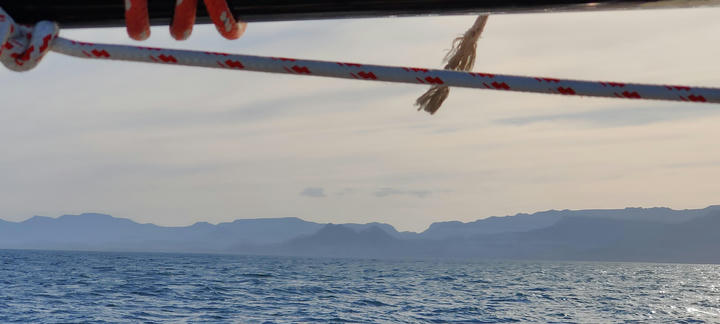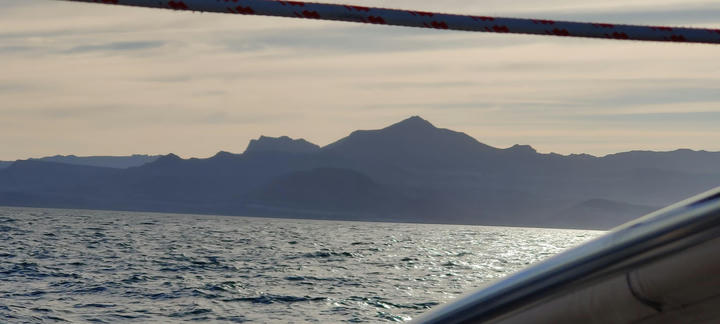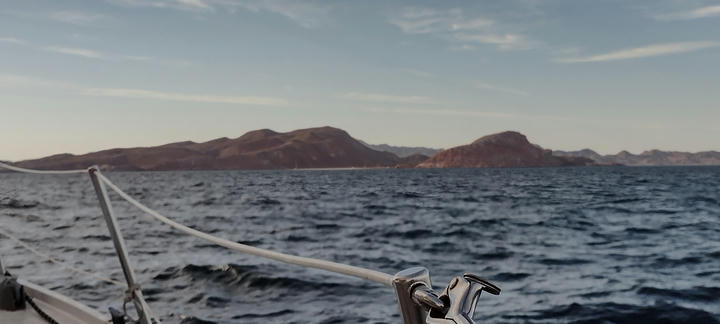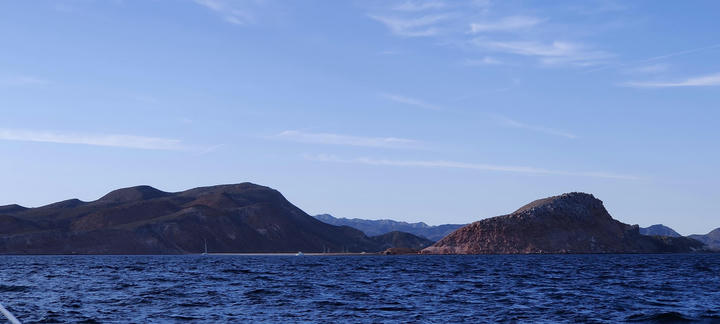 The rest of the way was spent singing loudly a remixed version of "My girl" from Nirvana and looking at our island getting larger in the taming light that precedes the sunset. Yalçın was still steering like a rock. We watched out for unmarked rocks at the entrance of the bay as some Navionics users had mentioned. They were pretty obvious, so we entered the large bay and found a spot to drop our anchor. Charter-style boats and cruising boats seemed to have segregated in a funny way: large catamarans, charter Beneteaus and the motor yacht to the West and cruising sailboats to the East (they are easily spotted with their steering vanes and solar panels/wind generators for energy independence). We even recognized one from the La Paz anchorage, they waved a friendly hello as we were looking for a spot on the East side. No Golden Gate nor our dear friends, but we were still happy to settle on the East Bay (: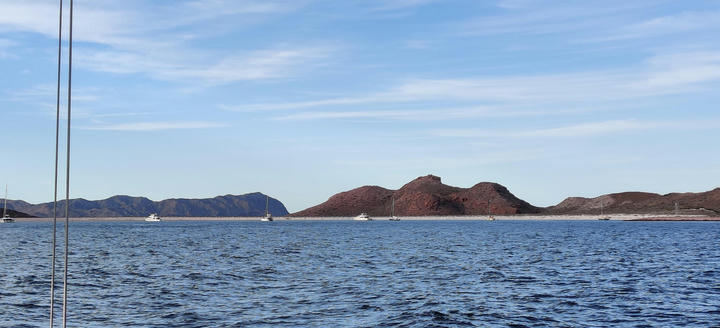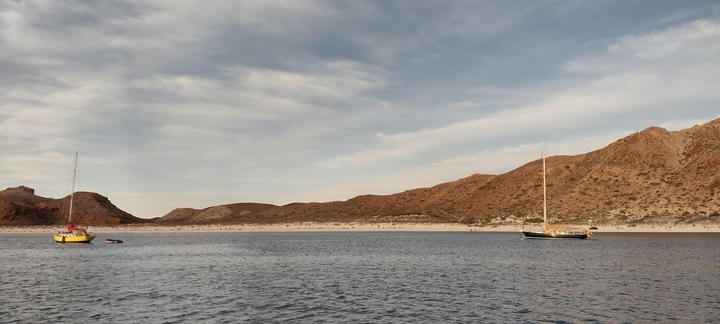 Monday, April 19th, 2021