The blog has been cold for months now. The reason? We had this article sitting on our phones for the whole time, but were too concerned it would worry our families. Indeed, if our longest passage went relatively well, we had a little incident offshore of Guatemala. Nothing bad ensued, but nonetheless, we were worried of the reaction of our families and preferred to wait until time passes a little and they know we are safe.
Here is the story of our longest trip with Tire-Bouchon so far to go from Mexico to Costa Rica, in June 2021.
Day 1
We left Marina Chiapas at around 2PM, after a long week at the dock. This is the first time that we plan on sailing long enough that we are not sure when we'll arrive and what the forecast will be throughout the entire way. After a week looking at the forecast, we have come to terms with the idea that the weather is not going to be ideal. One always prefers a downwind course for the entire way, but that never seems to be on the menu. The region of Guatemala and El Salvador seem to have no wind at all for most of the time, and when there finally is wind, it comes from the nose. So, I guess, we will learn how to beat our way upwind for possibly an entire week. At least, some wind is better than no wind, since we don't carry enough diesel to motor the whole way anyway (even with the extra 20L jug we have bought for the occasion). After one week of cleaning and minor boat work when we arrived, followed by computer work by the marina pool to bear the intense heat (impossible in the boat!) and finally a last couple of days of preparation (provisioning, cooking, fuelling up and checking out of Mexico which took a while!) which included a visit to the nearby-ish town of Tapachula for our last Mexican tacos, we were ready to go back at sea... And we had to!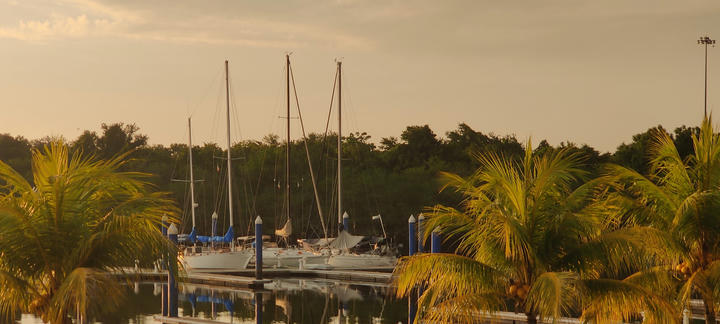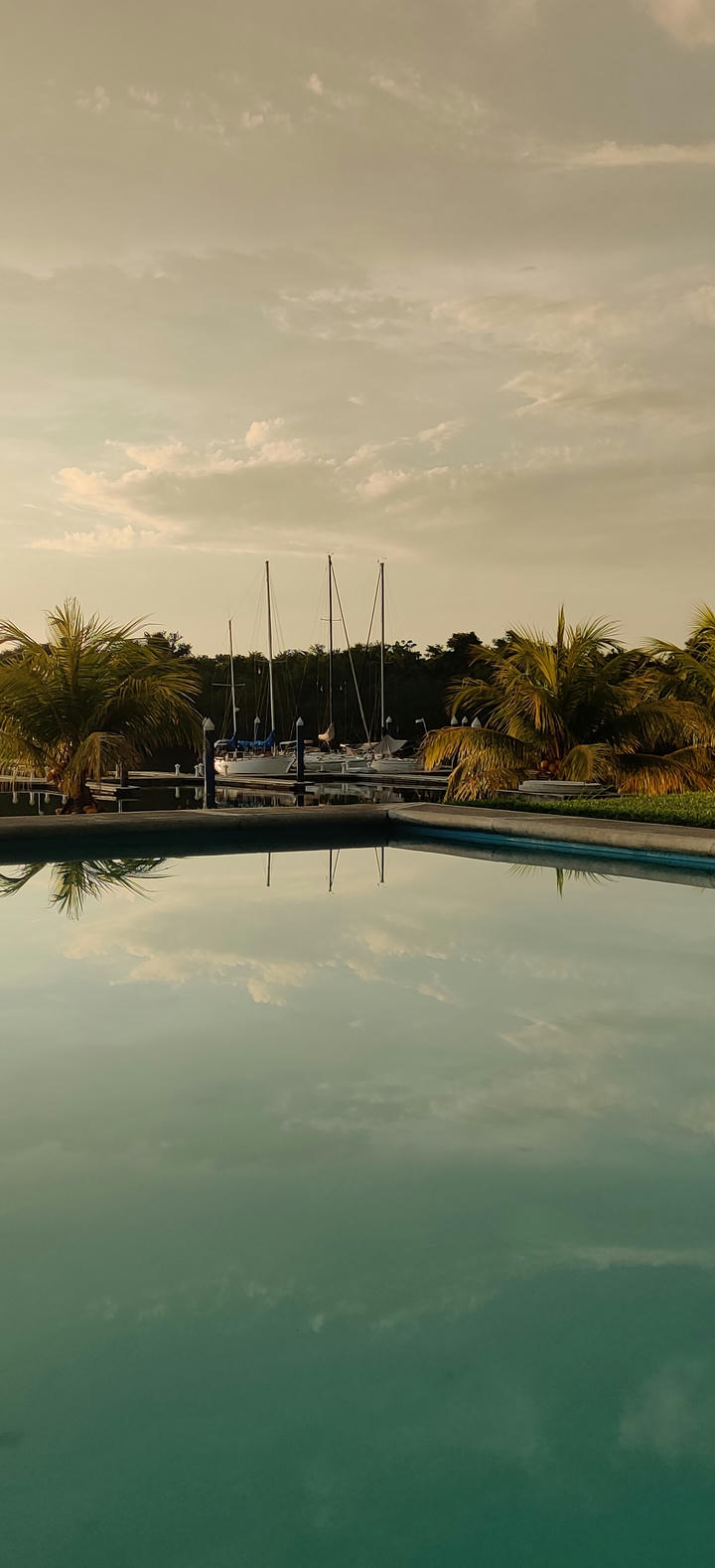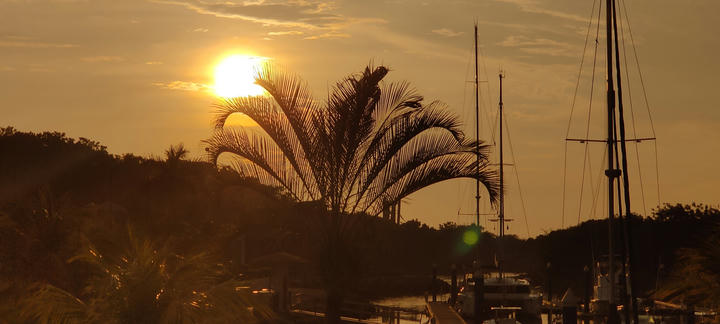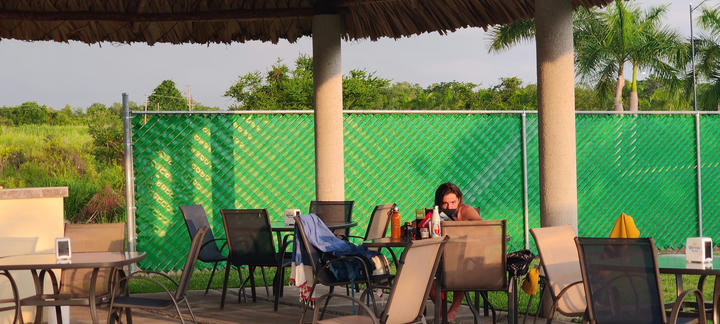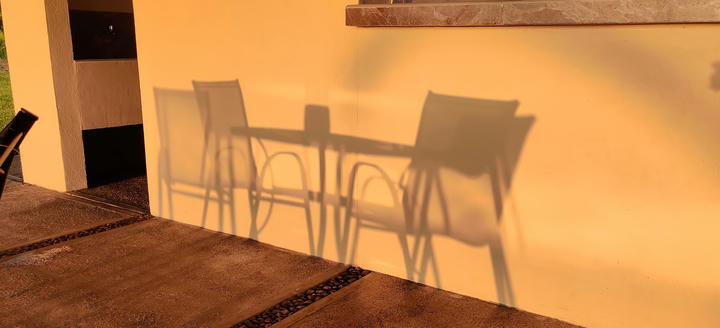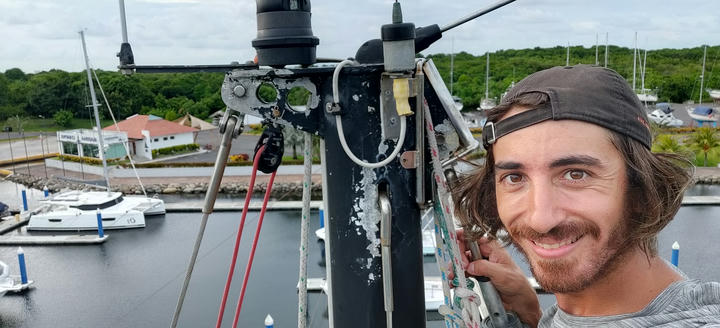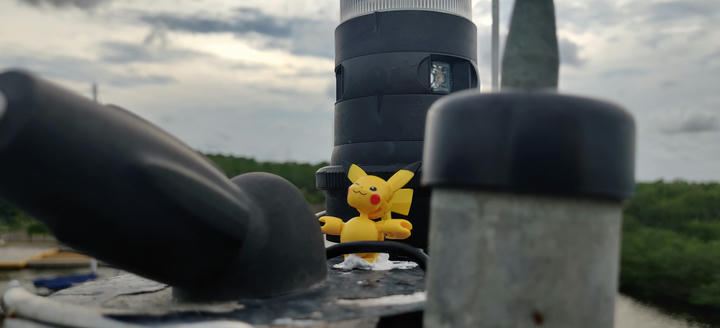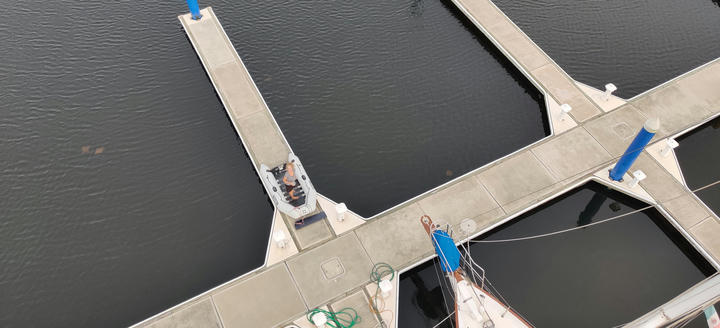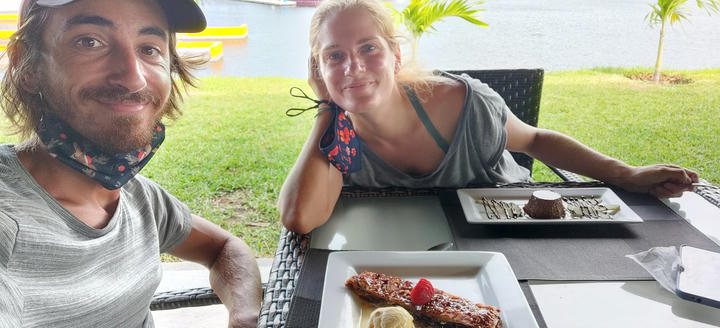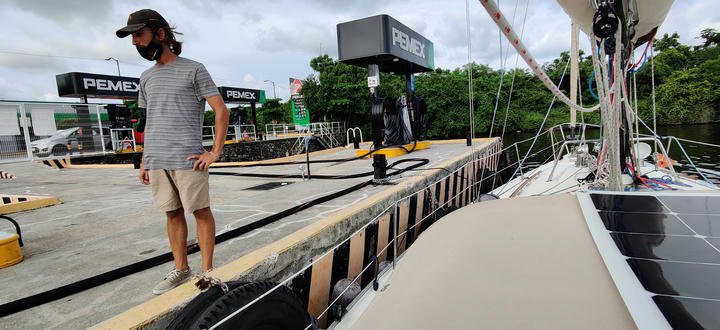 In Marina Chiapas, we had a military and Port Captain inspection as we pulled in, and we got a similar visit, one week later, on our way out. No dog in the boat this time, but a man with an automatic riffle (glad he didn't step on the boat!). The visit was friendly nonetheless (the Port Captain representative asked a lot of details about the solar panel while waiting for the Navy), but once it was done, we have to leave readily. We still had time to exchange contact info with our dock neighbors, an Australian couple with a gorgeous ketch, also on a long way home across the ocean. Yet, one of the marina staff was around waiting to cast us off. We had been amazed at the skills of Marina Chiapas line handlers, they were also stopping the boat and tying it the proper way, which is not always the case in marinas (we are usually suspicious as they can screw up your maneuver). Casting off was no exception, they slipped our lines with mastery.
We motored out the large Puerto Madero following the same path as when we arrived. Outside the break wall, the swell was up as the waters are quite shallow. The wind was waiting for us too. We sailed out as far as the marker signalling the entrance and started to beat up with two reefs in the main. Yalçın got that one, as we started shifts right away. A difficult beat up with a large tacking angle (more than 90 degree), which makes it hard not to loose progress on the bad tack; sadly the good tack would be taking us to land... We made 5 miles in 3 hours, our bow smashing into the waves. When I emerged three hours later, a new breeze came up allowing us to make 5 to 6 knots directly toward our waypoint. A breeze: We had shook out one of our reefs by then and could have taken it back, but we were glad to be making such good progress for a couple of hours. And that was the right call... Soon the wind started to come from our nose once more and we were back to beating our way up.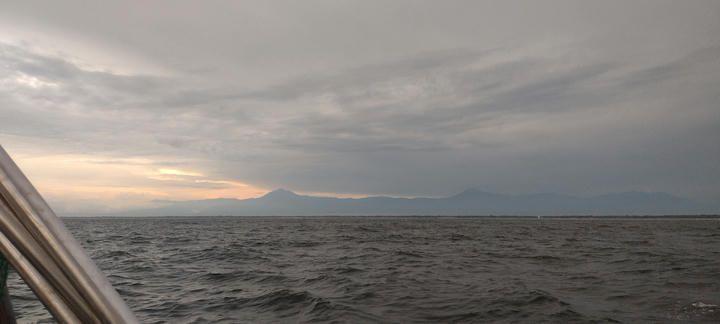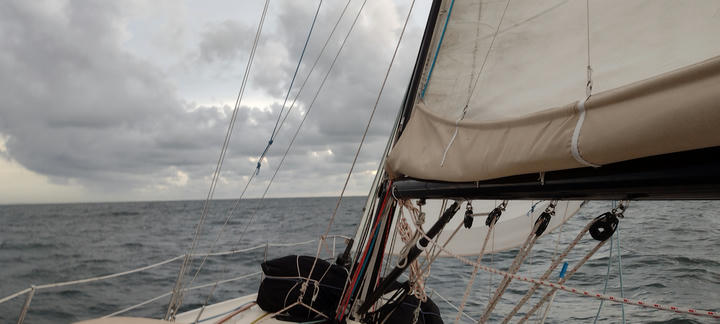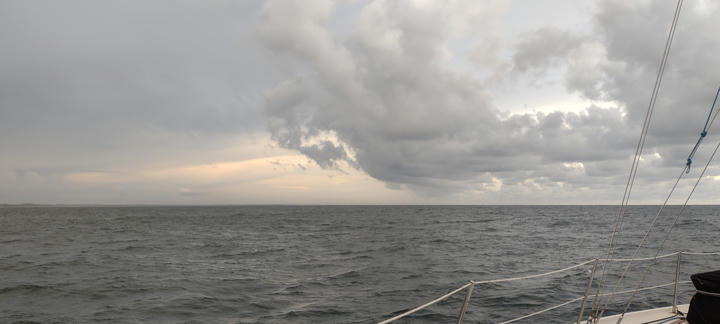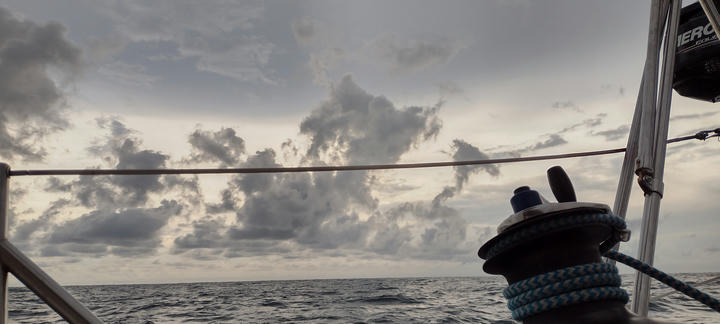 Around that time, we crossed the border to Guatemala, youhou! Out of expectation/dream territory! Indeed, many times from Berkeley, while working hard on the boat, we gaines motivation by imagining our Team Bouchon in Mexico, but our fantasies didn't take us any further... And we were now further! After another 3 hours, we switch again. Yalçın went back to beating up (I hadn't made much progress myself, except tracing a nice Z on the chartplotter (fun coincidence since we were watching the old Zorro TV show in our spare time), switching to the motor when the wind would get too low. This allowed us to put some distance with the shore, which was a shallow shelf of 50 ft up to 2 miles offshore. Thunder actions had started on land and offshore, but luckily both were quite far. We switched again and I retrieved a good wind angle to go straight to our goal in the dark night. While the swelly beginning was a little rough on our land-accustomed stomachs, it felt better in the night's smoother conditions and we were able to get some rest, one after the other.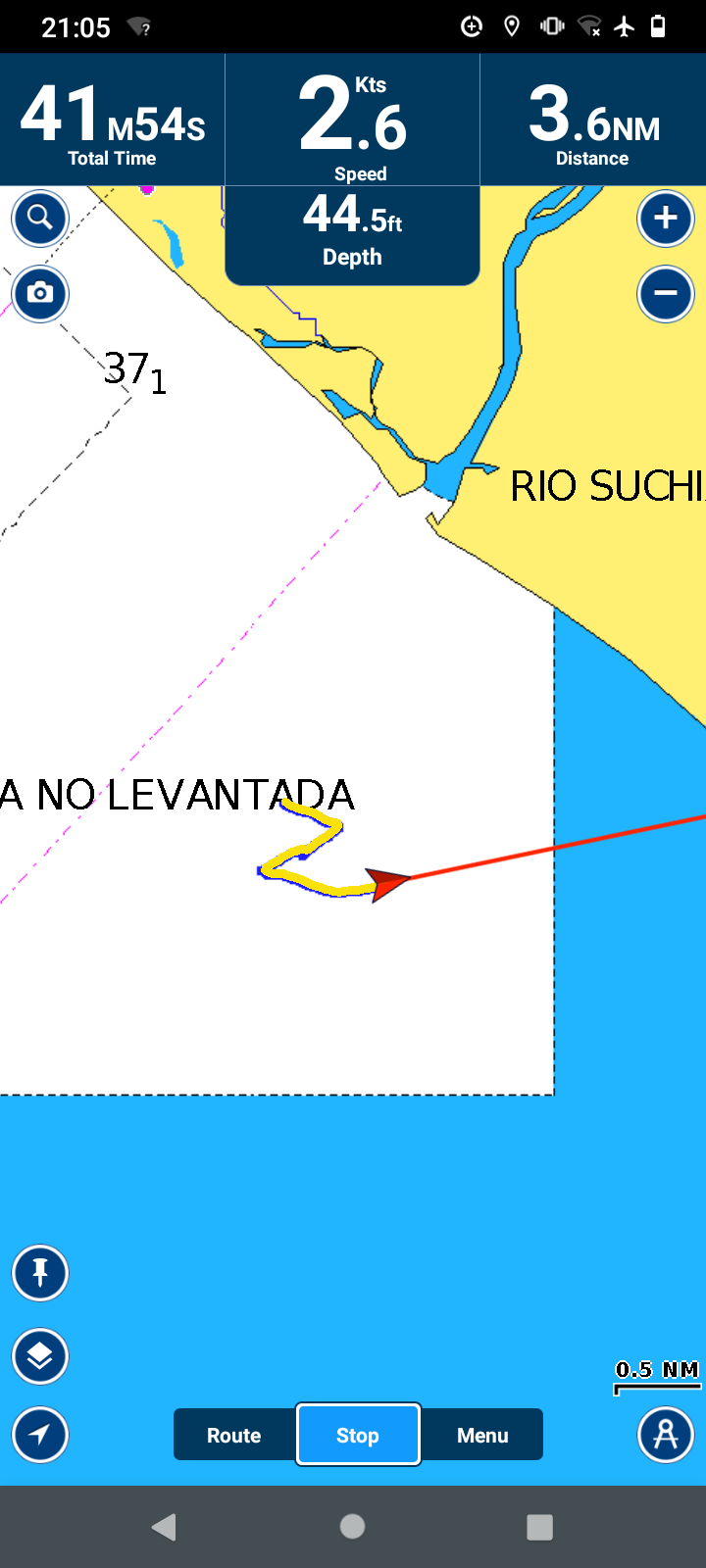 Day 2
Night shifts went smoothly and when I woke up, the sun was way up. We were still making slow progress beating up, with a VMG (the speed with which you approach your objective even though you can't directly point at it) of 1 to 2 knots: Not much, but still forward progress fuel-free. Yalçın had just gone below to take his turn to rest, when I saw 2 pangas coming directly at us. It was just a suspicion at the beginning (fishermen do head offshore in the morning), but it soon became clear. Definitely, I was not thrilled! I called Yalçın back on deck as the first one came to our port side, filming or taking pictures with a smartphone, the second panga standing by further away. At this point, I was still telling them not to come too close in a friendly fashion. They were clearly not minding my words and eventually hit our side, luckily not very violently. That's apparently when I started speaking loudly in French ("ça suffit maintenant, vous dégagez !"), pushing their boat back angrily. They eventually retreated but gathered with the other panga at some distance, looking like plotting a return. In the meantime, Yalçın took a metal bar we had in the cabin and loaded the flare gun, as to intimidate them if they were to come back, hoping they would understand than it could set their small gasoline tanks on fire. I had picked my weapon: one of our heavy and long Barient winch handle. The first boat came back, to our starboard side this time. The smartphone picture taker was asking us for beer now. On the second boat, they had masked their faces and seemed ready to approach on port, but were still standing by at a distance. The boat on starboard didn't come as close as the last time, at least not close enough to hit, but close enough to talk. Yalçın showed the orange flare gun, pointing down, the man started laughing. Eventually, Yalçın pointed at him, while I was yelling at the port boat who was approaching closer. They retreated again to discuss among themselves. We used that time to call the Coast Guard on VHF channel 16. The Guatemalan Navy was prompt to respond in good English and sent a boat to our position. Meanwhile, we had started our engine and furled our headsail to get out of this place faster than our decreasing 2 knots. We don't know if the fishermen (they looked more opportunistic than actual pirates) went away, but they disappeared. Soon, we saw the Navy ship in the spot we just left. They contacted us again on the VHF. We informed them the harassers had left us along and we kept making progress towards our destination. We doused the main and motored for some time, to recover and relax, hoping we would get a better wind angle after curling around the coast of Guatemala.
We were definitely a little shaken and debriefed endlessly about what would be the appropriate response if we were confronted to a similar confrontation again: we could toss a line to fool their prop, push them with the metal bar and have Yalçın yell at them in Turkish in addition to my French (trust me, after some practice, it becomes quite scary). We were still motor-chilling when another panga approached us. This time it was gray and with men in uniform, another ship of the Guatemalan Navy. They pulled up little fenders and grabbed our side. They asked if everything was ok with the navigation and seemed aware of our misadventure. We thanked them warmly. They took a picture of our passports and left. Then came back 5 minutes later to asked for the name of the boat and ended up taking a picture of the transom because the name wasn't coming across. They waved another warm goodbye and were off. Even though we didn't (plan to) set foot in Guatemala, we met way more people than expected!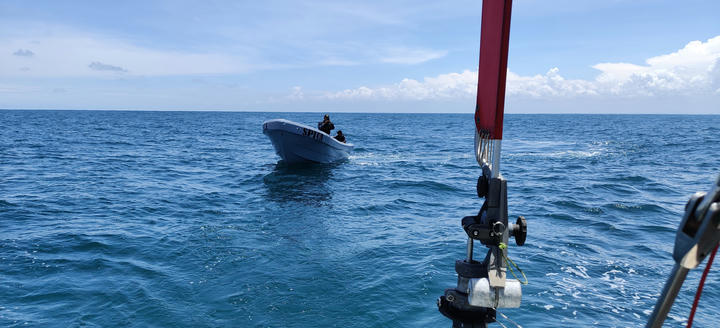 At 2PM, we logged in 76 nm after 24 hours of navigation, including at most 5 hours of motoring. We also discovered that our V-berth mattress got socked as we didn't properly closed one of the windows - so much for leaving in a rush (I hadn't realized during my regular check before departure) - a story that may sounds familiar to some of you!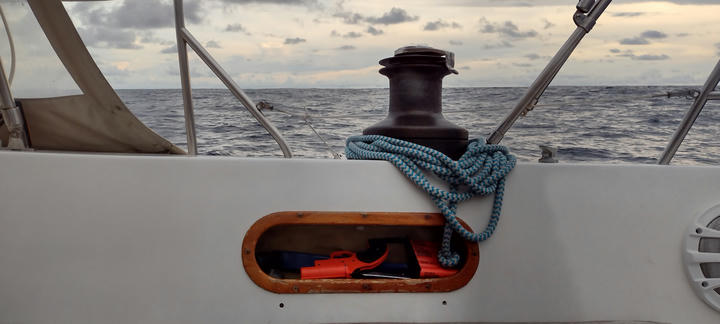 A little later, we were able to sail again on a more direct course to our way point marking the main port of Guatemala, Puerto Quetzal. We had a couple of hours of good breeze but then, the wind died out a little, and we were back to making around 2 knots. That's when we took out our secret low wind weapon: the spinnaker! The only challenge with this guy is that Avocet the wind vane (who had been the helmslady so far, except when motoring) has a hard time steering, especially correcting if we get too far from our course as the spinnaker rounds up or knocks down the boat too much. However, in our case, it was light enough that Auto-Nick, the electric autopilot, could handle it. We were making better speed at around 4 knots, sometimes even seeing 6 knots on the display during the gusts. Eventually, we started hearing a motor in the background. A panga was going offshore, quite far and behind us. Still shaken by our experience with pangas in the morning, we figured it would easier to deal with a new tricky situation without having the spinnaker up. We doused the big colorful sail promptly and started the motor. Likely a bit of paranoia here, but you know how the saying goes: "better safe than sorry". We had some food and played a game of cards, before starting our shifts. We decided to keep the flare gun in the cockpit for the night, just in case. The evening sight were a delight with fluffy clouds and the sun disappearing in orange behind some of them. We were approaching Puerto Quetzal. The city looked large as its lights illuminated a substantial part of the sky. During my shift, I saw many lights on the water, signaling ships: a container ship at anchor and probably several fishermen boats. I kept a vigilant eye on them, making sure they weren't approaching. And of course, they weren't. We had seen so many fishermen in pangas so far, hopefully this bad experience was not going to overwrite our previous good ones in our memories. Yet, for that first shift, we had decided to navigate incognito, without our navigation lights.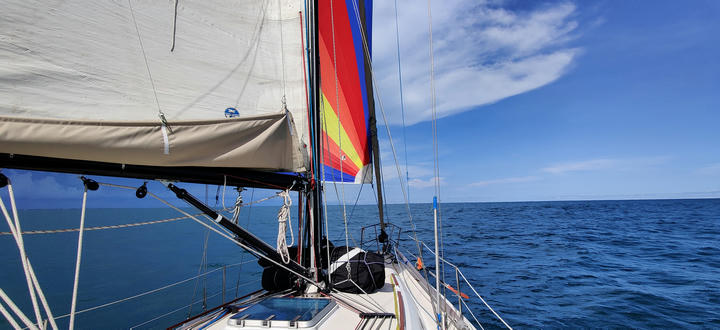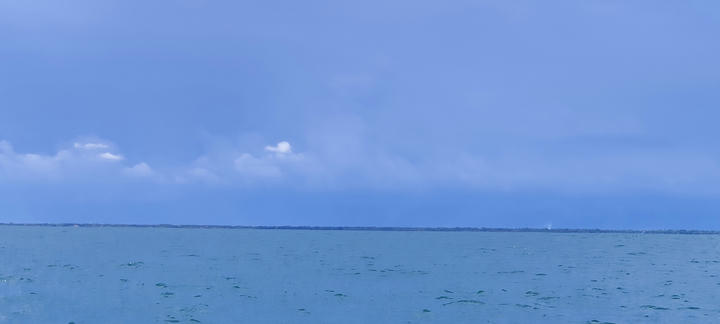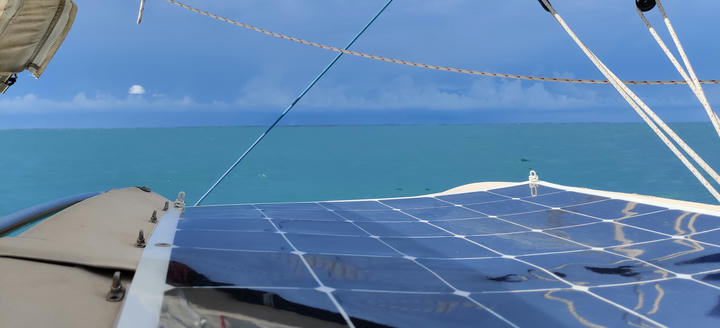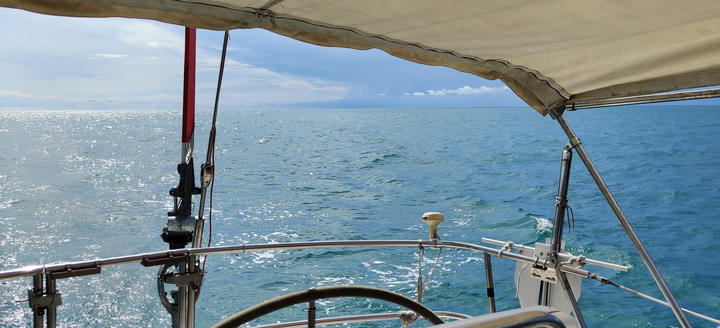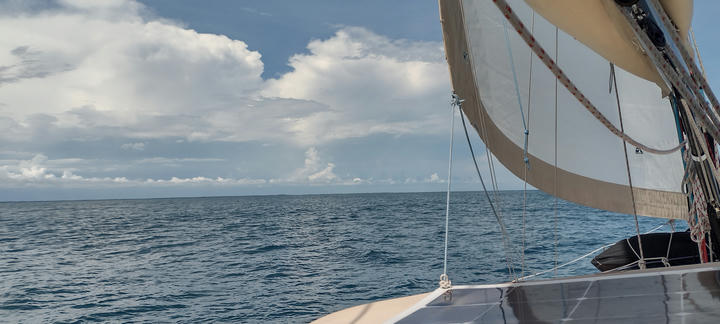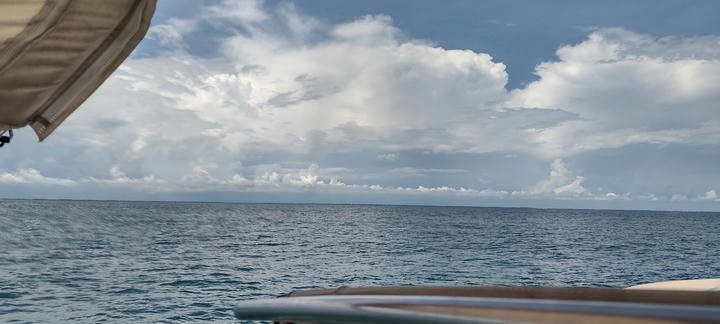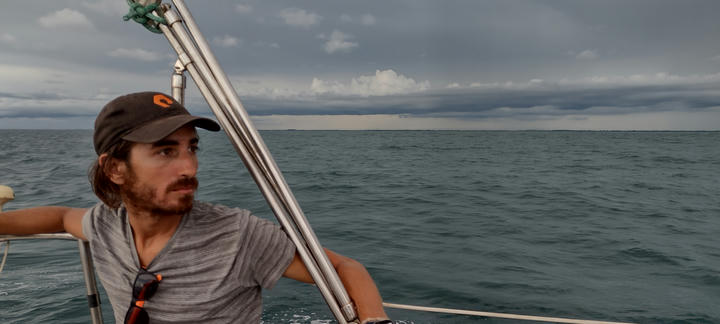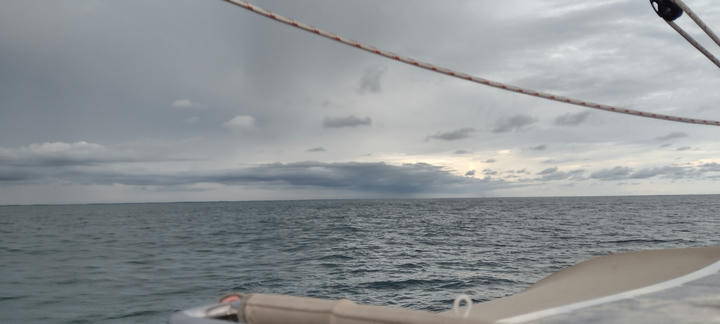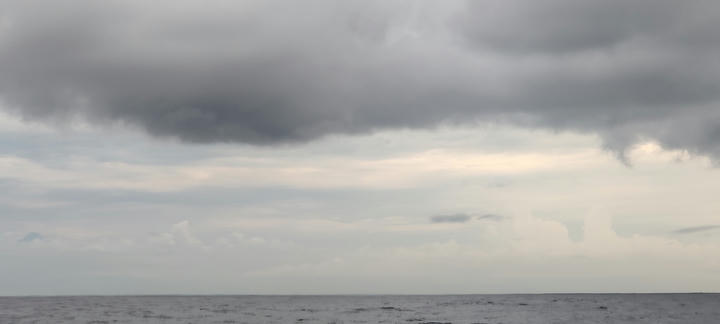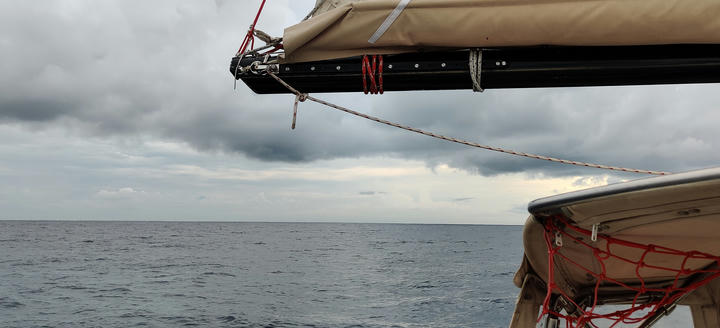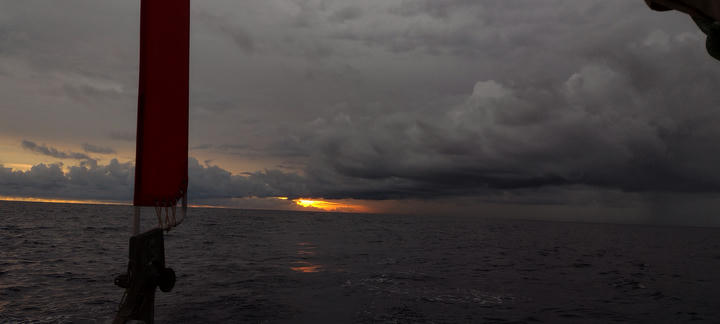 Day 3
We motored the entire night, with light winds from our bow. There had been some lightening action again, but luckily, nothing too close. As the sun rose, the thunderstorm lost its intensity. Soon later, a panga came close to us. Not too close and nothing too worriesome, but I still woke Yalçın up, just in case. They passed our stern slowly and headed offshore. At 6 in the morning, we crossed the border between Guatemala and El Salvador. The lights of the first Salvadorian port, Acajutla, had guided us into the dark moonless night, but we were to leave it at a distance because of the many reefs and rocks around the point. As we got closer, we noticed more and more ships anchored by the harbor entrance. Another one was just drifting by, at 2 nm per hour, and it looked to me like a huge glass of Guinness sitting on the Ocean. A breeze had picked up by now and we were tacking our way upwind. After another 24 hours at sea, we'd logged another 92 nm or so. We were now less than 280 nm from Bahia Santa Elena, Costa Rica, getting closer to a distance we had already sailed in the past. Thanks to an international SIM card supposed to have reception in any country, we were able to get the forecast from Acajutla. The wind we were sailing in wasn't predicted at all. Based on the forecast, we had planned to motor all day in the hope of meeting decent winds at the end of El Salvador, to fill in our sails and propel us through Nicaragua. These winds were supposed to only pick up on Tuesday morning. Were we experiencing them early? It was great to sail and save fuel, but not being able to trust the forecast could mean that we could end up becalmed and still be too far to be within motoring reach from our destination. Of course, that would be a bummer! In any case, the way to go seemed obvious: wait, sail and see... We eventually crossed the path of a Salvadorian panga, which got our adrenaline going a little. The fishermen were setting a net and trailing lines and waved back a friendly hola. You see, nothing to worry about, put those flare guns down! Our afternoon time was spent reading out loud the history of the Central American countries we had been sailing by. We learned about a lot of dictatorship regimes, a Federation of Central American states that didn't last for very long (and didn't include Panama which was federated with South American countries) and quite a bunch of US military or political interventions. The sun set offshore of the port La Libertad. Soon all the lights on the shore light up, reigniting a fear of boarding pangas Dang! I hope this will go away! What looked like a helicopter came closer to us but remained quite far. A thunderstorm was developing on land. To put some distance between the storm and us, we started heading offshore a touch and started our watches. After my first sleeping shift, thunderstorms had developed everywhere and we had no choice than running away from them. Motor sailing between 6 and 7 knots, i lead Tire-Bouchon South, which seemed like the only safe route. The entire shift was spent looking at the thunder and its evolution. I pride myself in having outrun the huge black cloud that was developing on top of us by La Libertad. When Yalçın took over, my strategy was: no need to look back (the flashes were intense and scary!), sit in the companion way under the dodger and watch our two bow sides; if we pass the storm on the left (likely confined to the land), head more East so that we don't go offshore more than needed.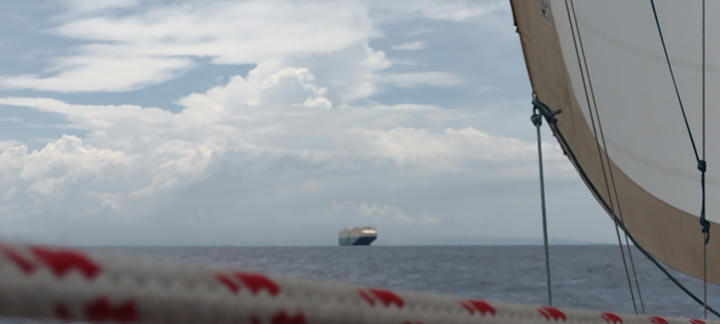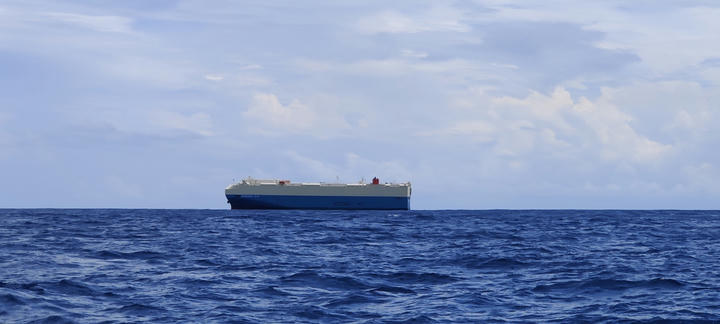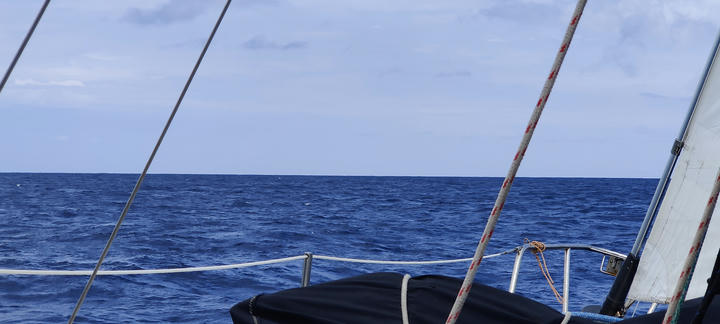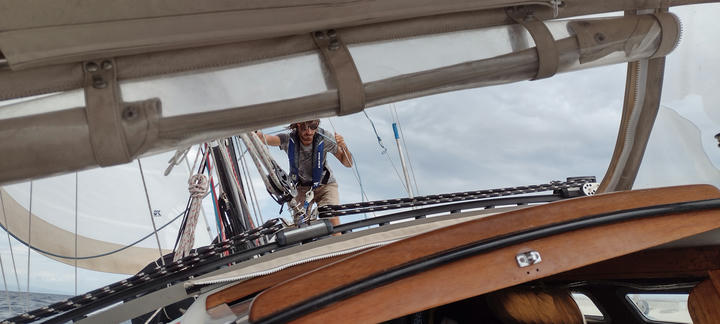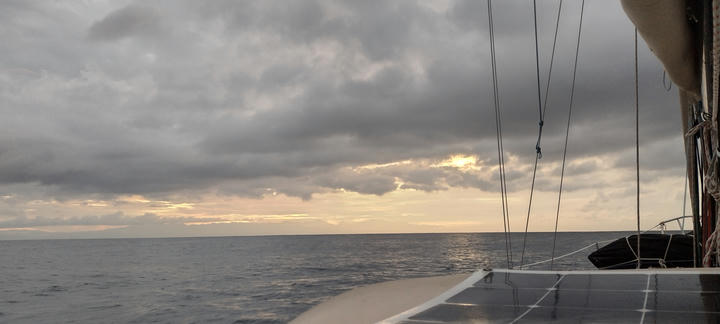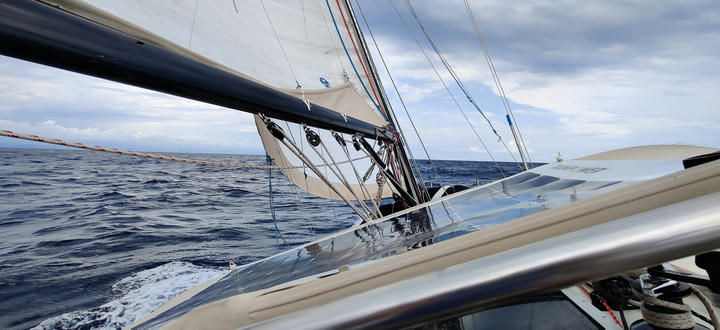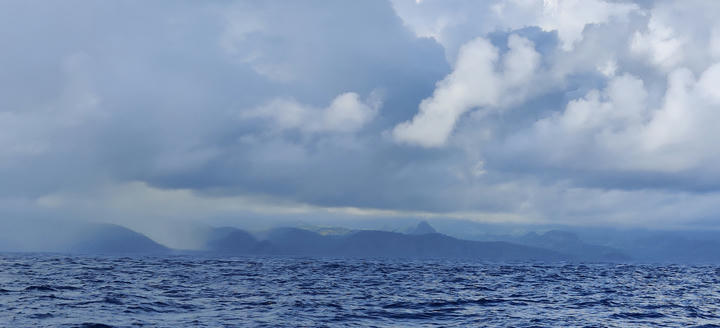 Day 4
The sun seemed to have rose earlier than the day before. We decided to interprete that fact as an evidence of our good progress East. We started the day about 45 nm offshore from the closest land (still El Salvador), after our crazy night running away to the South, but we were now making direct progress to a waypoint in Costa Rica, less than 200 nm away. We were more than halfway there! The wind had picked up to the mid-high teens from the East, which could very well be what was in the forecast at last! The swell was building up from the South, strangely coming from our leeward beam (quite uncommon: most often wind and swell are more or less from the same direction). Not sure what was going to happen (remember, the forecast had been quite unreliable), we were a little anxious about being that offshore. We were not regretting our choice though, so better embrace it and enjoy the shortcut it offers to our final destination. Soon, the wind shifted East and our tack was taking us a little more offshore, but still with a good VMG to the waypoint. Wind chops had now built up and Tirb's bow was pounding the waves with loud bangs. The sky was bright with clouds and the sea had that dark blue color that it takes during bad weather. The conditions were wet (we even put on light foolies! - something that hasn't happened in a long time) with waves sometimes passing through our dodger that we kept open nonetheless. This was our Vendée Globe moment! We were still making extremely good progress over ground. However, that wasn't the best condition for sleeping inside with all the wood creaking and the loud bangs of the waves. Yalçın managed to get some more rest in the morning. Meanwhile, I got the marine weather forecast from our little sat phone (Garmin inReach), which confirmed that we were expecting a shift from the East wind to South Southeast winds. The latter would eventually allow us to point directly at Costa Rica. Yet, before that happened, we had to decide which tack would be favored in the end? We could either keep on this tack, which was leading us offshore while we were still making good progress to the waypoint; the only risk being that, when the wind eventually shifts, it'll come directly from our nose and we would have to beat up into it (not desirable as it doubles the distance!). The alternative option was to tack towards Nicaragua early, with the risk of loosing some forward ground we had made towards the waypoint, possibly getting out of the wind zone (inReach gives you forecast for one location at the time, so we didn't have the most up-to-date spatial wind prediction. With our older data from internet, the models disagreed about whether it'll be windy closer to shore). In summary, we were going to have to tack to be on the perfect course, the crucial question was when to do so. I made the call around noon. It was still early for the Southerlies but yet, we were getting headed more and more towards offshore. When Yalçın emerged, I was getting ready to tack back towards offshore, doubting my earlier decision. But our heading had been slightly better as Yalçın notes: the expected lift on this tack was happening! Yeah! Within a couple of hours, we were making full 6 knots under sail only (partially furler genoa and double-reefed main). Gorgeous! 72 hours after our departure, we had logged in 298 miles, with 130 nm during the last 24 hours. Not bad! Our offshore course had paid off in the end!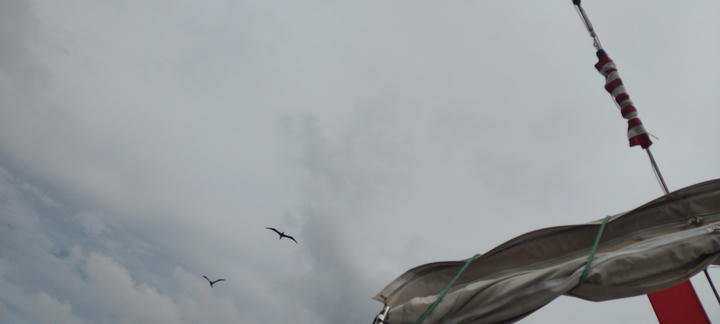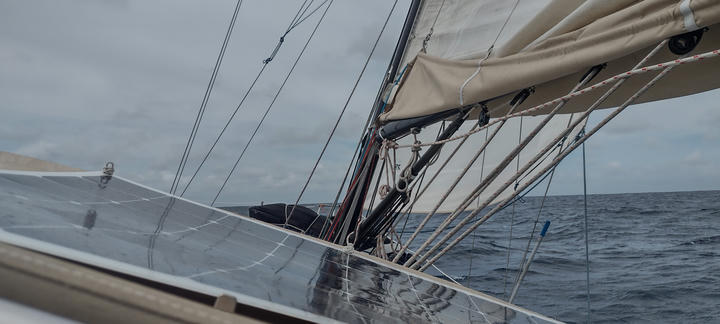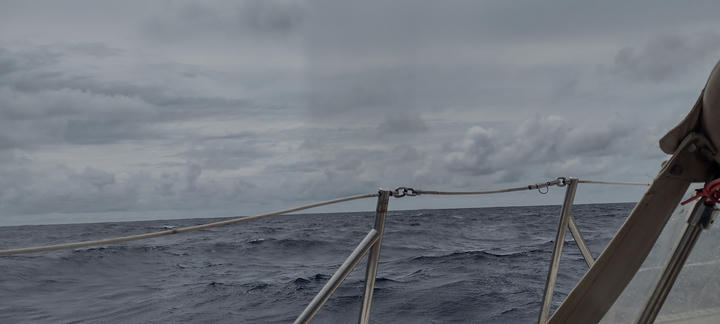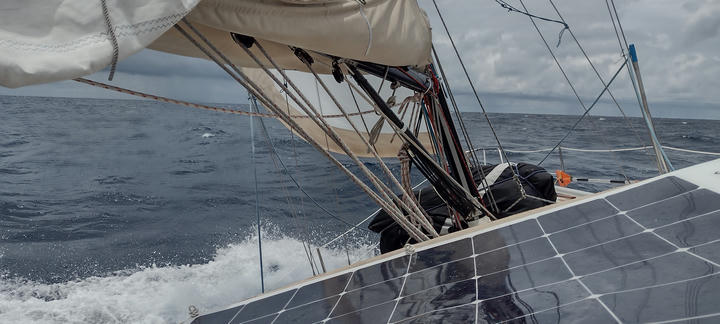 The action of the day (in addition to trying to leave at a 30+ degree heeling angle) happened when Yalçın discovered the anchor had detached from the chain and was solely staying on the boat because it was jammed under the furler (my nightmare when dropping the anchor). With all the waves and pounding, there was no doubt it would eventually part from us: we had to fix it right away in order not to lose it, especially arriving to Costa Rica of all places where marinas are extremely expensive (3 to 6 times more compared to marinas in Mexico). Clearly, we had better plans for our savings! So Yalçın lashed the anchor solidly, not without getting wet in the process. A pin had broken loose on the shackle that attached the chain to the anchor itself. Corrosion or loosened by the engine vibrations as some screws from the stanchion base? I had definitely noticed some rust build up on that part of the chain... But we would never know what really happened. We'd have to come up with a temporary solution, at least for the couple of days we were planning to stay anchored off Costa Rica prior to our official checked-in date (we had to give an official arrival date for going through the process of entering the country and, obviously, not knowing exactly when the wind will bring us to Costa Rica, we had taken some margin). Other than that, the afternoon went smoothly, with the conditions calming down a little. We hadn't seen land or any other human living souls for the entire day, which had turned out quite relaxing for our nerves. I clarify "human soul" as some boobies (sadly not the beautiful blue-footed birds from Isla Isabel went check us out on a regular basis. It was also a dolphin day! An entire school was hunting (we believe) on our port side - sometimes with birds fishing too, probably on the same preys. The dolphins were amazing: a pack of 20-30 of them were going full speed, jumping and swiming, rushing towards Tire-Bouchon. Some of them wouldn't quite come to us as it looked like the food was not exactly where we were, but some still parted from the school to play at Tirb's bow. One of them even did a peculiar jump literally by the cockpit, only a couple of meters away. It shot out of the water and tumbled at least 3 times (along its body axis), like a flip. I was bemused! Right after, the same dolphin jumped again and did the weird jump that we had seen yesterday with another one: they basically jump out in a C-shape and instead of extending their tail to dive elegantly, just fall in that same C-shape, with a loud sound. These figures seemed to all be part of the hunting process as we could see the rest of the pack performing those in the background. The show was a true delight to close the day. Yet, we saw a large fishing trowler, in the horizon. The sight got our adrenaline started once more and we waited to be all clear to start our shifts. Sadly, some lightings were adding to the drama in contrast to the forecast that didn't predict any thunderstorm... Oh well! We put our battery cables out, connected the keel to the mast (our very basic storm protection devices), and hoped for the best. Dolphins had come back to cheer us up. During a pitch black night like that one, every movement in the water creates bioluminescence and it was quite magical to just watch the wake created by Tire-Bouchon as he moved forward in the glittery water. Most impressive even was the sight of dolphins coming by, leaving a fluorescent trace behind them, like a rocket piercing the water, jumping up and splashing back in. I guess today was dolphin day!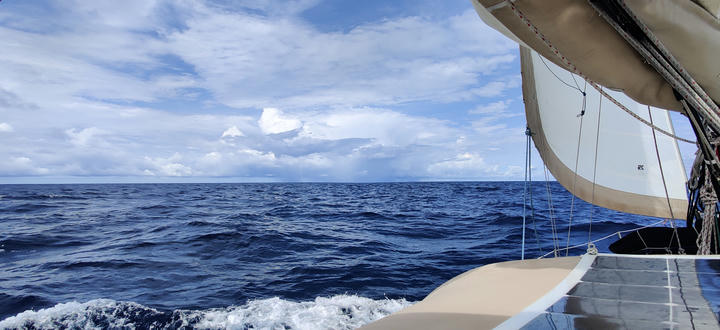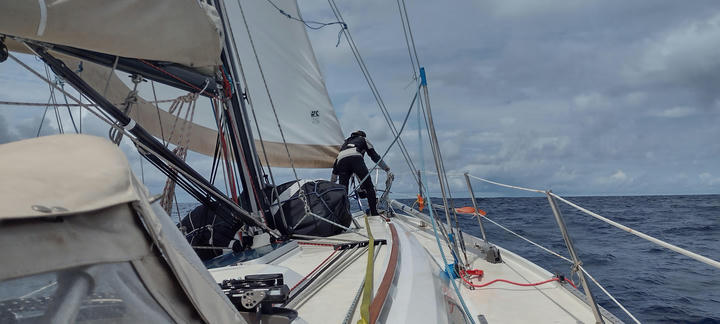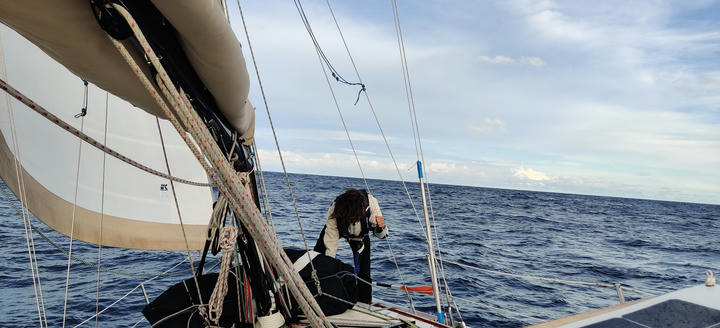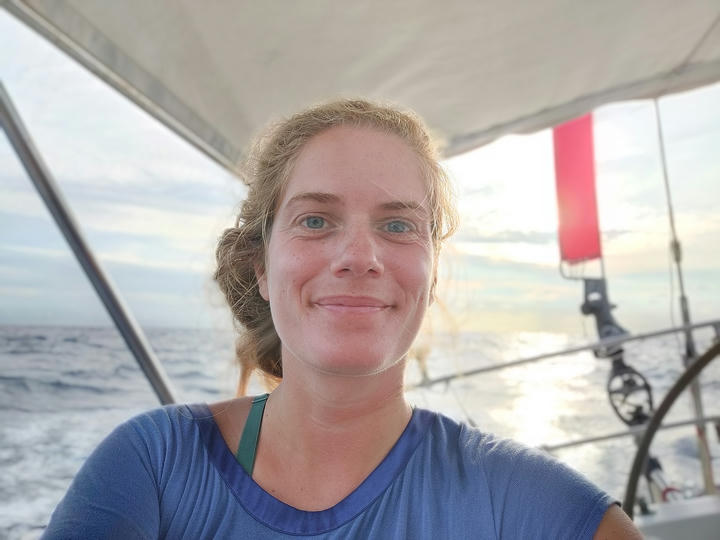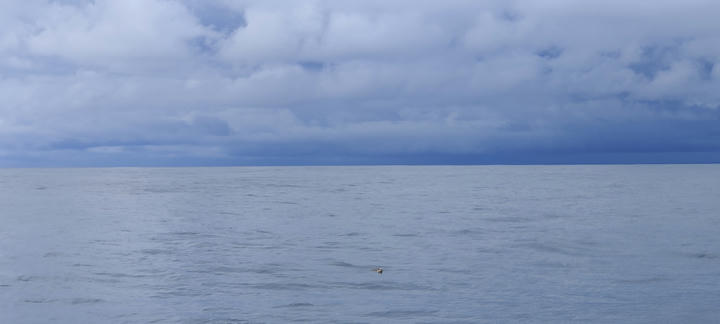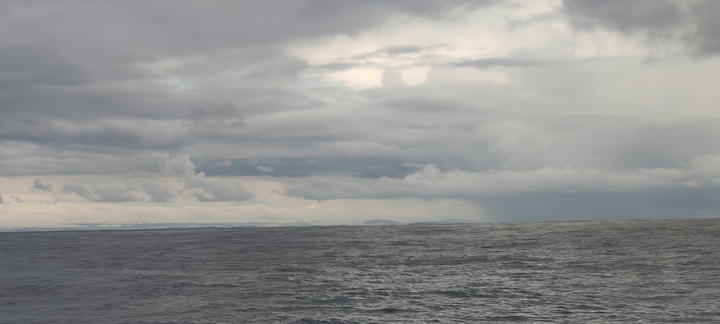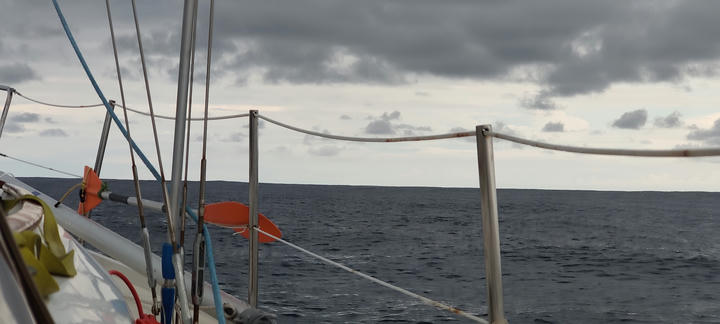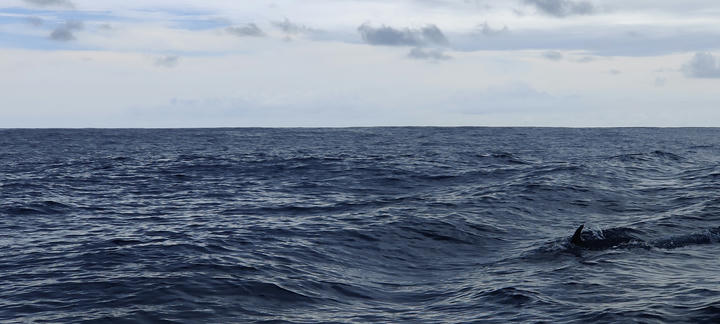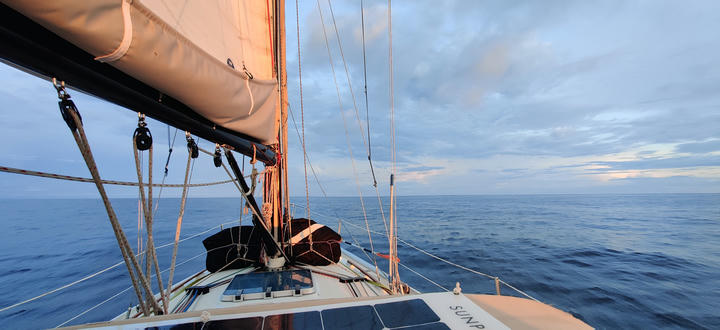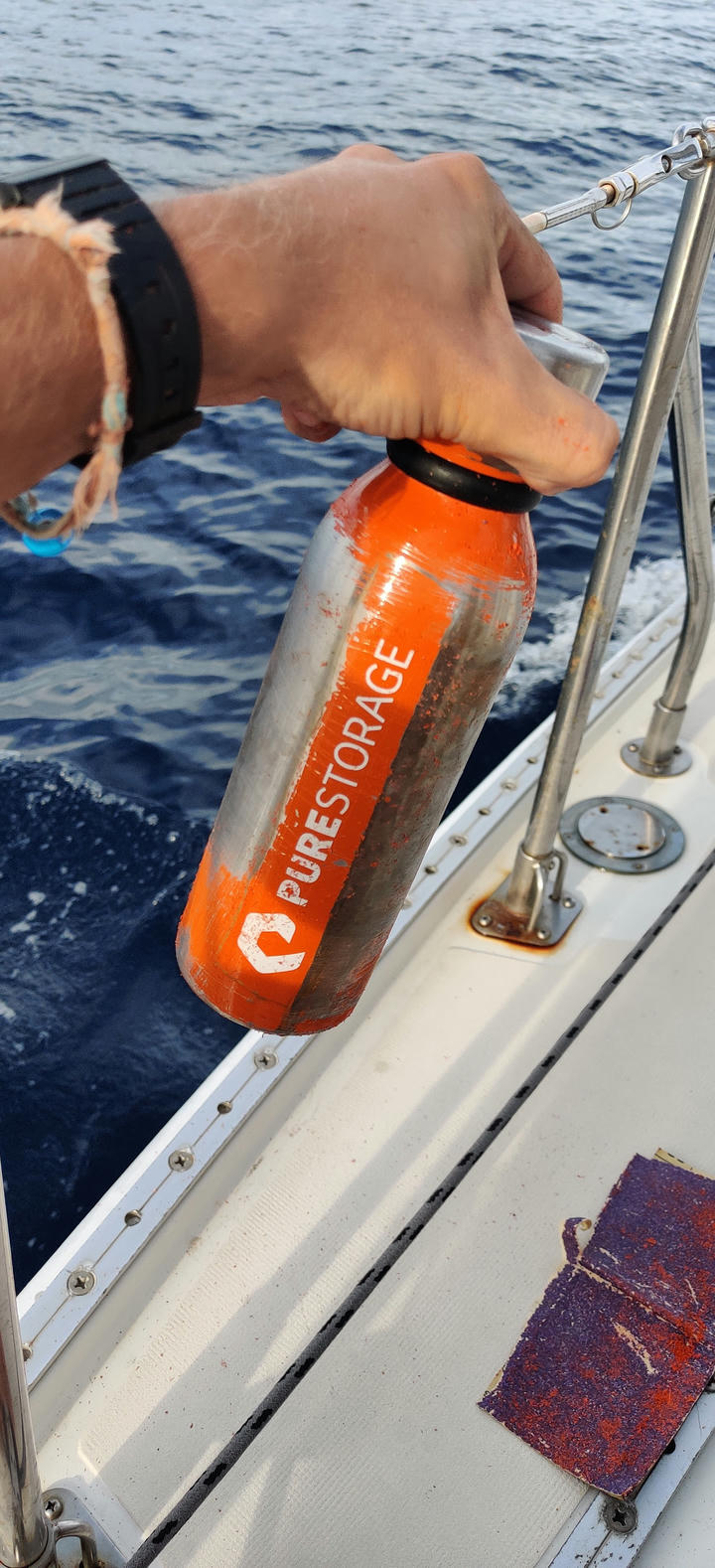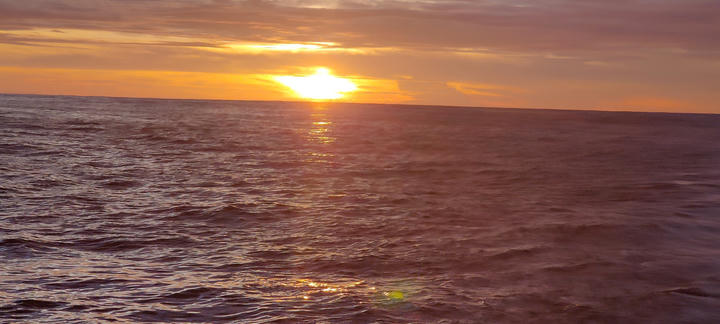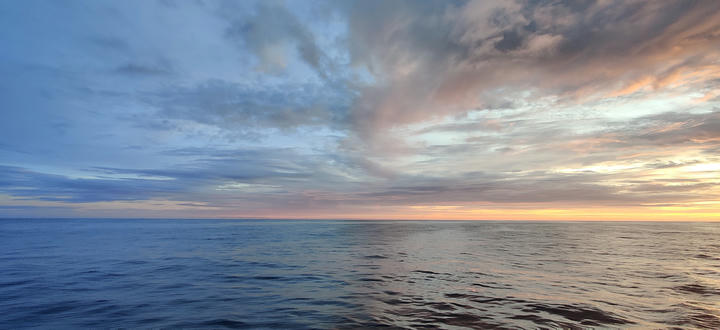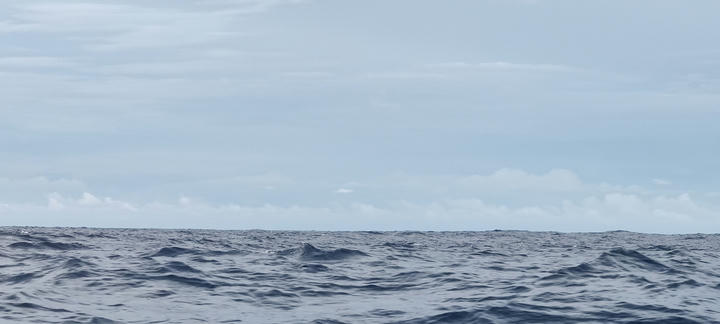 Day 5
Motoring in between and under the rain clouds. A pleasant change in weather, as long as the clouds didn't bring more wind than we would like. We were now less than 70 nm away from Bahia Santa Elena in Costa Rica and planning for an arrival during the night or the next morning. The nice current that had been helping us make really good speed in the past couple of days seemed now gone, and even possibly working against us. Dolphins were back, playing with the bow and occasionally jumping acrobatically. They followed us intermittently for hours. Still horizon all around us for the entire morning. Around noon, a helicopter marked NQ (Nicaragua something?) followed by a number flew above us to check us out. They gave Yalçın a thumbs up while I was in the cabin putting more clothes on. We logged in 96 hours (4 full days) at sea with an additional progress of 94 nm during the last 24 hours. We could see the Nicaraguan land under a heavy gray sky. Behind the hills, Lake Nicaragua, a huge flat landscape known to accelerate the winds from the Atlantic side. Same principle as the Tehuantepec winds, these winds are called Papagayo winds (parrot in Spanish) and were luckily not on the forecast before Thursday, so we were able to beat them up. Most of the afternoon passed by with lazy motoring and naps for both of us to catch up on sleep. The sky was finally free of storm clouds and we were able to watch a proper sunset. Our arrival time would be around 2 in the morning if we kept motoring at this pace. We decided to sail the low wind at least part of the night to slow ourselves down to arrive with the first lights. Or, that had been our plan before the night thunders started. The day had been so nice and we were so pleased with an early feeling of accomplishment, that we had wishfully forgotten about the night torments (lightning is tormenta in Spanish!). And sure enough, as soon as the sun set, some clouds started to be active in the distance. They mostly looked like they were on the Nicaraguan land mass, understand quite far, but as the night progressed more and more clouds developed hiding the stars we had finally been able to see (first night on that trip!). We had decided to use our extra time before sunrise to sail by Bahia del Sol, a large bay of Nicaragua that was in sight, hoping to get some internet and the forecast. The forecast was predicting the Papagayo winds starting to come up at 3AM. Maybe it was safer to arrive to the protected Bay of Santa Elena before they start then. We revised our plan and kept motoring towards our destination, we could arrive in a couple of hours. I rested in the V-berth for that first part of the night and when I emerged, we were literally under one of the storm clouds, surrounded by white flashes. Good sign: no lightning was hitting the water, which would have been the real danger for us, but still, it seemed it could start at anytime. Yalçın, who had been watching these clouds get active and calm down for the past hours, was way more relaxed than I was, just assessing the situation. I was leaning towards my favorite mitigation strategy: find the clearest part of the sky and head towards it. The main drawback with that strategy though is that you can end up in the opposite direction from what you want to go. In that case, it looked safe to go towards the Nicaraguan shore where the storms seemed confined to land. Yet, there were still clouds over there that could become active as we approach and, then, we could end up surrounded. After setting this course to give it a try, we promptly decided to go with Yalçın's strategy: make progress as fast as possible towards Bahia Santa Elena; there we would be protected from the upcoming winds and hopefully from lightning. A look at the thunder forecast when we got a glimpse of internet confirmed we had chosen the right strategy: our course to Costa Rica was the fastest way to exit the storm. Two hours later, the white flashes were already less frequent and at our stern. We were out of the woods!! A relief! We still needed to make our night arrival into the bay, after dropping the sail and hoping for the best with our anchor fix (huge luck: we had the perfect through-bolt to replace the missing piece). Some lightening was still going on on the Costa Rican land, but not on the water. Instead of making us worry, they were a welcome source of light to illuminate the landscape all at once, a good addition to our long range flash light. No other boat was present in the bay and the wind protection was really efficient: the water was flat as it could be. We dropped anchor in 30 feet, tidied up the sail, the lines, the anchor and the cockpit and went inside for our ritual 'arrival at night' instant noodles. It was almost 4 in the morning when we went to bed.
The next day, we would wake up in Costa Rica...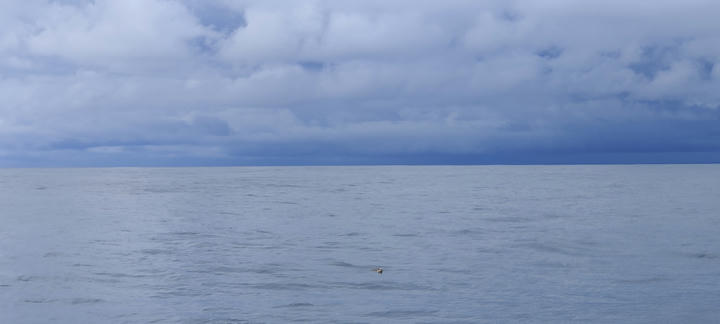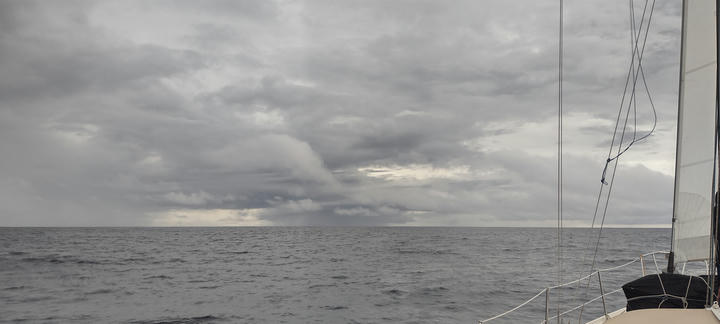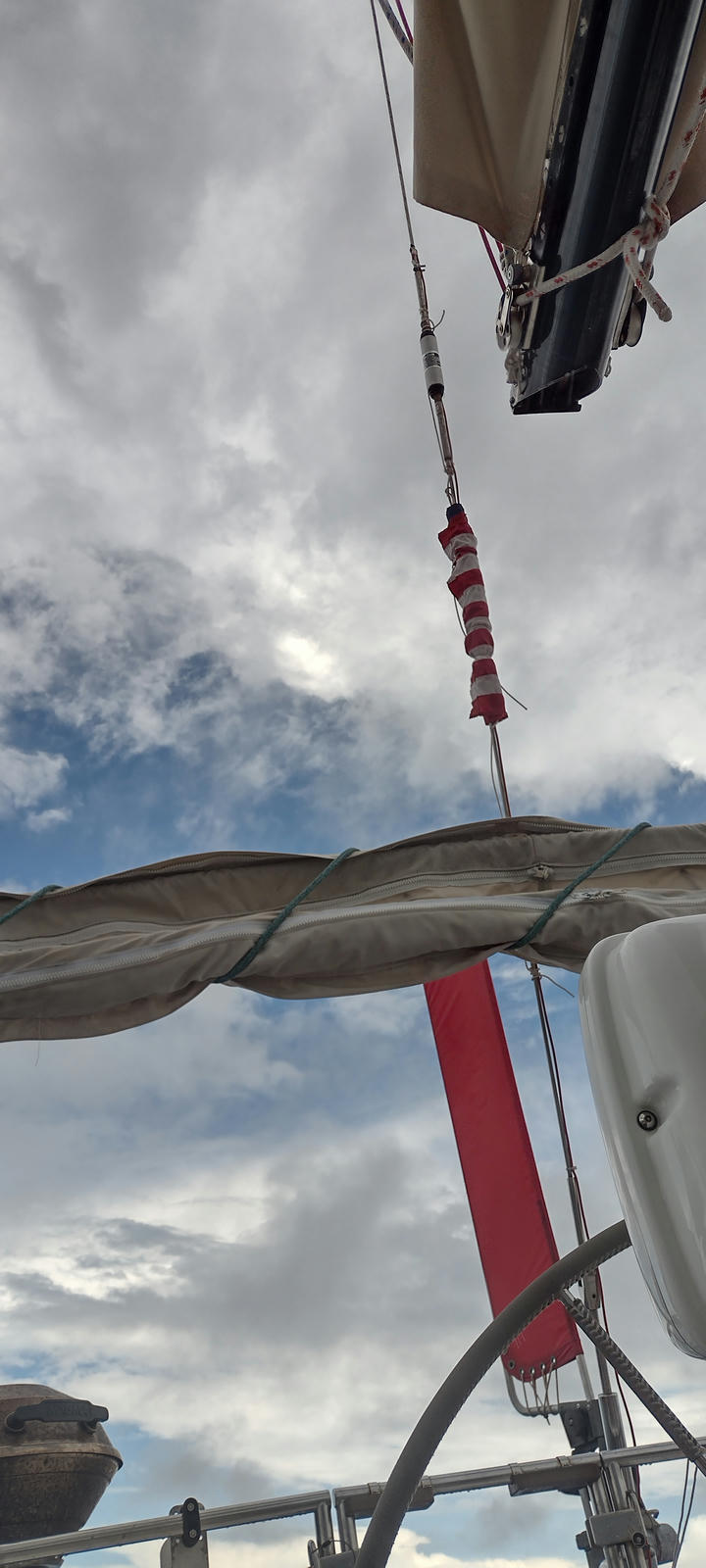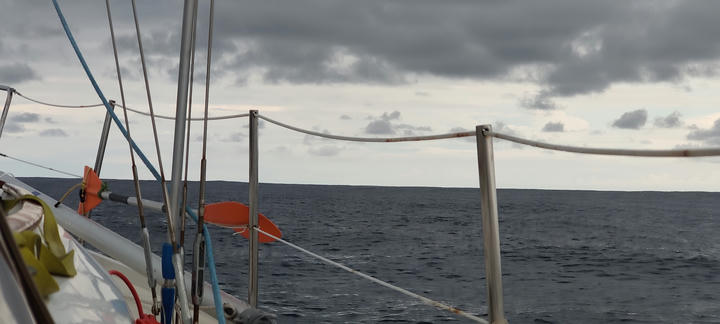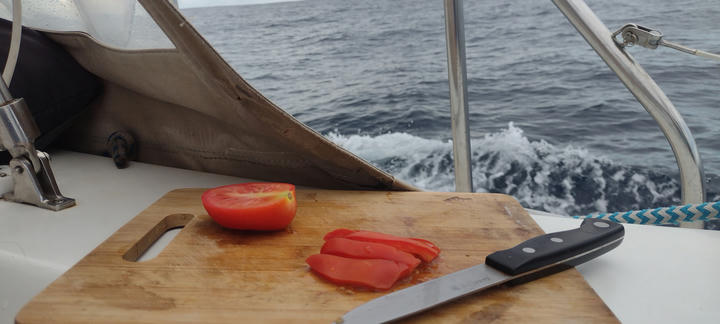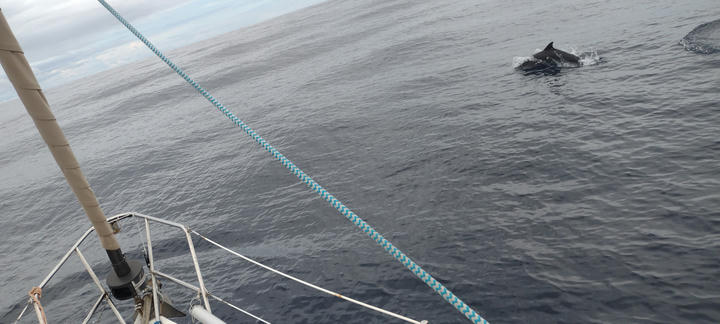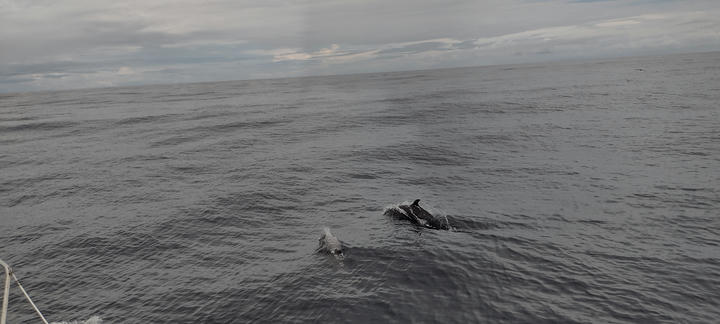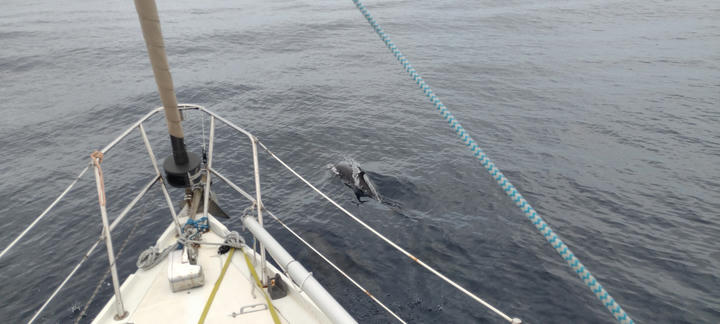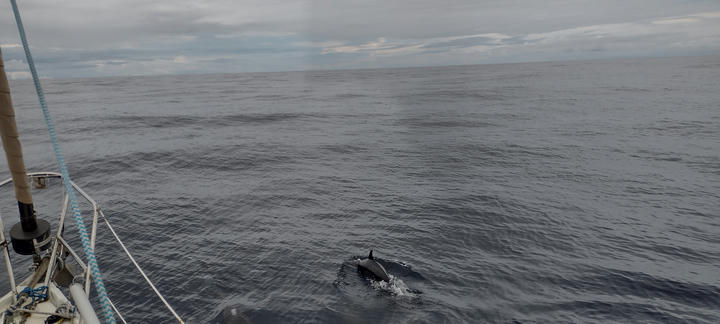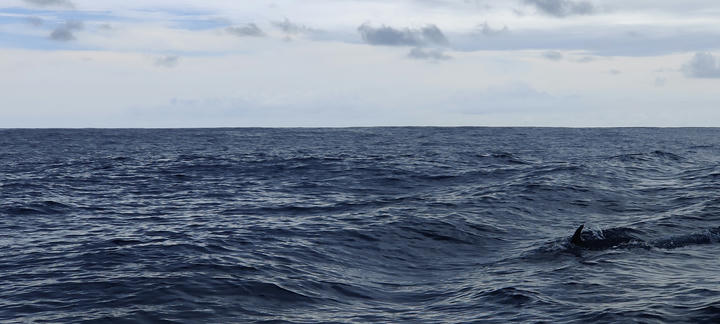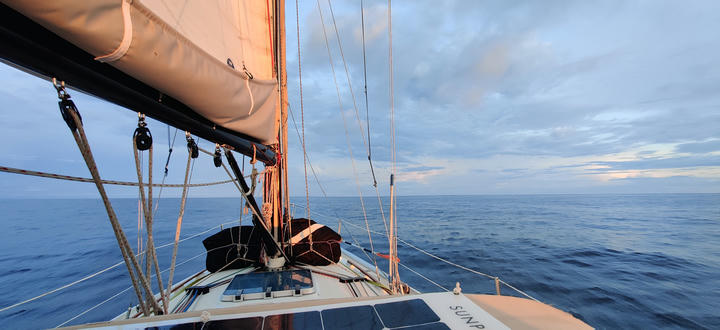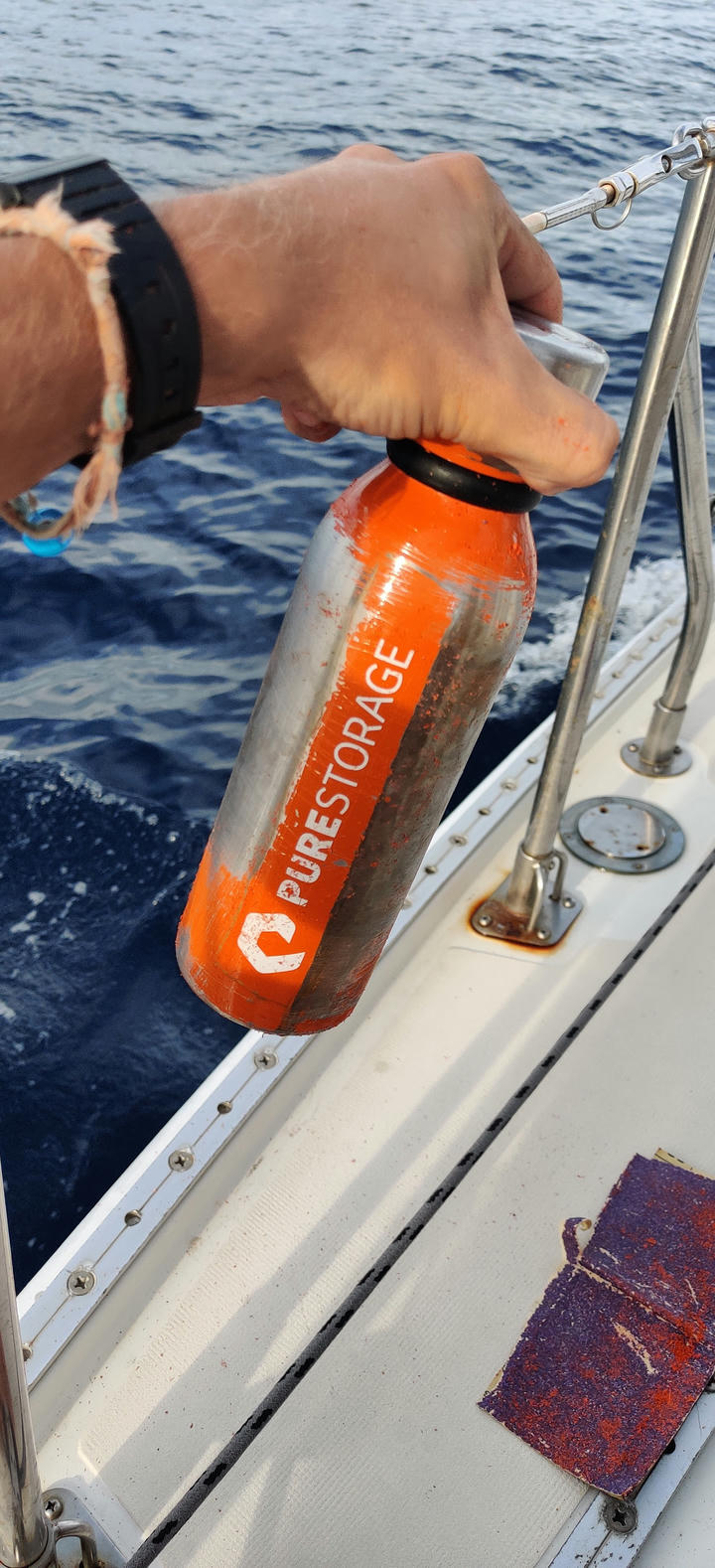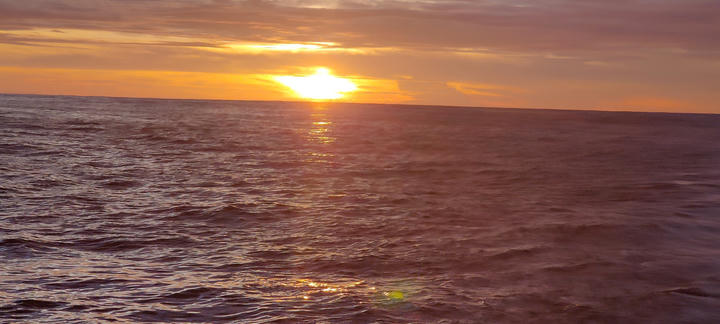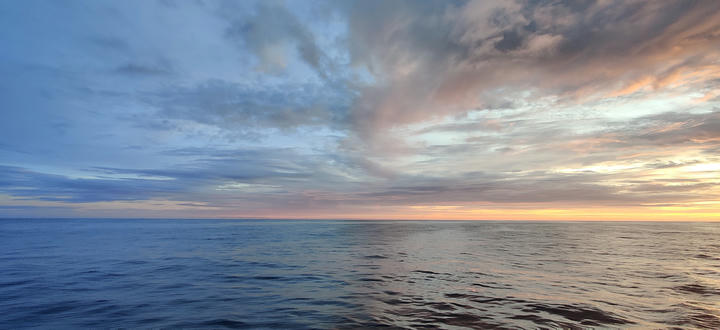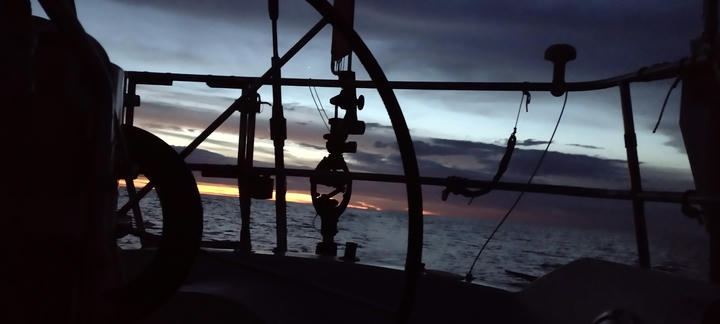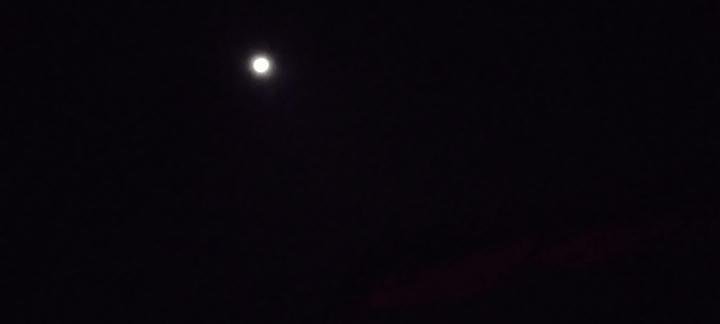 June, 12th afternoon to June, 17th early in the night