We had been looking at that date for months now, and it was getting so close: at the end of the week, our dear friends from Berkeley would arrive to Costa Rica! We had been planning these two weeks for months back and forth with them. It had been challenging at times to decide what to do and what to leave out, as time flies on a boat, vacation time with us was of course limited and Costa Rica is known for many attractions. Eventually, we had settled on a sort of plan and were ready to welcome our guests. Or that was the official version: we had just cleared in Costa Rica for now and still needed local SIM cards, groceries, a big boat clean up and organizing to make room for 5 and soon 6 people onboard (in total), and finally, the repair of our mosquito nets to make sure we aren't disturbed by the bugs at night.
Thursday, June 24rd
The day following our official check-in, we left our now-homey anchorage of Playa de Mata Cana early in the morning. Direction: Playa Hermosa, another cove in the Gulf of Papagayo. Our goal was to go to shore, find local SIM cards, groceries and finally get out in Costa Rica (not in a weird resort project marina cut from the rest of the world). We motored in front of our friends' future hotel as we covered the short distance to Playa Hermosa. We then found a spot to drop anchor and dropped our dinghy to go to shore. First, we were hungry and had to locate a restaurant or anything similar. We left the dinghy by a tree and hiked on the road that was supposed to lead to the main road. A pizzeria on the way made for a welcome food stop: we'd have time to eat Costa Rican food later, now that we obtained our three-month visa! We then continued our exploration of the area: the road indeed lead us to the main road where we were able to buy one SIM card each from different providers (to maximize our chances to have internet everywhere), find a supermarket and get some groceries and withdraw Costa Rican colones (the local money). Activating the SIM cards turned out a little more challenging than expected, so we went back to the "mini market" that had sold them to us. It turned out you need to call an operator to activate the line, provide name, address and passport number. Luckily, it was 5PM by then and the mini market seemed to have become the hang out place for workers who had just finished their day. People in the store assisted the cashier that seemed clueless on how to activate the line. A customer even called for us and the address "on a boat in Playa Hermosa" seemed sufficient. Marie's card was then activated. We returned to the pizzeria for an ice cream desert and activate Yalçın's SIM on our own, using the restaurant Wifi and a little help of the waitress. People definitely seemed super helpful around here. We eventually managed to activate the line, but adding money with our international credit cards seemed compromised. We would have to go to the bigger village of Playa del Coco (the next bay) in the coming days.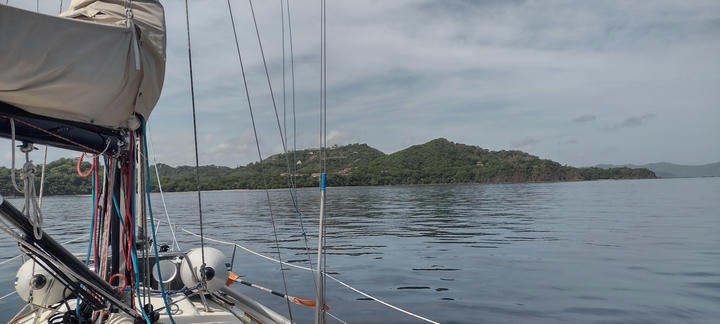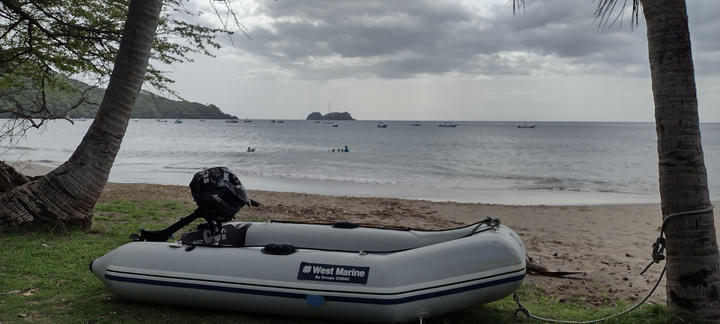 Friday, June 25th
The next day was spent at anchor, finishing to build mosquito nets for Yalçın (the sewing part) and organizing and cleaning the space for myself. It was actually a welcome occasion to sort out our things and tidy up things that had progressively find a new place scattered around the boat. With 5 people aboard, no more room for that and we were sure we would appreciate the effort, even after our friends had left.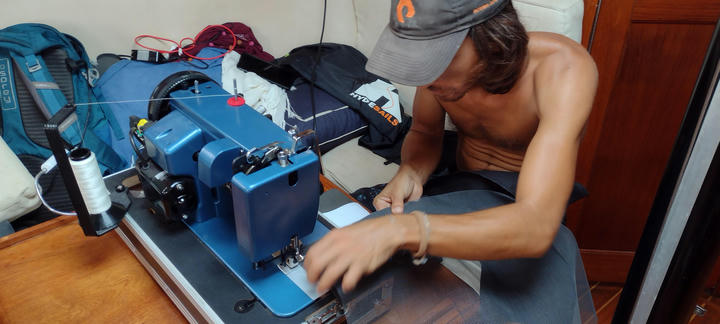 Saturday, June 26th
That's the day of first couple of friends, Mariya and Ryan were bound to arrive in Costa Rica, the day that had been marked on our calendars for month!!! Exciting to say the least! Yet, they would arrive at night and we still had to provision the boat for 5 souls for one week, no a small task! So we cast off from Playa Hermosa, to reach the more developed Playa del Coco. There, we found a spot to anchor in amongst pangas and dogded the rocks in the middle. The rain started pouring as we were ready to launch the dinghy for our grocery mission. We waited for a bit, geared up for rain and eventually cast off on a calm. It was already the afternoon when we reached the town. Because, yeah, this time, we arrived in a more developed area: restaurants, bars, souvenir shops, diving shops. We explored the main street trying to find fishing equipment, phone stores and groceries. We didn't manage the former, but were able to buy internet plans for our phones and find two decent supermarkets. The most remote, Automercado, was a Costa Rican remix of the American Wholes Food supermarket chain, to the point that I felt the urge of presenting my ID at the checkout (an American thing if you buy alcohol to prove that you are more than 21). We were delighted to find a lot of items that we hadn't found in a long time, and certainly not in Costa Rica. We finished a second round of groceries in a more Tico feeling supermaket. Having almost more groceries than we could chew, we had calculated that it could work since the last supermarket was only 2 blocks from the beach and the dinghy. Half blaming ourselves to have left the rolling luggage at the boat (which would have made our lives easier), we decided to cut the short way by stopping in a bar with outdoor sitting for a well deserved dinner. It was dark already. Right after ordering, I realized we had forgotten to buy chicken, a necessary ingredient for one of the plan meals with our guests. I rushed back to an amused vendor who laughed when I asked "tres de este" (three of these) desperately pointing at the pieces of chicken that I wanted. People seemed definitely happy around here, which is one of the things Costa Rica had ranked high in global assessments. We enjoyed our meal and made it back to the boat uneventfully. It was 9PM when our friends arrived at their hotel two coves from here texted us they were seeing a sailboat which they thought was Tirb in the night and had tried really hard to attract their attention (even with a light SOS)! Little did they know, that we were lying in our cockpit looking at stars, trying to gather energy to organize the groceries in all the lockers. Happy first night in Costa Rica, we'll see you tomorrow!
Sunday, June 27th - reunion and resort day
A little guilty to have deceived our friends who were supposed to see us the previous day, we close the short distance us and them early in the morning and anchored right by the private beach of their hotel at around 9. The time for them to emerge and have breakfast, we tried to finish a couple of errands (looks like we are never done!) like final repairs to the Bouchon the dinghy, which started acting up again. At some point, I think I heard Marie and saw two people jumping up and down on the beach: here they were!! So surreal! A short moment later, Mariya had swam over for an express hello! And the excitement and realization that this whole craziness was happening hit us. We had put up all our flags to mark the big day. After Mariya's visit, it was difficult to focus on anything else, we quickly closed our errands and jumped in the nice water (the nicest in Costa Rica so far) to swim to our friends. The reunion was so nice! And our friends spoiled us by getting us pass to enjoy the all inclusive food, drinks and pools of the resorts they were staying at. A vacation in our vacation and the most chill way to focus on catching up on all we missed in one another life in the past month. At 6PM like Cinderella, our passes expired and, after an improvised chess game, we swam back to Tirb. The clearness of the water made for biolumescence trails going by our snorkels as we swam back. Thanks for coming and for that chill relaxing day in good company!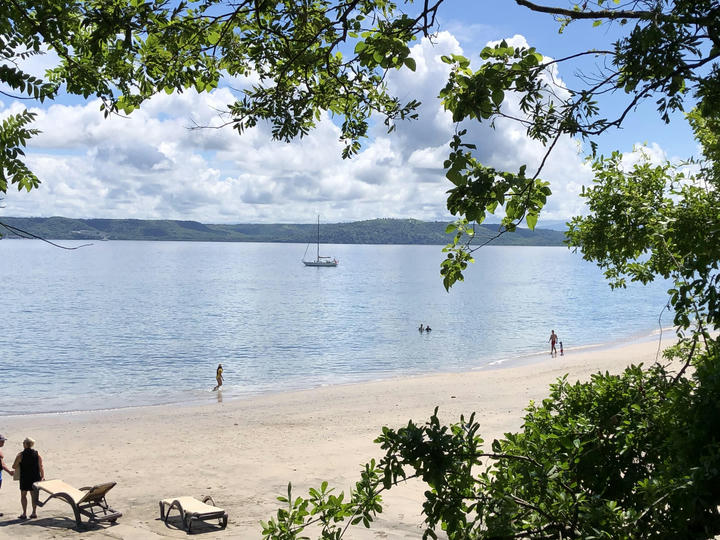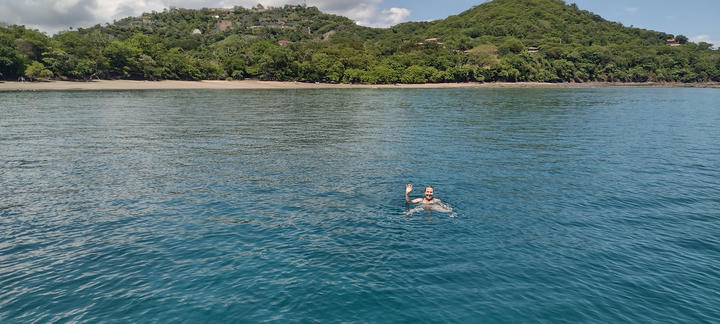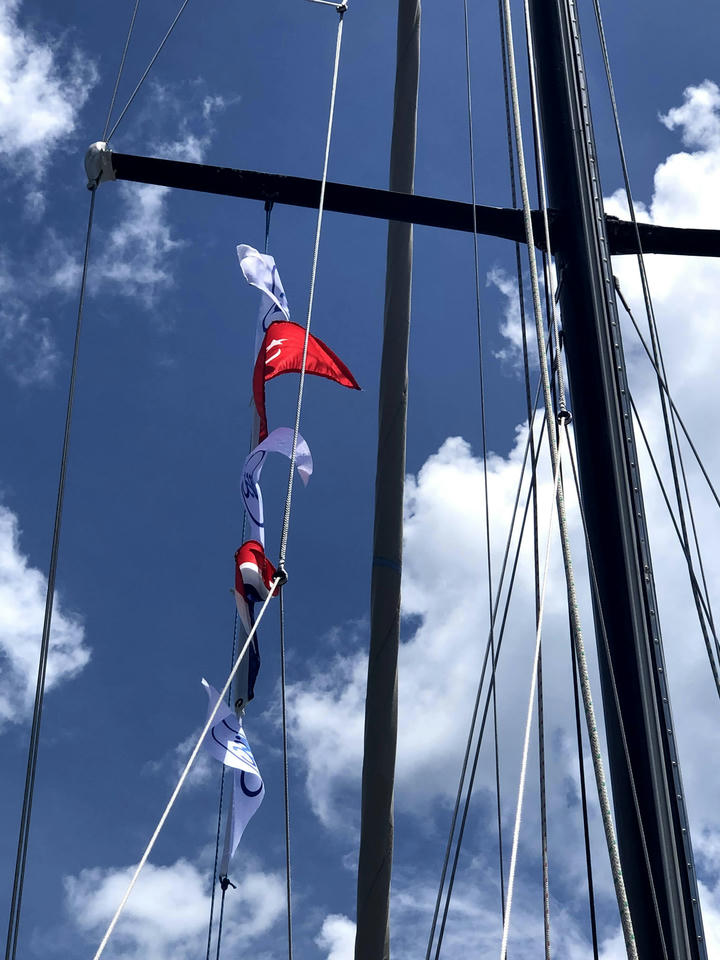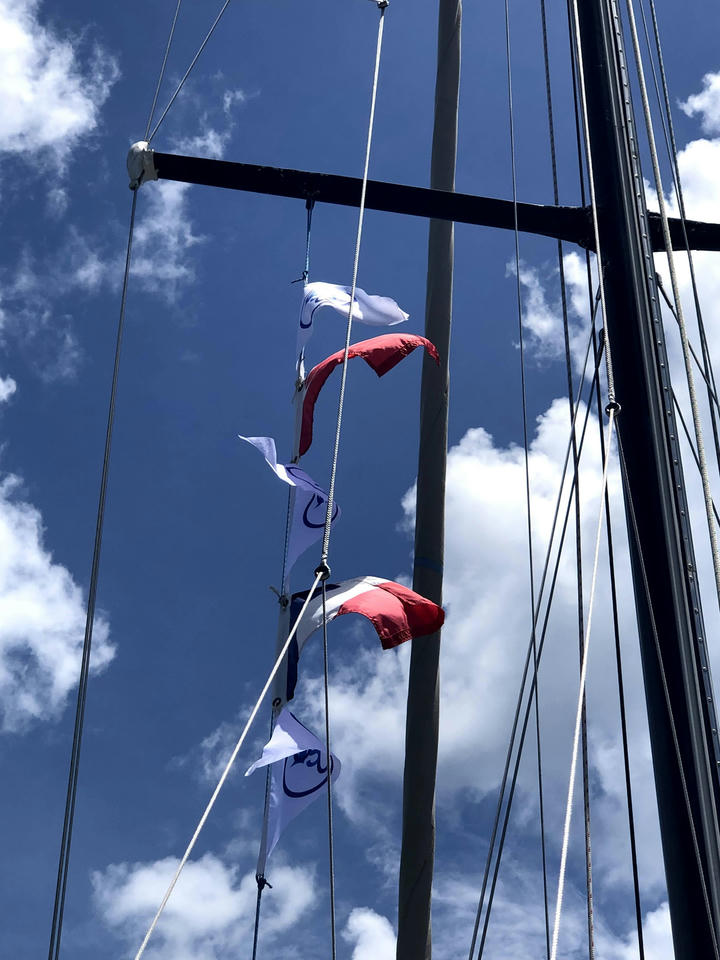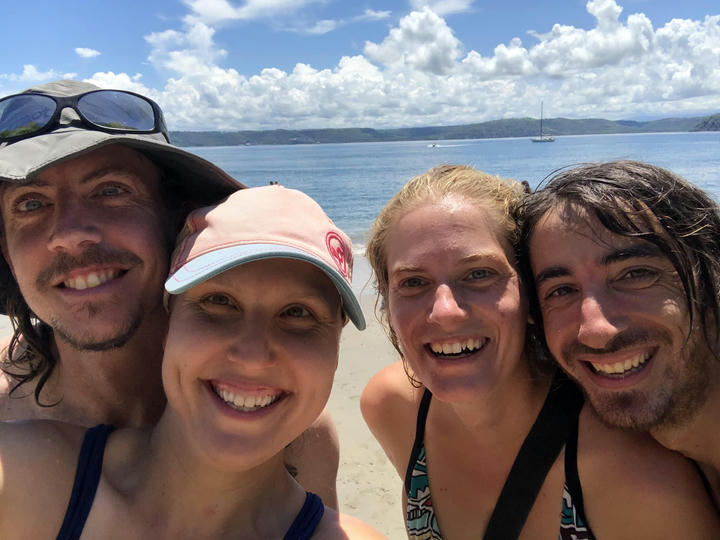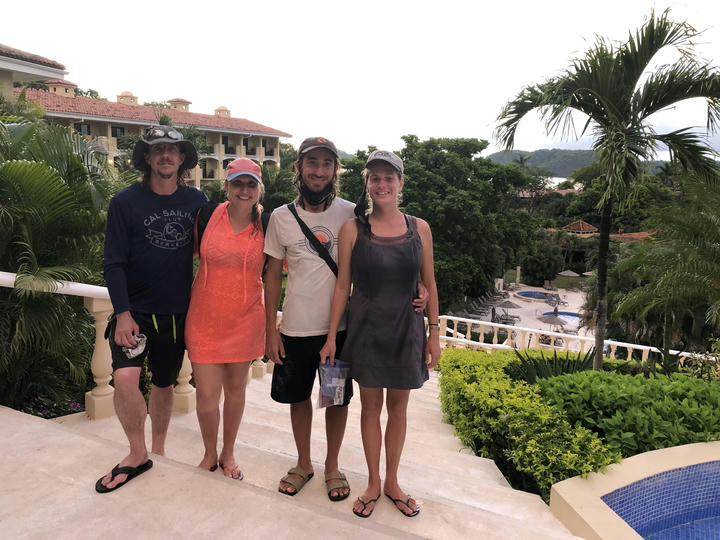 Monday, June 28th - getting our 5th crew
The mission of the day was to get our crew of 5 onboard. We dinghied to the beach to pick up Ryan and Mariya and welcome them to their house for the next days, but someone was still missing: Graeme-pa! Arriving after a work Sunday and a night flight, we were getting ready to get him in Playa del Coco when we saw a plane over the Gulf. Yalçın jokingly said "this is Graeme", he couldn't be more right! We would later see his pictures from the sky and it was him! We quickly motored over Playa del Coco and claimed our anchoring spot back. In prevision of getting one more crew on the way back, Yalçın and I took the dinghy to shore while Ryan and Mariya paddled the kayak and got a little overview of what we meant about surf landings. We secured the inflatables to a tree on the beach and walked to the meeting point (the bar restaurant we had had dinner two days prior) where Graeme was already arrived and helped himself to a ceviche! The reunion was, again, so lovely and emotional! It had been so long and it was so surreal!! And the two weeks to come were so exciting!! We treated ourselves with a "casado" plate at a Soda, local restaurants, and completed the fishing equipment buying mission, with the extra help of our friends that were a little more seasoned at the fishing exercise: now, no excuse not to try! We eventually made it back to the boat, the full crew was onboard, and all was left was to enjoy the nice Costa Rican sunset sky!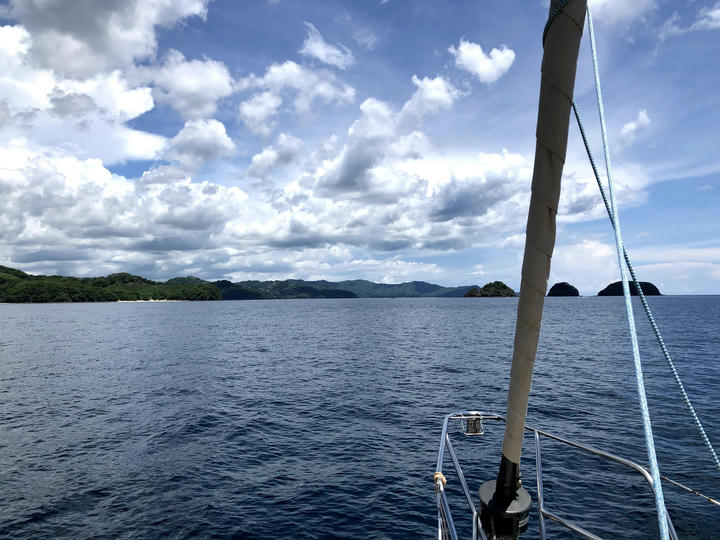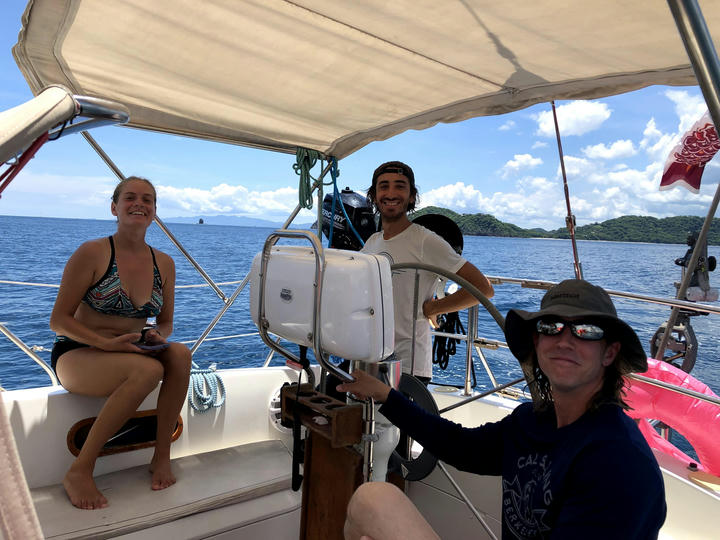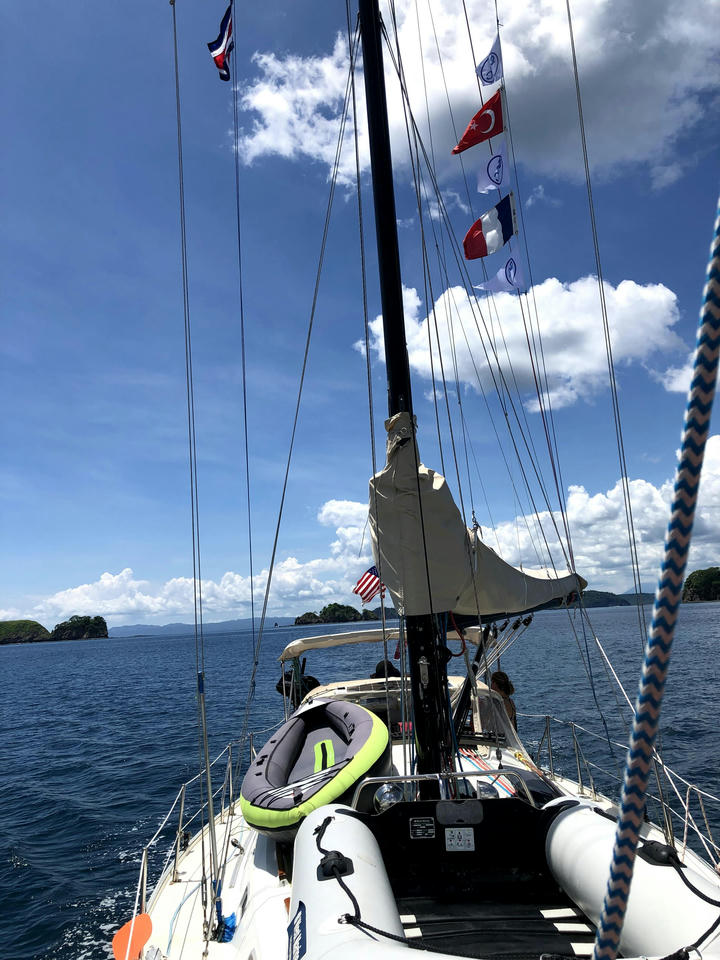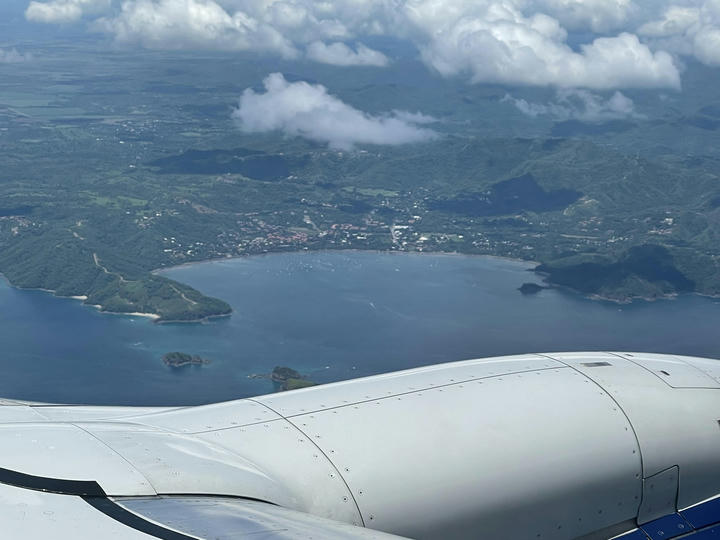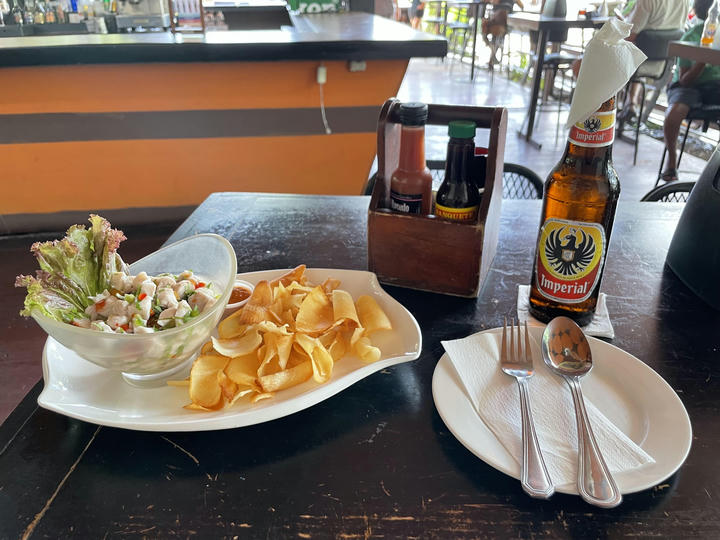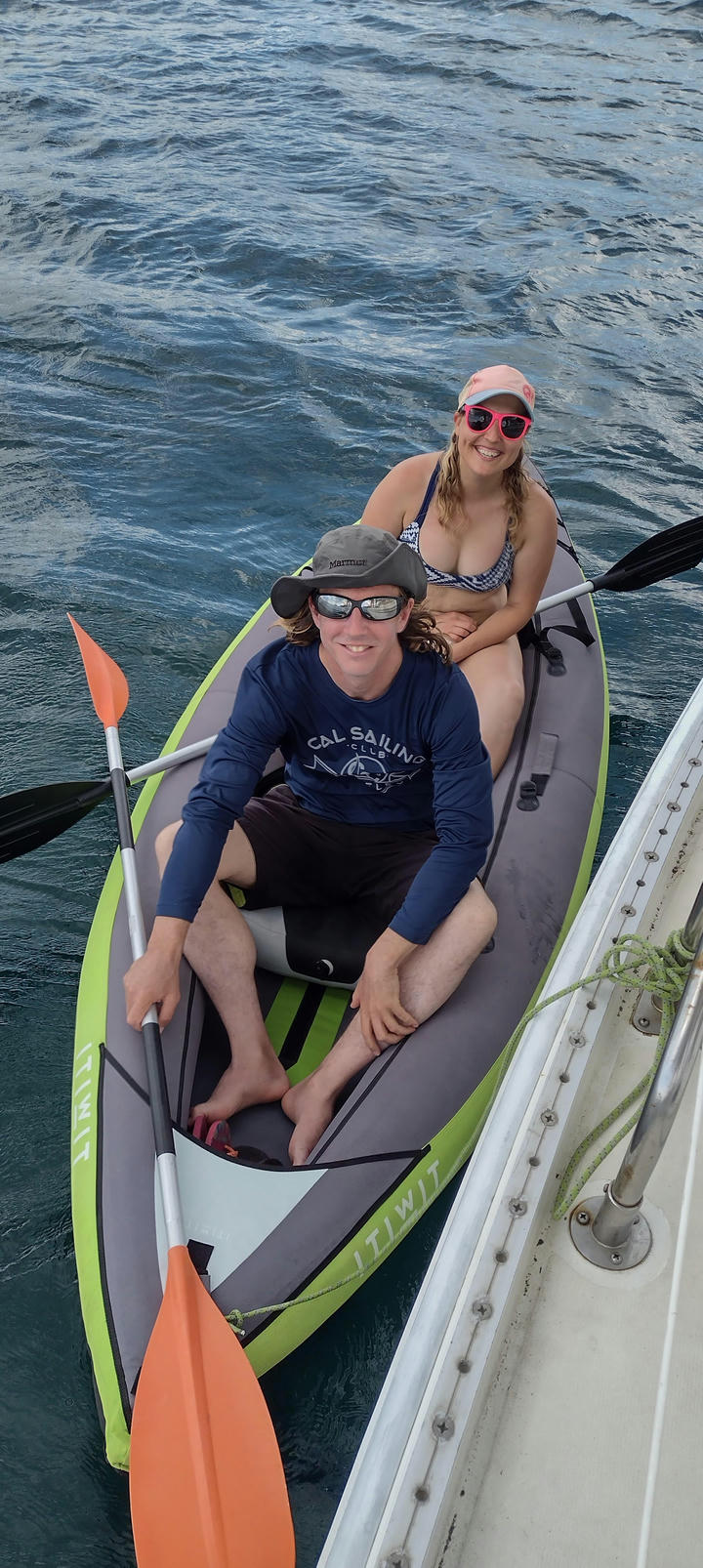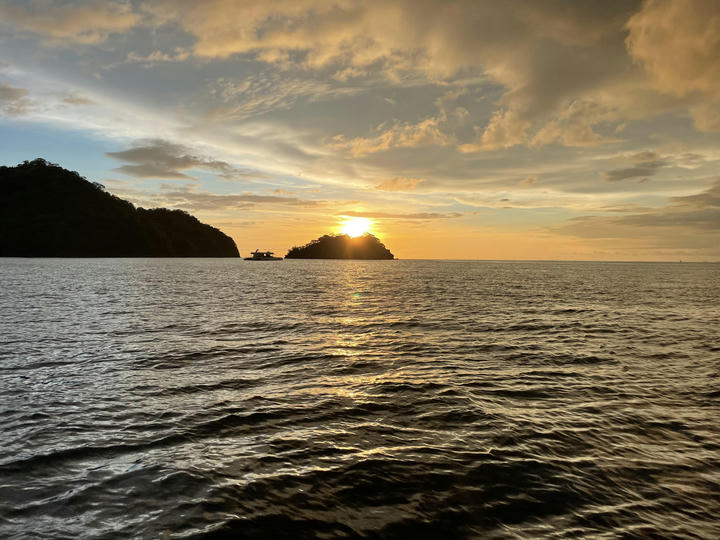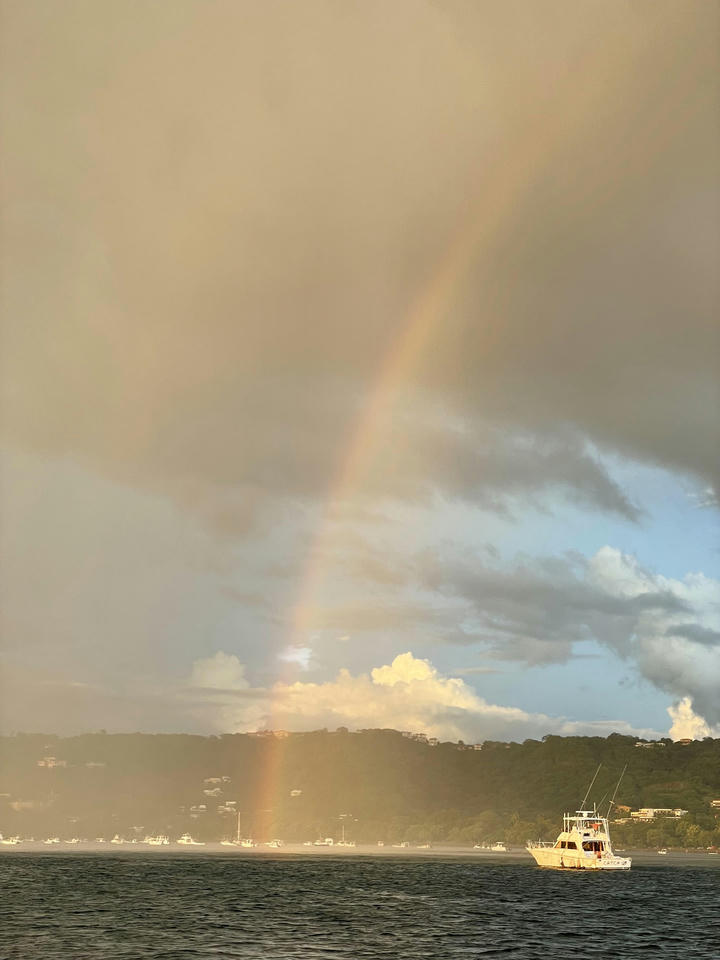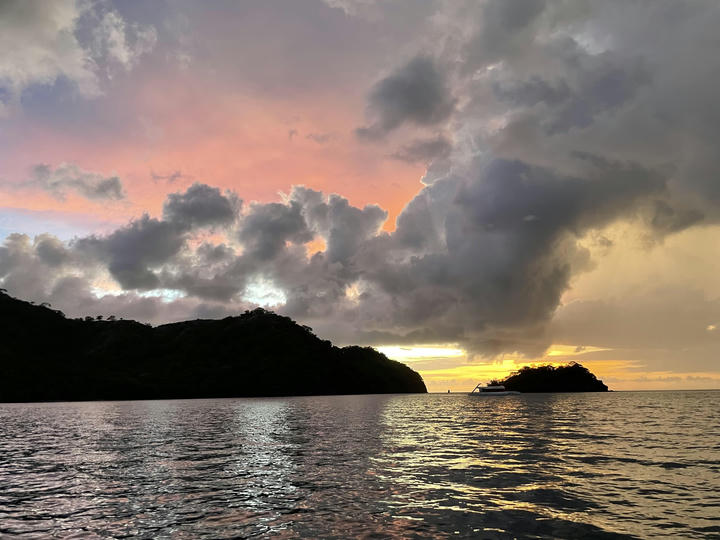 Tuesday, June 29th - Guacamaya
We decided for a lazy start towards our destination of the day, Guacamaya, or let's say the French press decided for us while committing suicide on the cockpit floor on our first morning! Graeme insisted on replacing it and Ryan and him went for a land mission back to Automercado on the kayak. In the meantime, we were able to brief Mariya to the ins and outs of the boat (where to find this, how to close that, how everything is called) in an attempt to make life easier for everyone onboard, in particular with the five of us. Once the boys were back, and coffee was poured, and they also got their onboarding tour (that's a lot of "and"s), we took off for a chill sail of a couple of hours to Guacamaya. The contrast with Bay Area sailing was highlighted: indeed here, no need for foolies (quite the opposite!). We had fantasized Guacamaya as a remote beach inaccessible by road, but sadly, a lot of tour catamarans were bringing tourists to snorkel around. They showed up as soon as we had set our bow and stern hooks, a maneuver that can prove stressful when the water gets shallow and there are turbulent rocks around, but largely simplified by the amount of hands we had onboard. The tour boats spoiled a bit the "remote aspect" of things. Yet, we tried to snorkeled too, swam/kayaked to a beach by a fancy hotel for a sunset beer (a hell of a surf landing that we proudly made with the kayak upright, but full of water by the end!) and enjoyed a tajine under the stars (that's what the chicken was for!). The next day would be Graeme's birthday and he set up a recording of the sounds of nature for the night!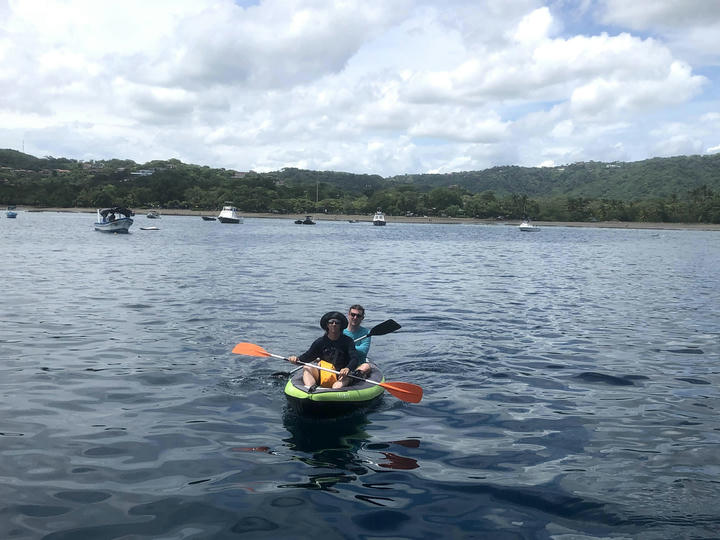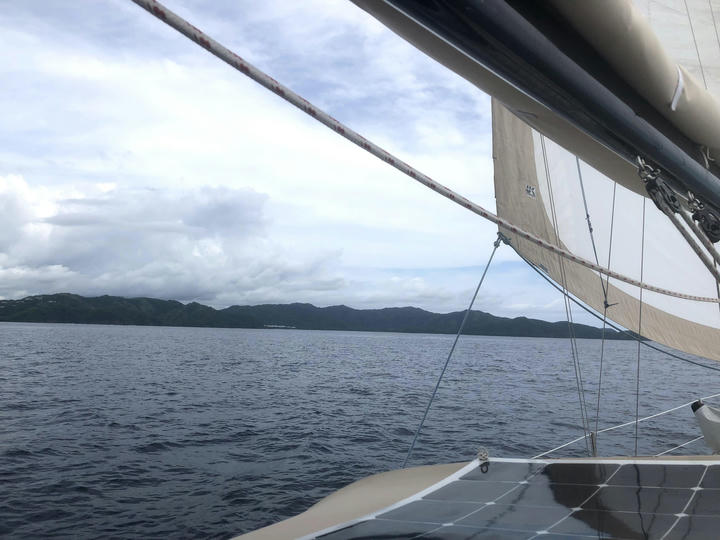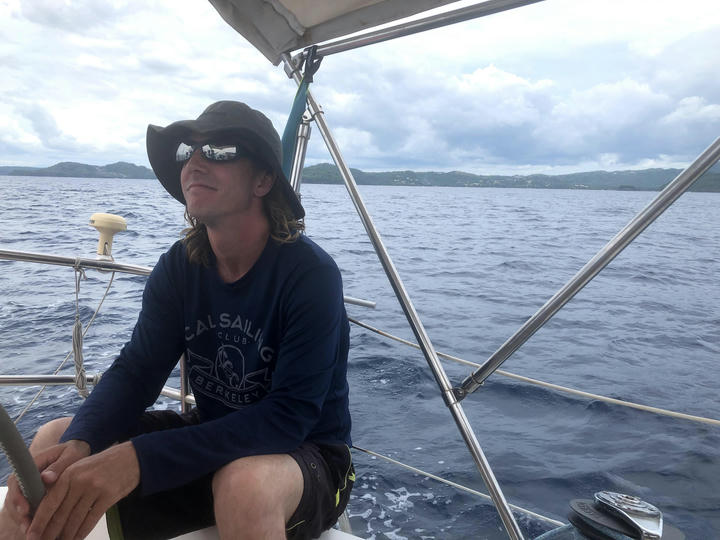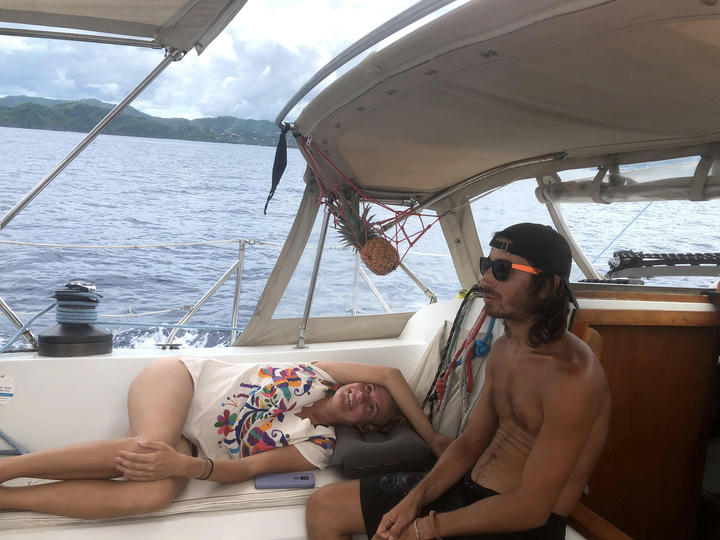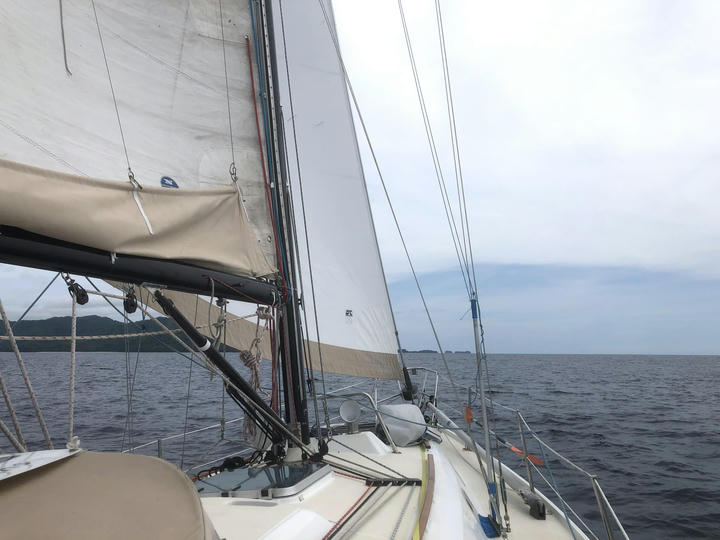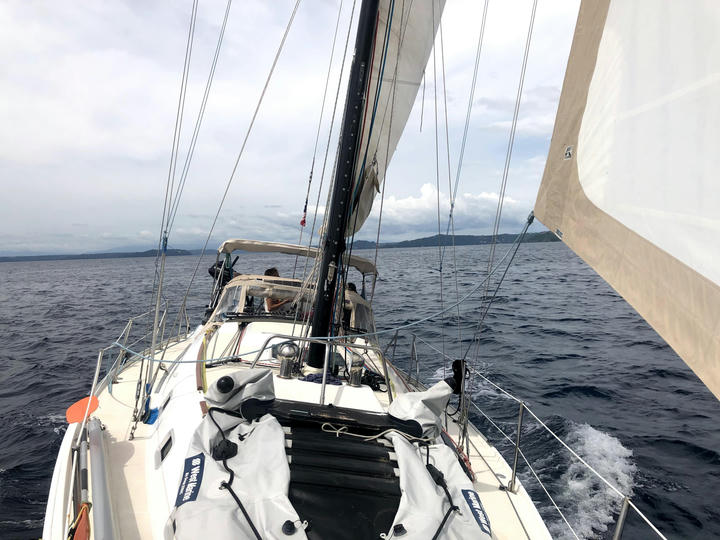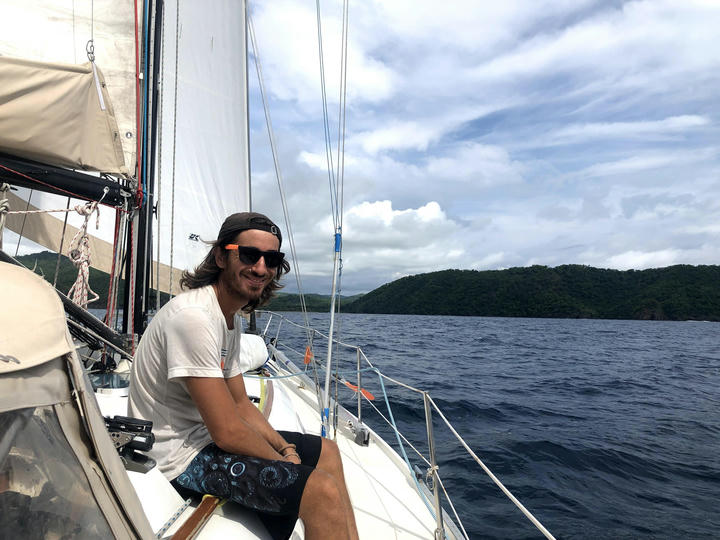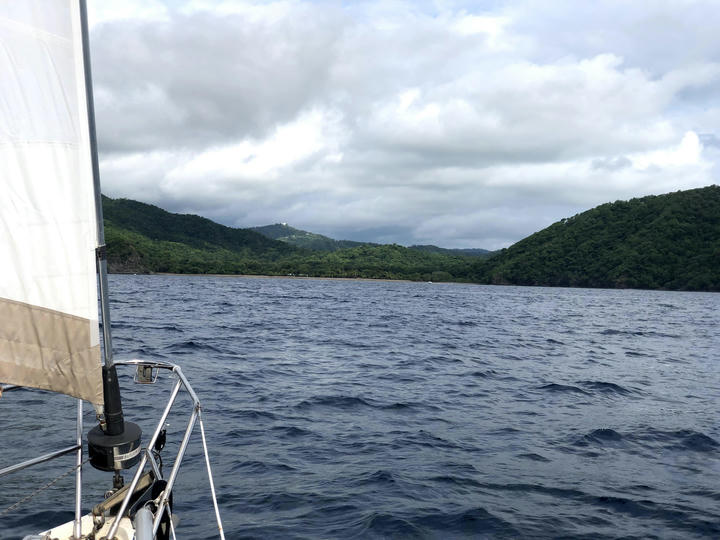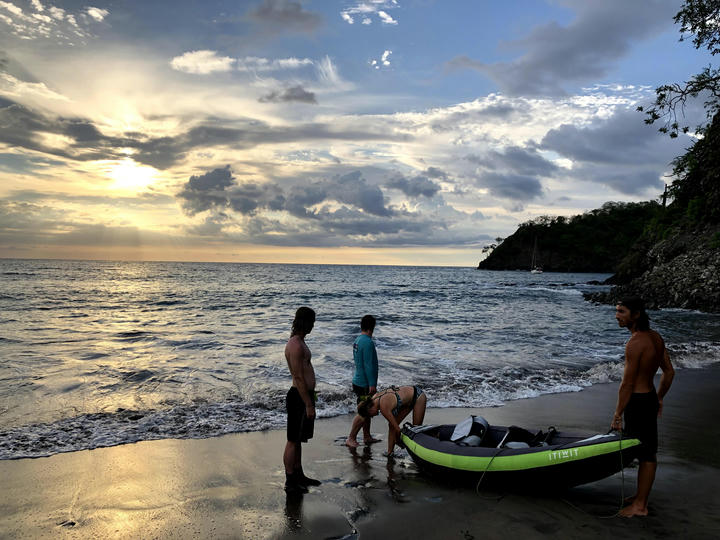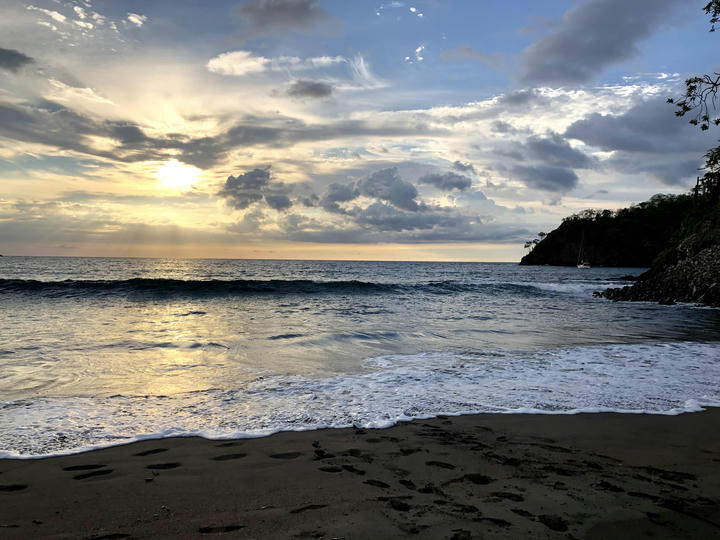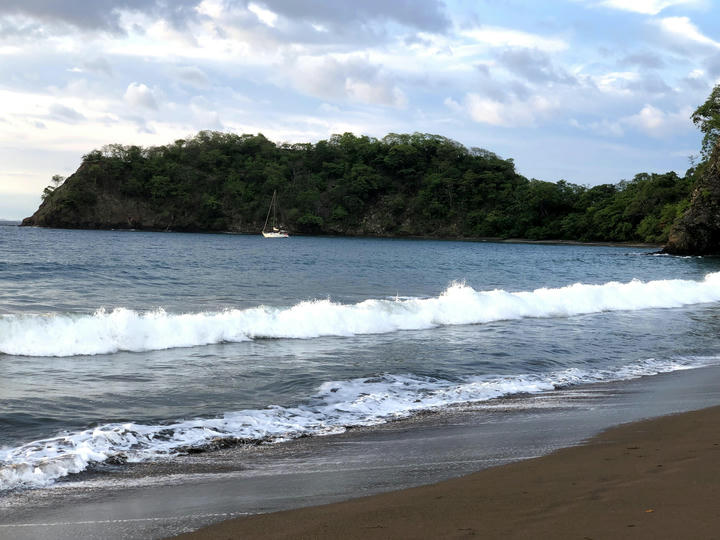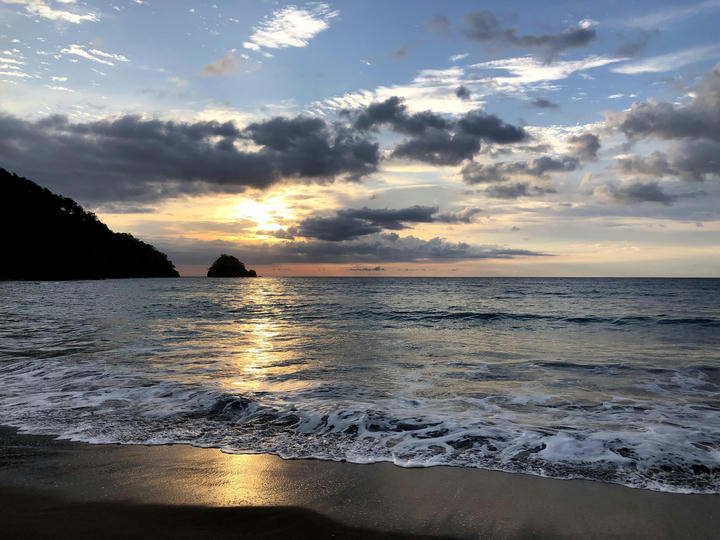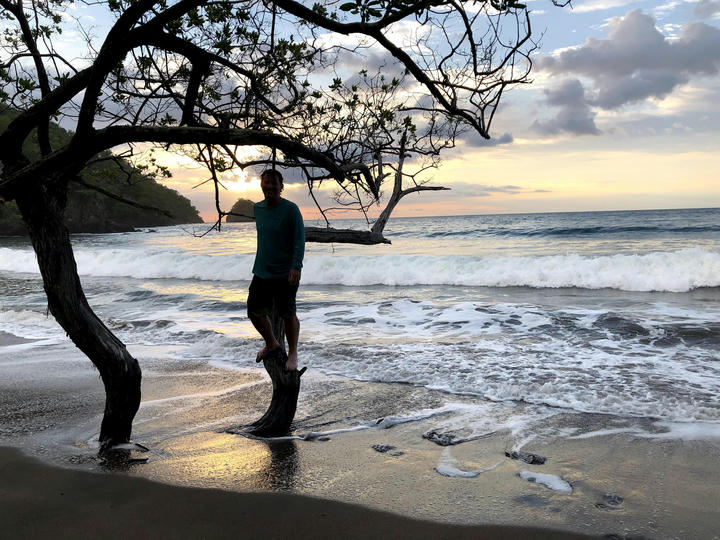 Wednesday, June 30th - Happy birthday Graeme!!
We woke up to a nicer snorkeling before the arrival of the tour boats in a clearer water, and even make friends with a little yellow fish that would cutely, but annoyingly, swim in front of our eyes. I even spotted my very first ray in the water, that we identified as an eagle ray (dark with white spots) as I was randomly trying to "dive" the stern anchor. We surprised Graeme with birthday balloons (which also surprised me by their small size - I imagined them really big!). After the tour catamaran came back, we decided to head out, after watching a little bit of the anchoring/drifting/noodle rescuing animation they provided.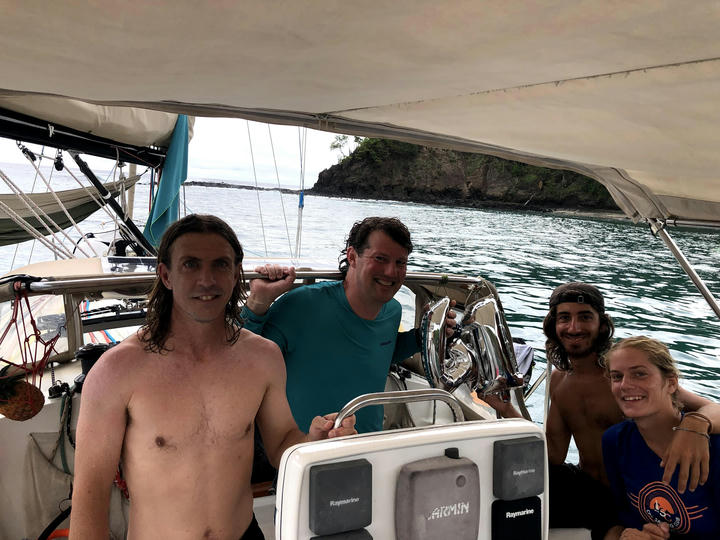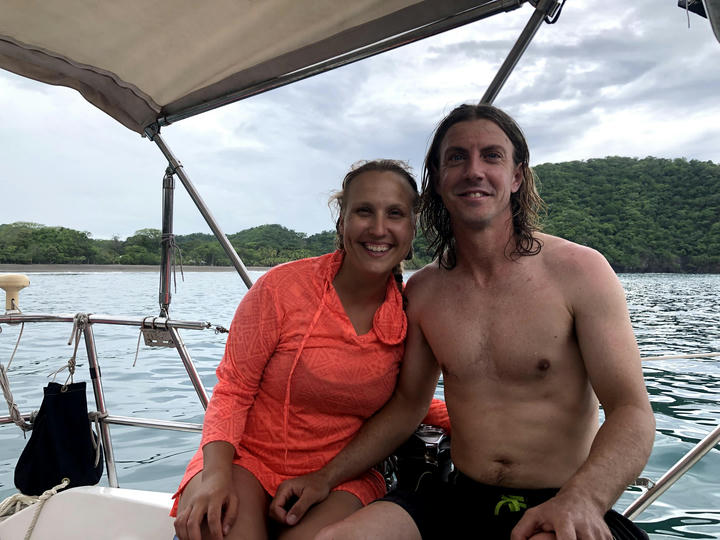 Our following destination was Playa Flamingo or Portero. Basically, Guacamaya is sheltered by a point, we wanted to keep further south and reach one of the coves past this point to spend the night, or at least that was the plan. Indeed, in the grand scheme of things, we were now on our way to Samara, where our friends were going to get scuba certified. The original plan was to make progress towards the South, spend the night at anchor and then close the remaining 60 or so nm to enter the tricky bay of Samara in daylight and dinghy our friends to shore to attend their training the next day. Hence, we started our way South, under engine. A multitude of islands to our starboard (towards offshore) made for a particularly nice view as we progressed. A few hours later, we reached the protected anchorage by Playa Flamingo, and the forecast started to be worriesome: full strength lightning starting early afternoon the next day that would travel South with us from here to Samara, our worst nightmare! Our friends kindly offered to take a cab the three of them to Samara to allow us to wait our the storm at anchor for one day and meet them later in Samara. That sounded like the reasonable thing to do, given the circumstances, even if it was sadly depriving them from a full day sail that would have been more fun the 5 of us. Next question was then: where would be safe to unload them with their luggage with the dinghy? Indeed, the common surfs on the beaches of that stretch of coast were making us way less flexible. Everybody had in mind the kayak landing in Guacamaya that had miraculously stayed upright. It would be next level challenge, with the dinghy, the outboard, 4 people and luggage! Playa Flamingo for that matter seemed well suited as it had a pier protecting a stretch of beach. There seemed to be restaurants or shacks by the beach, that could be an option to celebrate Graeme's birthday properly before our guest would take off until... Yalçın and his notorious intolerance for murky waters pointed out the yellowish tone of the water we were all eager to take a refreshing dip in given the temperature. Hum... Would that be enough to reconsider the emerging plan? Let's say no, the captains had spoken! We lowered the anchor in the least bad spot (a compromise of depth, distance to other boats that were numerous, trying not too be too far from the dinghy landing), but when backing to set the anchor, it kept dragging on and on... In such settings, it often will reset after a bit and start digging in. Not this time! I remember hearing from the bow something like "well, we could take this as a sign..." and realized no one was happy to anchor here, neither Yalçın nor our guests who were now sharing his disgust for the water. All right then... I had to admit the whole place looked kinda gloomy, and we were here to treat ourselves. There was another bay to the South where we could try to anchor. Only issue, the dinghy landing was uncertain and if we had to drop our friends... Well, I guess we could always come back here in murky land if we really needed! We put up the protesting anchor and set course to the next bay. We anchored as South as possible in hope of getting the best protection from the swell from the Southern point. The anchorage was rolly despite our effort. I was still trying to assess our situation that Mariya had already jumped our Tirb and was ready to swim to shore to assess the landing situation. We convinced her to take a handheld radio as the distance was not small! I guess we would stay here for a bit! We eventually saw here emerge on the beach and she managed to locate the perfect place to celebrate Graeme! The surfs were small on top of everything: that sounded perfect! Just the time to splash the kayak and the dinghy and we were off to meet her. In a little shack, we drank to our friend and savored cevishes and fish. That's also there, looking at the Uber situation for them to take off to Samara (it wasn't great at all - a Costa Rica classic "no car available"), that Yalçın and I got the epiphany, at the same time (one of our best examples of co-skippering)! The solution was... to take off at night to sail to Samara! We would arrive by morning, way before the forecast storms, and would have an entire day to figure out a way to bring our three friends to land (an issue that had also made them lean towards taking extra margin and take the cab). We shared the idea, everybody was onboard!! Dang! Adventure! From happily drinking to our friend and chilling in a car or in a boat for perspective, we were getting ready for battle - understand night shifts, boat prep and sailing!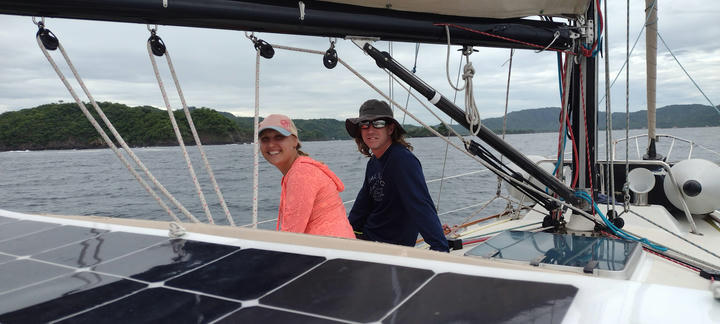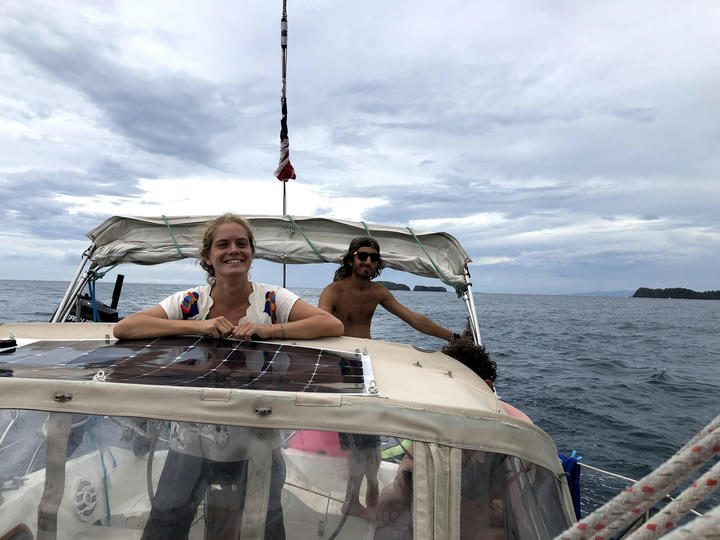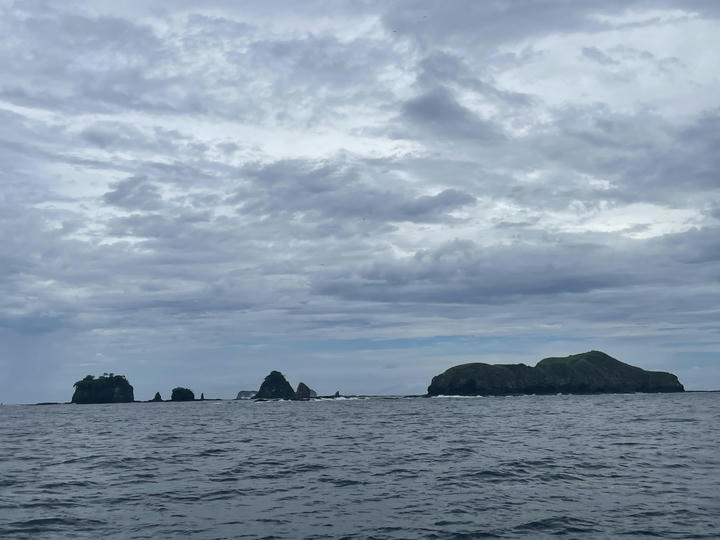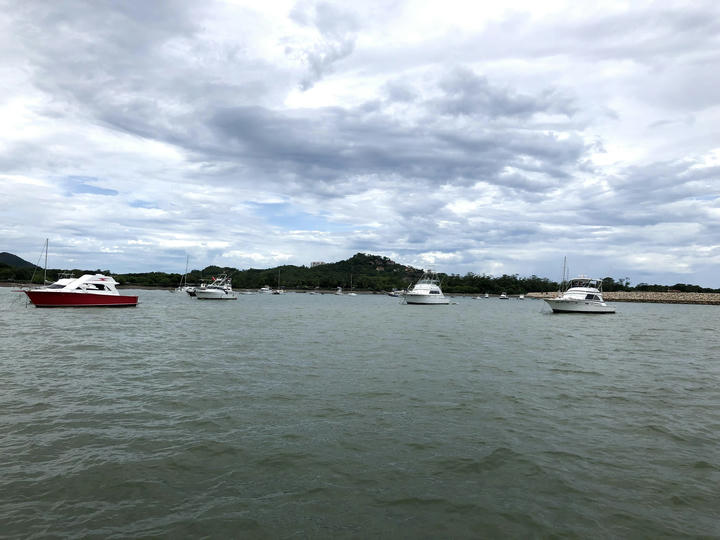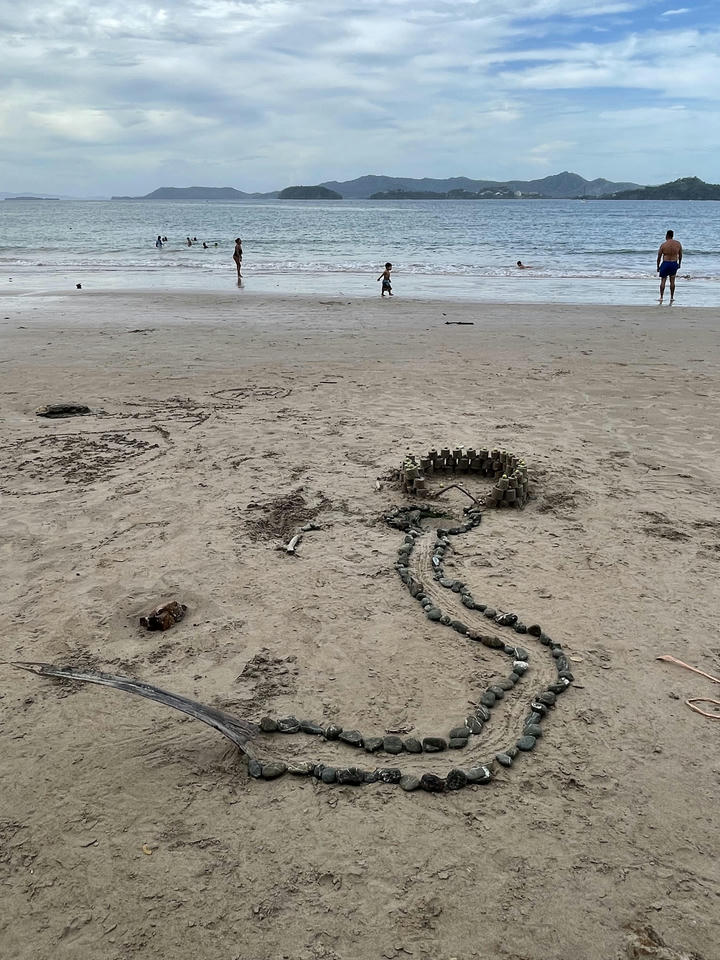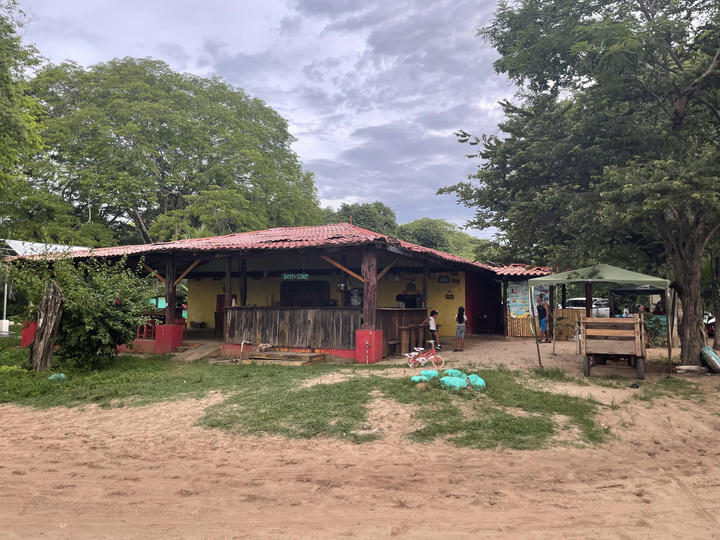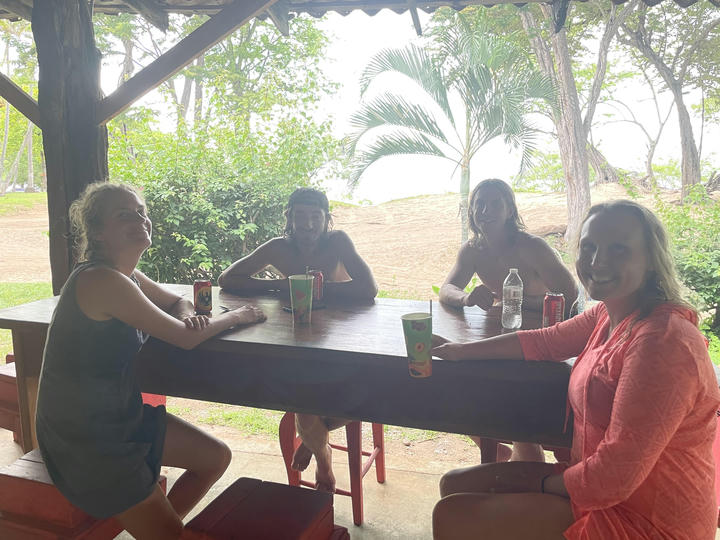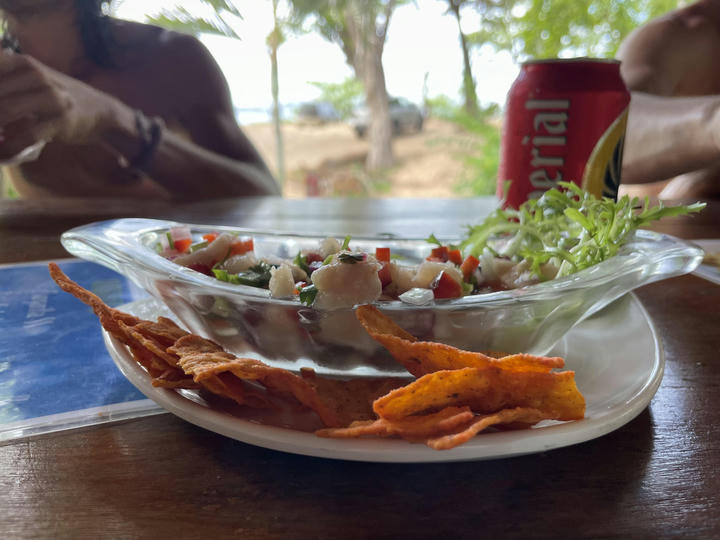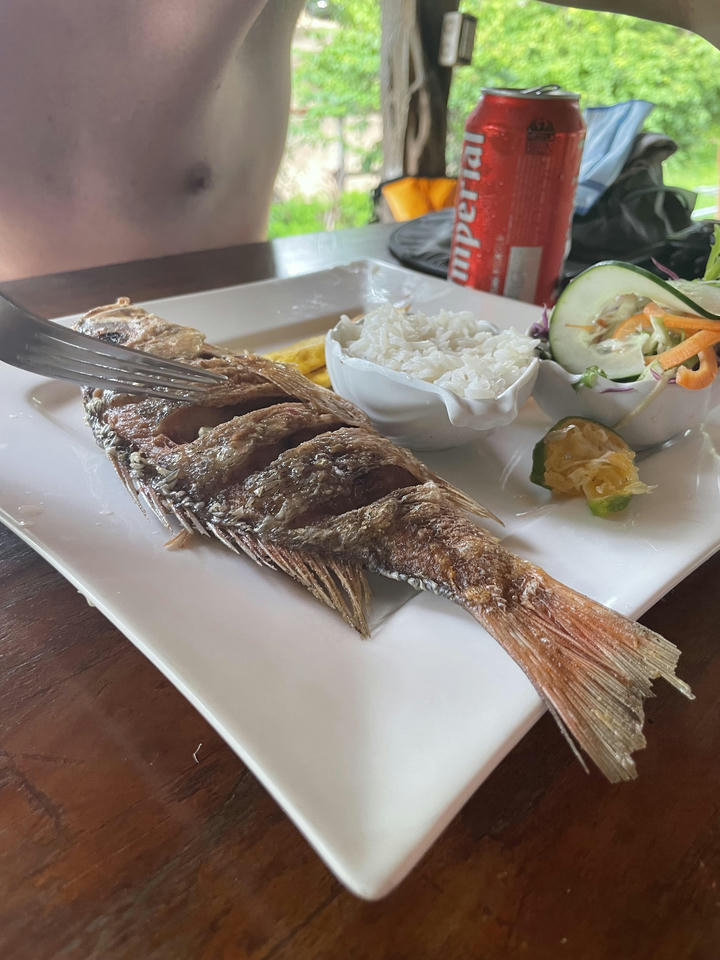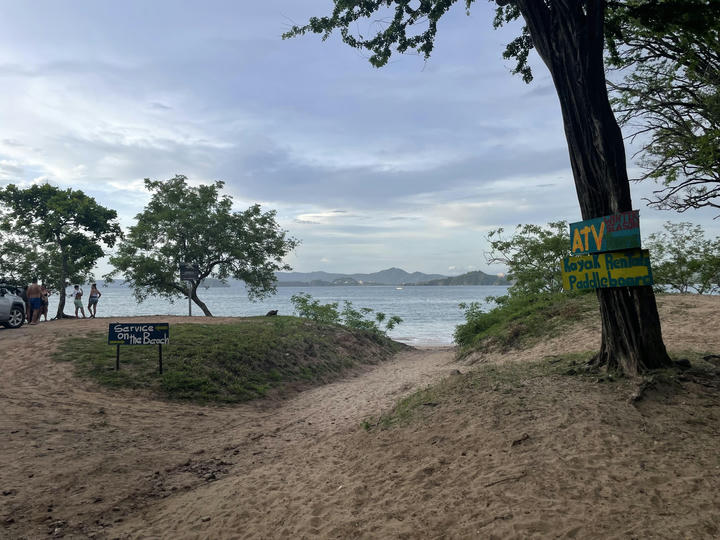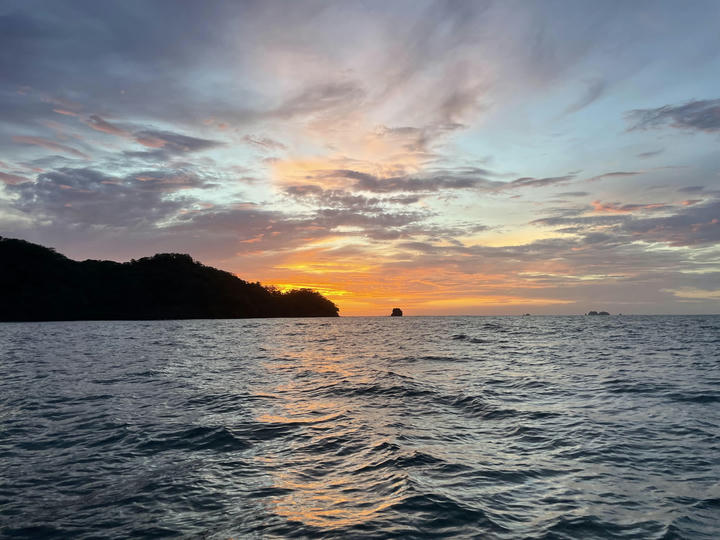 The night from the June 30th to July 1st - sailing to Samara
We rallied the boat after a not so straight forward kayak and dinghy take off. Tire-Bouchon was rolling from side to side, giving us no reason to regret not lingering around any longer. After a dip at sunset, we set up the boat for the night. The challenge was to free enough berths for people to be able to sleep underway while other people were on shift. With the five of us, on principle, we could have been able to sleep most of the night, but the berth situation forced us to still go with only two teams. We dug up our lifejackets, tethers, headlamps, prepped some pasta and snacks for the night and we were ready. We weighed anchor in the nascent night. Graeme and I would take the first shift and in 3 hours, Yalçın, Ryan and Mariya would take over. It felt somewhat weird to both Yalçın and I to be preparing for shifts but not for alone time. Where we usually were also planning for postcasts, books or blog writing, this time we would have company. It was a surprise to realize how much this was unconsciously integrated to our routine! Graeme and I started in a gentle breeze under the stars of the dark night, the perfect chance for Graeme to familiarize with Avocet the wind vane. Approaching Cabo Velas, the wind started to pick up: the point was funnelling the wind as Graeme rightfully noted. Yet, since we passed it and the wind wasn't depowering, I decided to take a reef in. A little too early though, as the wind eventually died out and we had to unreef, earning myself a nickname for the rest of the night. Yet, having practiced how to reef with Graeme proved useful as by the very end of our shift, as Yalçın had just emerged and was waking up his crew, we hit a squall. In the 5 minutes necessary for the relief to arrive, we promptly had to take a first reef, and the second one right after as the wind was quickly coming up. The lightning had started all around us during this shift, nothing too close but we weren't unhappy to transfer the responsability to the other team and get some pasta and rest. Yalçın's team got lucky enough not to have to tack their way up anymore. They took turn at hand steering before abandoning the helm to the most experienced lady onboard: Avocet the hydrovane. We then took over with Graeme for the last shift of the night. We were more tired and took turn snoozing on the bench in the cockpit, before sunset and being able to sleep some more as the others took over. The morning met us with rolly swells that, once more, got the best out of my stomach in a maneuver. In the late morning, we arrived in sight of Samara and it's breaking reef in the center of the bay. That bay is notoriously rolly, so it took us a while to find the spot we wanted to drop our hooks - there both bow and stern was a must but still insufficient to completely stop the motion. After a fruit breakfast of the ripe pineapple and mangos we had been carrying around, Yalçın dinghied our friends to shore with the minimal amount of belongings that they could take as they still had a half hour walk on the beach to reach their hotel. In contrast, we were more than ready to crash for the rest of the afternoon and spend some lazy time rocking and rolling on Tirb while listening to our favorite audiobook (Varouf) that we still hadn't finished.
To be continued...