The flat anchorage of Golfito ended up being our home for the following 3 weeks. Its predictable weather of sunny mornings and rainy afternoons became our rythme for that time, and some nights, we even saw stars in the dark sky surrounded by the green cliffs of lush vegetation. The marina tinsel lights along the dock reflecting on the calm water gave an impression of city lights or city bridge to the small town that we got little chance to explore due to my foot. The proximity to the friendly Marina Bahia Golfito gave this place more convenience than we had dared hoping for! There seemed to be absolutely no problem using the dock to land our kayak, which significantly improved access to land as we're not sure how a beach landing, as calm as it looked, would have end up. The marina restaurant was only a short walk away (which became my "training" walk when I started to put some weight on the foot again) and despite being a little pricey, the nice outdoor space with view on the bay was a welcome change in scenery and a perfect spot for me to wait as Yalçın was running errands in the town. But above all else, we will very likely remember Golfito for the friends we met there or made there.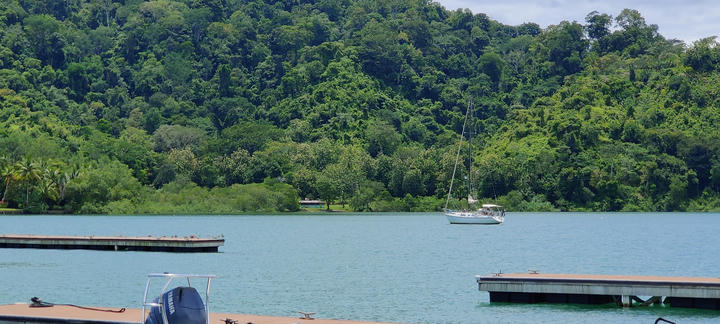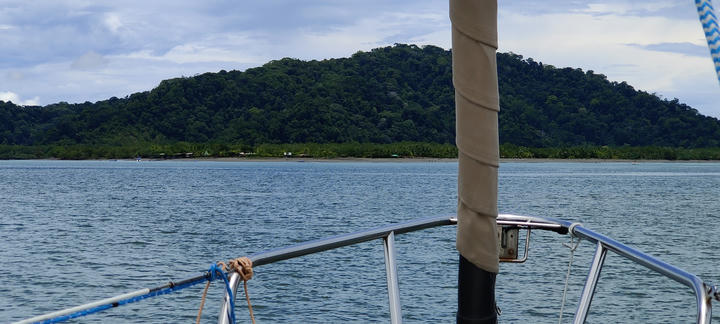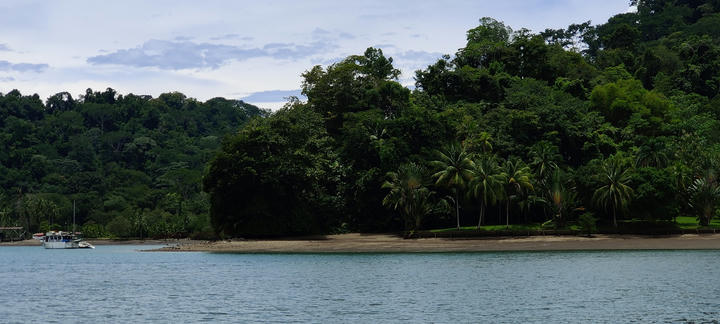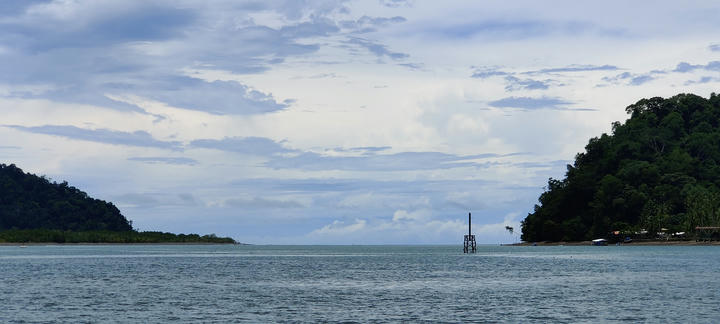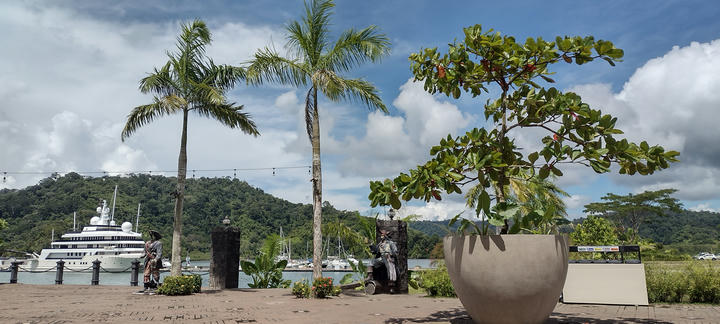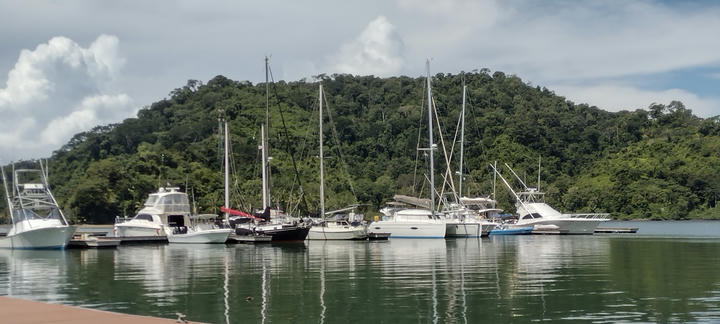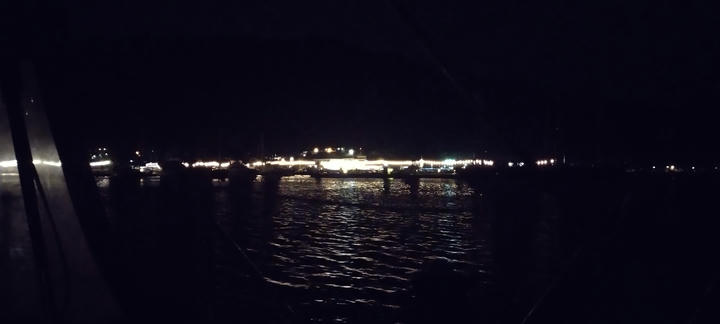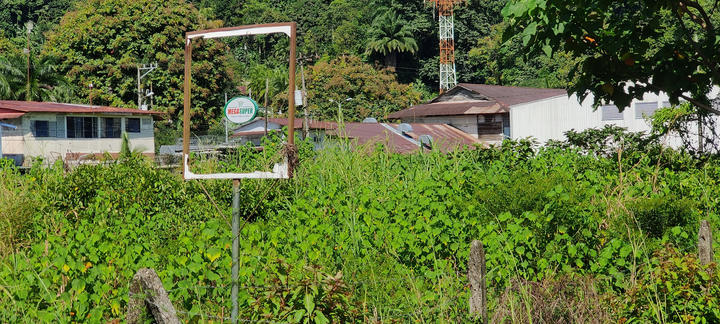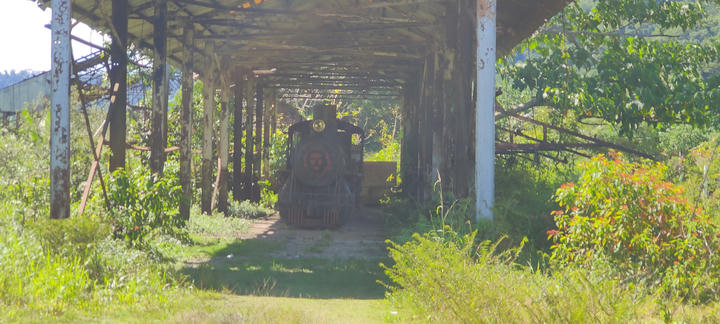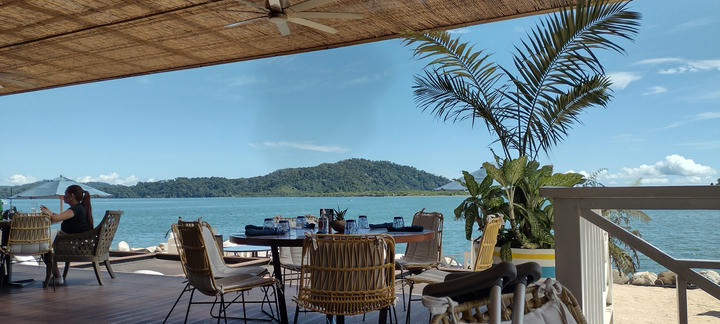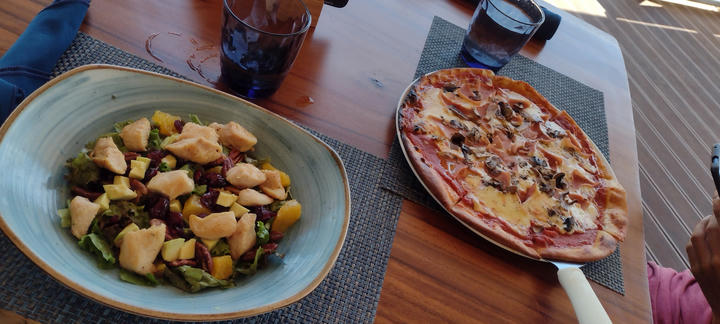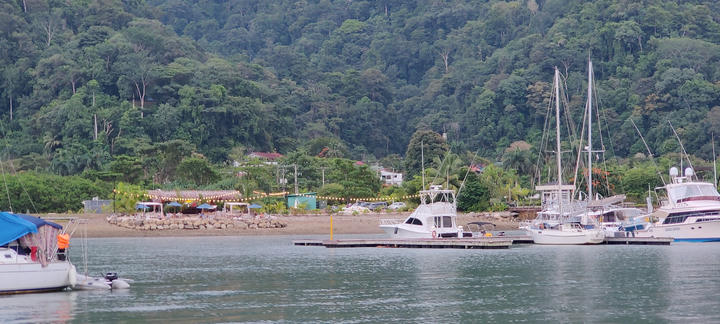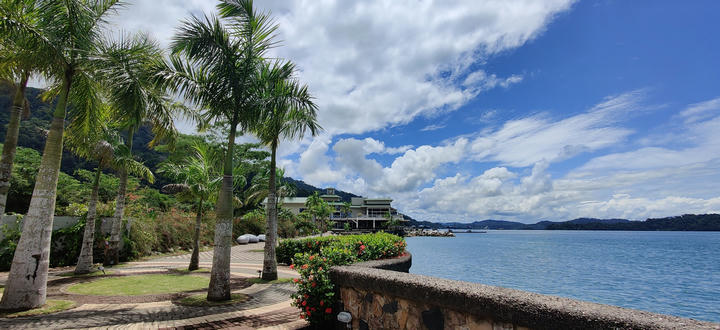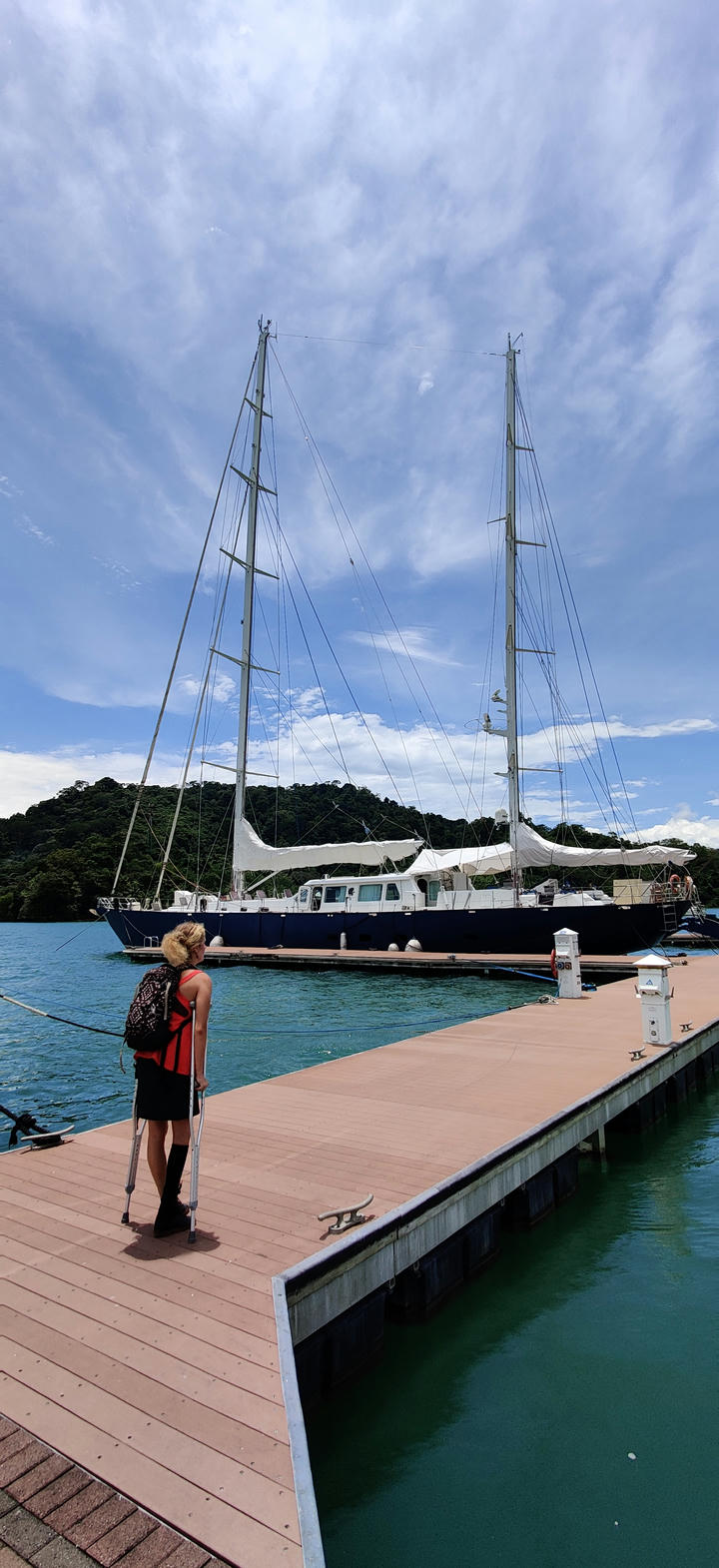 When we arrived, we were the fourth boat of the anchorage and the first week felt like our social week, the first pretty much since our friends had left two months ago. The day after our arrival, we caught up with our friends, Hillary and Liam from Wild Rye, the couple of young cruisers we'd met in the Gulf of Nicoya. They were checking out that day, so we had arrived right in time to share a beer with them in the afternoon on the day before their departure. For the second time, we exchanged our cruising and life stories and, once again, hoped we would be able to catch up with them and spend more time in the same place in the future, likely in Panama!
We then met Fatih Kaptan, finally in person! Yalçın's Dad who has been following his voyage on YouTube, but also Hillary and Liam had contacted us thrilled at the coincidence of meeting another Turkish boat in Golfito. Yalçın hoisted our Turkish and French flags on the first day to announce us which earned us a surprised story on Fatih's Instagram. Yalçın went over Blue Horizon to introduce himself in the evening. He had contacted Fatih, but it was a while ago, I'm not even sure we were in Costa Rica at the time. It clicked, Fatih remembered and an invitation for a dinner on Tire-Bouchon the next day was cast. Yalçın cooked nice Turkish veggies and barbecue and Tirb and I got to meet the former professional diver. With greatly appreciated efforts to share his sailing and diving stories in English for the both of us, we spent a delightful evening, drinking Tirb cocktail and learning to know one another. Fatih also brought homemade delicious yogurt and he would later provide us with a starter for us to make our own with the proper mix of microorganisms from Turkey, to make proper Turkish yogurt. He even gave us a dry starter back up when we went over Blue Horizon for diner. The delicious fasulye and pasta cooked by our host and the apple crumble I had brought over as a complement were a delight, as well as another evening in good company. Over our time here, Fatih became like family, a close soul on a close boat, who dinghied us to his favorite place at the weekend - Playa Cacao a little bar by the entrance of Gulfo Dulce with a nice atmosphere, with whom to share news of the daily life as we kayak by. He also featured us in his YouTube channel which motivated us to start editing all that footage Yalçın had accumulated since Mexico! Perfect job for the sakat!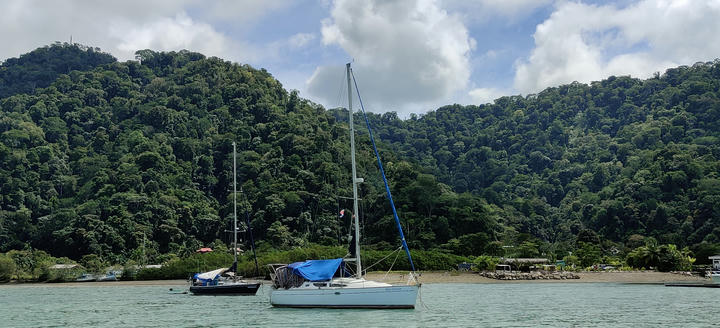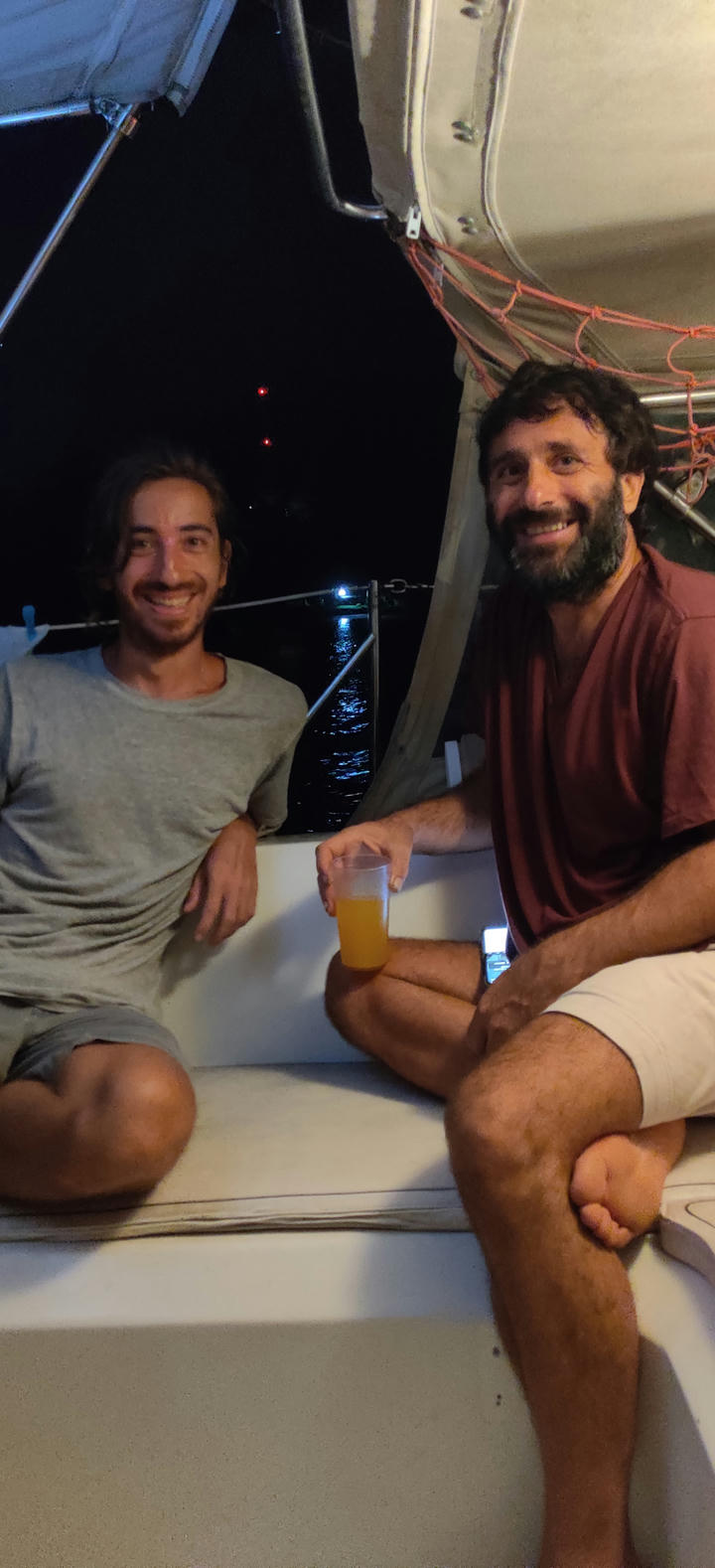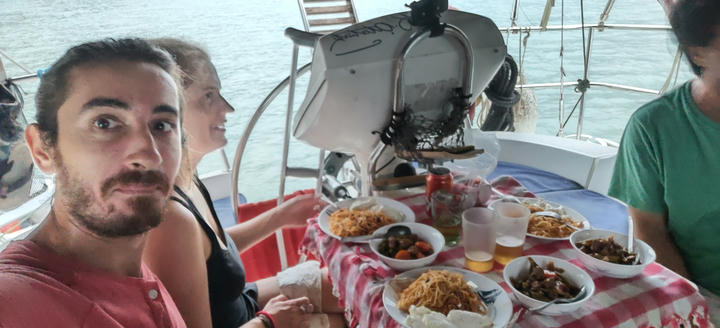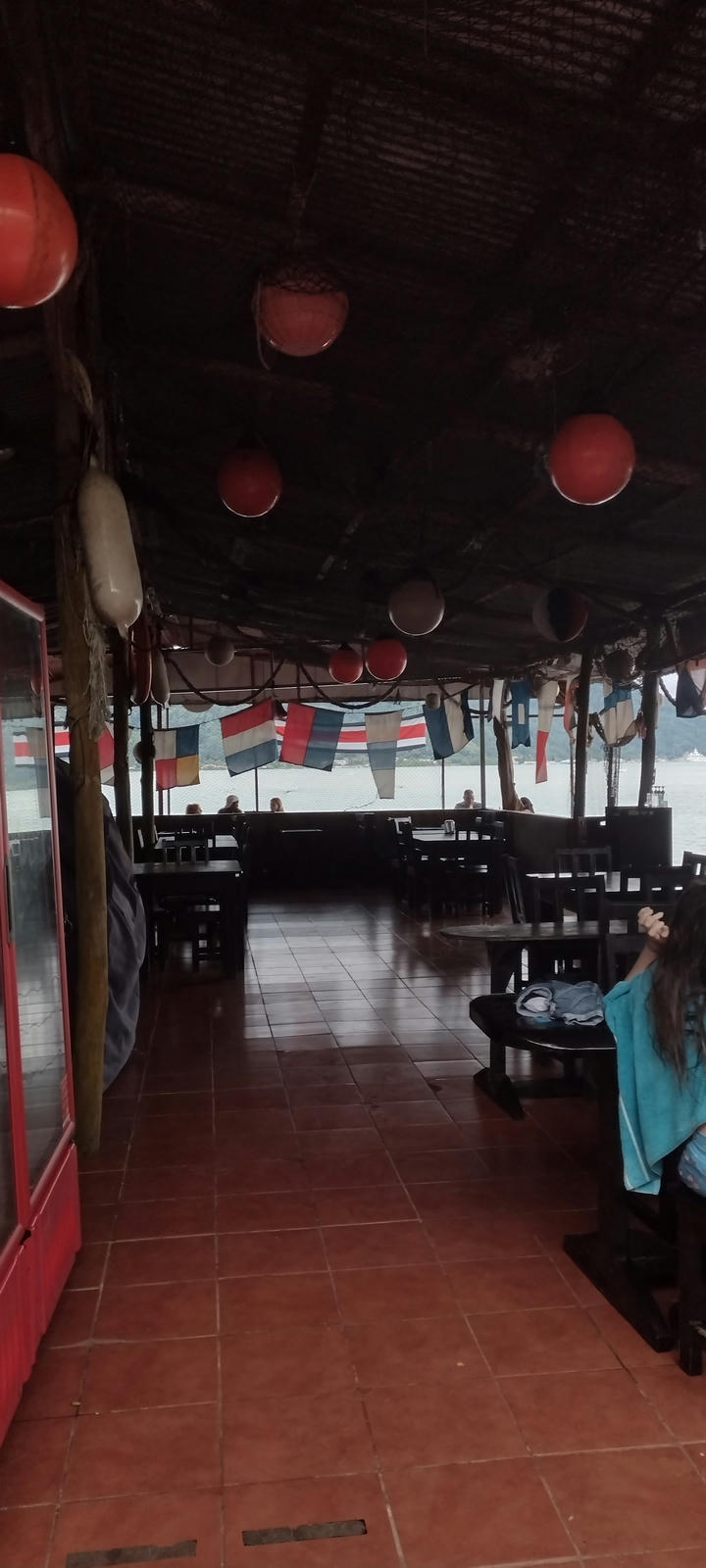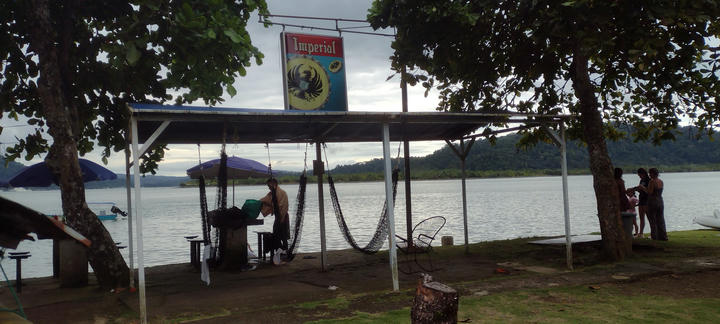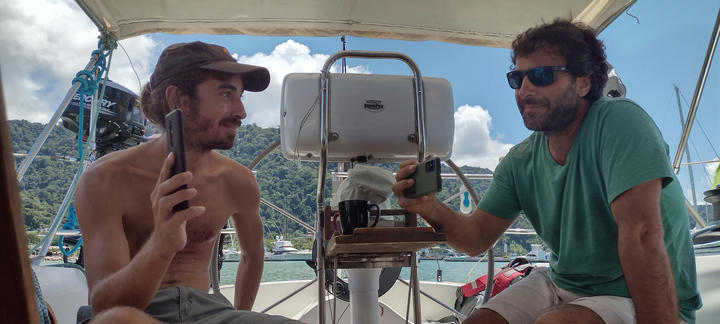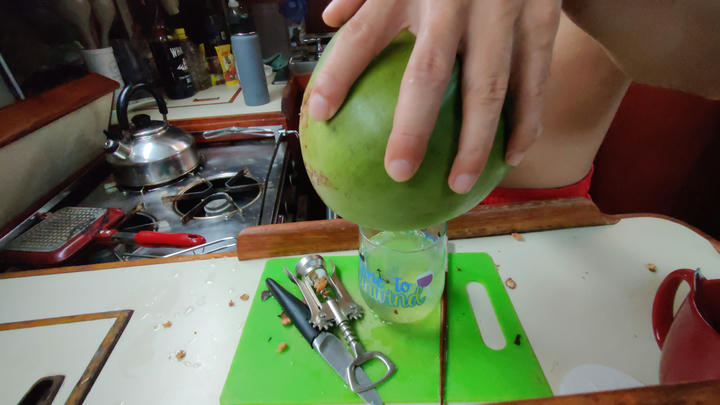 On our first weekend in Golfito, we had the appointment with the surgeon in San Jose, a mission. We rented a car for 3 days: a day to go there, a day for the medical appointments and a day to come back, hopefully before the rain. The first night in San Jose was the occasion to catch up with our friend Max from Puntarenas (who had been so sweet when I got injured), did I tell you it was our social week? It was great to make up for missing the chance to do so when he was in Puntarenas. It was lovely to have proper time to chat about boats, and anchorages in Costa Rica and cruising and Costa Rica in general. I was so glad this dinner, which almost didn't happened as Max could have been in Puntarenas, ended up working out! The next day, the last doctor appointment went okay despite realizing that the doc had likely overstated the fact that I would be able to walk from now on. A physical therapist appointment made my expectations a little more realistic and, with the rain, we were ready to leave the Costa Rican capital, for Quepos, where we had booked a cute hotel in hope of visiting the famous Manual Antonio National Park the next day. As it now seemed obvious that without being able to walk the park visit was not going to happen, we stopped along the way for some ice cream and later some Chinese food to savor at the hotel, before passing out. When we made it back to Golfito the next day, Tire-Bouchon was patiently waiting for our return, a relief as it was our first time leaving him at anchor while going away for so long. After a short trip to the supermarket to wait the rain out, we inflated the kayak that we had in the car trunk the whole time, under the bemused gaze of marina staff and bypassers, and over the course of two trips, Yalçın shuttled our things (including me) back to the boat after returning the car.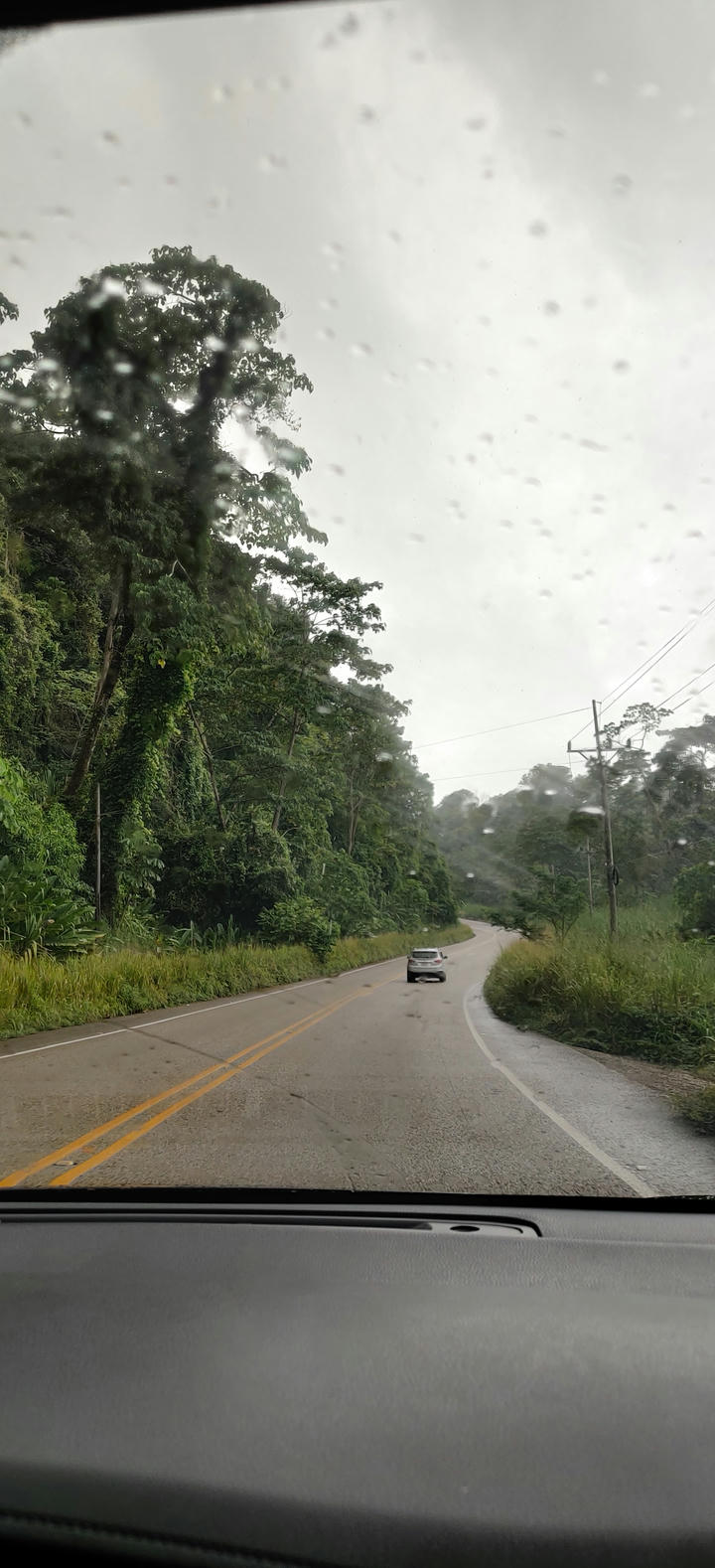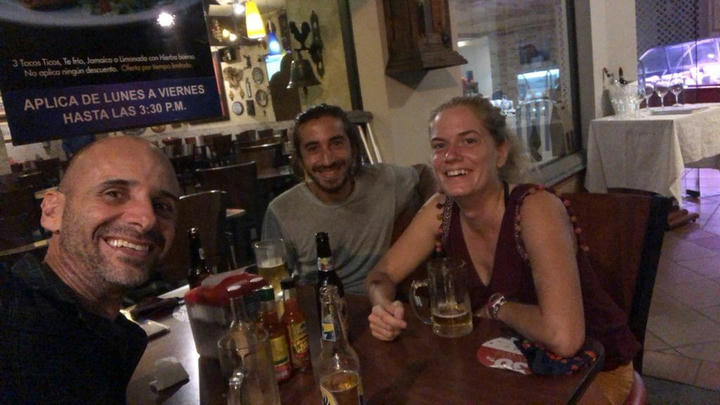 We were delighted to see that the fourth boat (now third boat technically since Wild Rye had left), a blue Jeannot, was still here! Paul, his Swiss skipper, and first mate Luca, his cute dog, were checked out from Costa Rica as well and bound for El Salvador. They could have left at any moment but were waiting for the proper weather window to start the week long crossing to go up the coast. We got the chance to share a beer with the crew on their last night in the country and we got to learn the story of this boat which started in Spain, weathered a storm single handed with a broken autopilot on his first passage, and all the non-conventional locations Paul had taken his ship too: Suriname, Guyana, a very long stay in Cape Verde... Now sailor, he seemed to have had many lives before, once accountant for a swiss airline company in Africa, later cow boy in Canada, he even gave me useful tendon advice from his time as blacksmith-farrier. The conversation left us in awe and above all happy it had happened at all. Our path would probably not cross Paul's again but the encounter will stick to our memory I'm sure, and that's part of the poesy of cruising...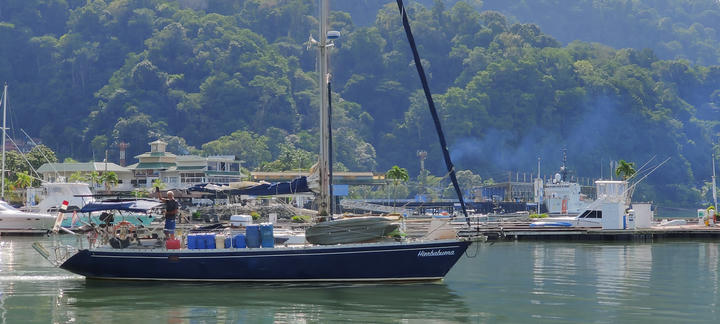 The pace slowed down a little after Paul left and we returned to a simple life driven by groceries, short walks on the waterfront to go to the restaurant, outtings with Fatih and the customary boat work. Yalçın started the long going battle with the mildew that invades our wood due to the humid climate that we are experiencing (especially from the close boat time in Puntarenas we suspect) using vinegar and tea tree oil, and even revarnishing the wood altogether in the bathroom to see if that would make the situation any matter on the long run. We also discovered a solid leak on one of our dorade box at the occasion of one of the tropical rains which, on the upside, allowed us to collect water for showers on the deck and hand laundry. The first fix we attempted didn't end up being successful but made us take the tools back out, which would turn out handy to take care of the Monsieur Engine when time would come to check out of Costa Rica...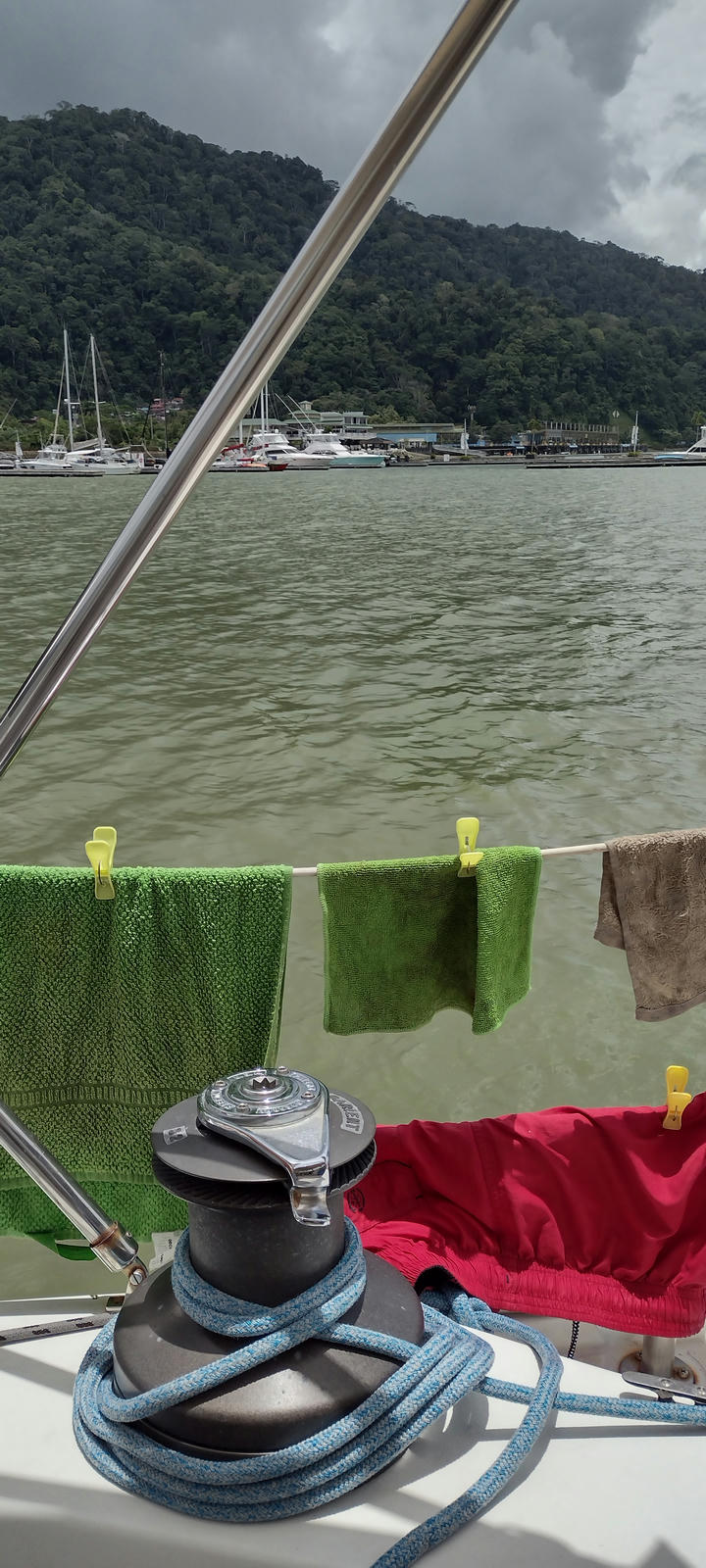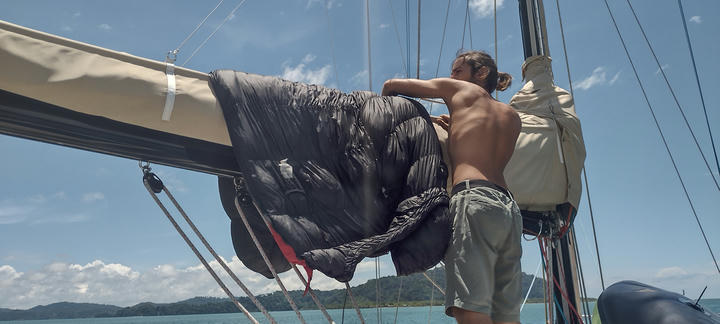 From August, 31st to September 22nd
The nice cover picture is a gift from Fatih Kaptan