After arriving to Stone island, we had two more nights to wait until the weather window we had chosen to cross the 85 nm to Isla Isabel. Perfect for spending one more day in Old Town Mazatlan in a little bit more relaxed setting now that we were done with boat work.
The roll of the anchorage was taking its toll on our flat water-accustomed bellies and it took us a while to get ready to go to town, inflate the dinghy and row for the beach. Once there, we would have to find a safe spot to leave the dinghy, find the way to the taxi pangas that sail back and forth between the town and Stone island across the industrial port channel and, finally, walk or take a bus to the Old Town: quite a commute!!
But first things first, we had to land the dinghy on the beach and the ocean surfs breaking on the beach were no joke. It meant we had to try ourselves at the art of timing the landing in order not to flip the dinghy! We were prepared: our belongings were packed in watertight bags (although when your computer is in there, nothing feels watertight enough) and we had left Freddie-the-outboard on Tire-Bouchon. Long story short: it would be a bummer to flip, but we were prepared for the worst. Timing the landing is a matter of picking the spot on the beach that has the least amount of breakers, watching the surf cycles, and choosing a time when the breakers are small and when there is the longest delay between them. Then, when you think these conditions are met, you have to commit to go without looking back. This is what we tried to do: we probed a couple of spots along the beach and picked the one that seemed to have the smallest breakers, we looked at the cycles, spotted a slow down in the wave frequency and went for it. Being new to the exercise though, we weren't synchronized enough to commit at the same time and we didn't start paddling right away, loosing some precious time before the next breaker. Sure enough, we saw the next wave build up behind the stern of Bouchon. It wasn't huge but it was there! We kept our focus, kept paddling with the objective of outpacing the wave. An illusion of course, as it soon broke on us. Bouchon wasn't perfectly stern to it, so the port side of the dinghy dipped in, just enough to eject Yalçın halfway overboard, one leg out on the sand and one foot still in Bouchon. The wave passed. In his fall, Yalçın had stabilized us and I had been able to hold on and flatten the boat. We were mostly afloat. We both jumped out and run to the beach with the dinghy, a large smile our faces, charged with adrenaline. We had made it!! Do you think the computers are okay?
Next: find a spot to leave the dinghy for the day! But first, our Bouchon had filled with sea water. We were trying to empty it, when a smiling guy with silver teeth came to us, visibly trying to help us lift the boat. He looked very enthusiastic but wasn't very delicate in pushing the boat up to drain the water. Our inflatable dinghy is quite fragile, so our first reflex was to tell him to stop and since he wasn't really doing so, I started to talk with him to see what he wanted, hoping to distract him. His name was Miguel and he was renting and selling boards to aspiring long boarders who had come to the beach without their equipment. Did we speak Spanish? Un poquito! He asked if the dinghy was rented or if it was ours. When I said ours, he showed us a restaurant to go for lunch. I explained that we were planning to go to "Vechio Mazatlan", which is more Italian than Spanish now that I looked into it, but the communication went through and he immediately showed us a spot to leave Bouchon and started to move the boat for us. Wait wait wait, is it safe to leave it there? No worries, he would keep an eye on it. But at what time did he usually leave the beach? 5 in the afternoon, we had to come back before 5. Alright alright. I tried to communicate that we might be back after that, but I don't think it went through. Well, finding a good spot to leave the dinghy seemed to be checked off the task list. We chatted with out savior a little more, he seemed enthusiastic at my little Spanish, was surprised I was French and not Swiss and like most was impressed that Yalçın came from Turkey: Wow, Turquìa! We thanked Miguel warmly and as he was already going back to his business, we awkwardly offered him some cash for his service. In our experience, having someone look after your dinghy wasn't usually free and we didn't want to feel bad if we came back after he left. But Miguel and his big silvery smile refused altogether, it seemed as if he was doing it as a service to a friend. When I told you that Mazatlecos are super friendly! We felt happy but stupid to have offered money. We waved ample goodbyes and Miguel went back to his longboards.
Walking towards the side of the beach to find our panga ride to town, we pulled out our masks before realizing that Yalçın's was not in his bag. I had my scarf and my mask, we could work something out, but it'd certainly be inconvenient. Yalçın suggested we'd check one of the beach shop: they were selling all sorts of cloth, swimming suits and bags, so why not cobrebocas (literally, mouth covers)? We were prompted to wait for a moment as one of the vendor went to get some for. The lady came back with a choice of masks with a variety of patterns, including black ones with traditional Mexican embroidery patterns that I'd been eyeing for a while. If Yalçın had no preference, I could definitely choose one for me and lend him for the day. But he had also found one that he liked. We negotiated a small cut for the two but necessity wasn't putting us in a good spot for negotiations, especially in such a touristic shop. With our newly acquired masks on (out of their protection bags), we set to find out the pangas and head to town.
Following the sand path we had seen people arrive from, we easily found our way to the panga dock. The little ticket store looked closed, but pangas seemed to still be going back and forth nonetheless and one was disembarking its load of passengers on the dock. We promptly went down and readily embarked after carefully asking for the price. 15 pesos. Neill and Jeanette had said 10 but it would do, and I'm glad that I didn't set myself up for an embarrassing negotiation as it was a fixed price that we payed at the ticket store which was opened on the other side. We discovered the old industrial port from the water: the large Baja ferry, the little spot in front of Club Nautico with a few sailboats at anchor, and the narrow fairway where large and small boats were coming and going. We were indeed better off in Stone island it looked like. But the ride was cool and we had the panga all to ourselves as people were going from the town to the beach at that time of the day. We asked for the time of the last ride back, disembarked, paid our due and we were off. We figured the Old Town was only a short distance away, so we started walking with this mix of excitement and urge for exploration which you get when reaching a place by sea!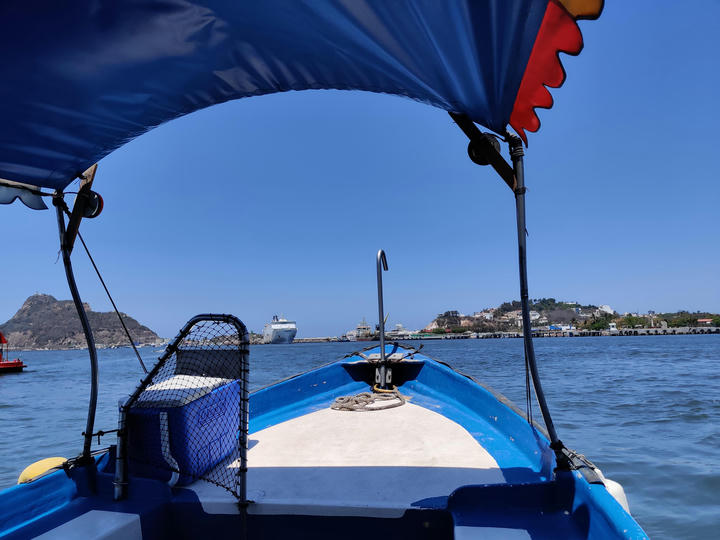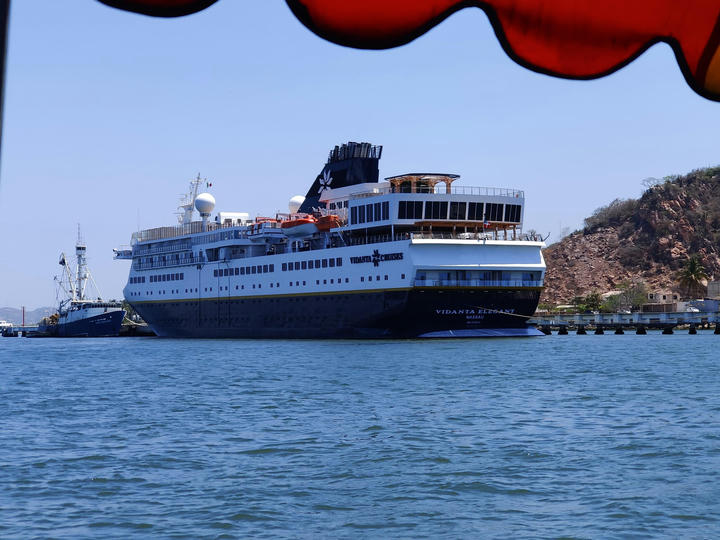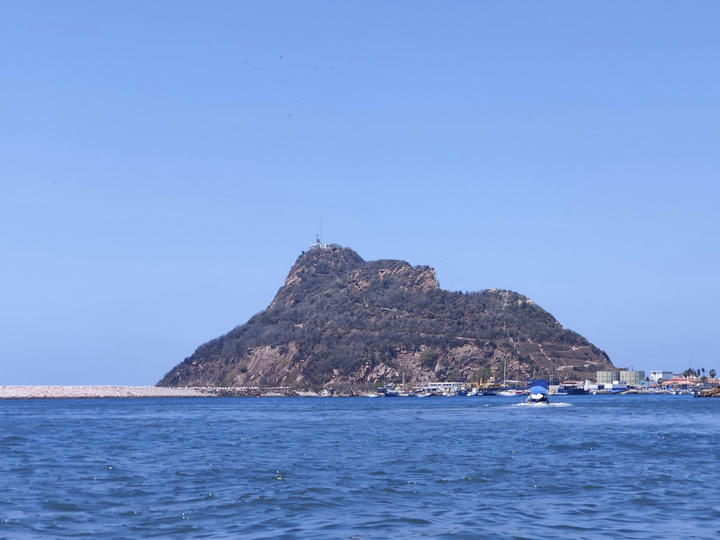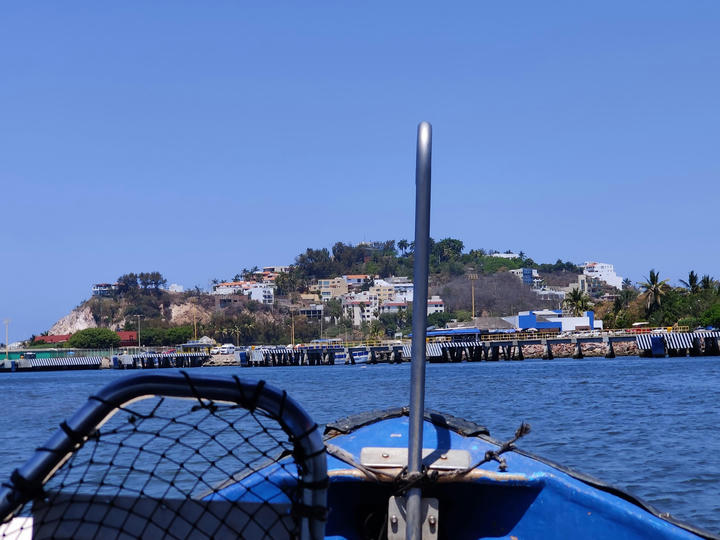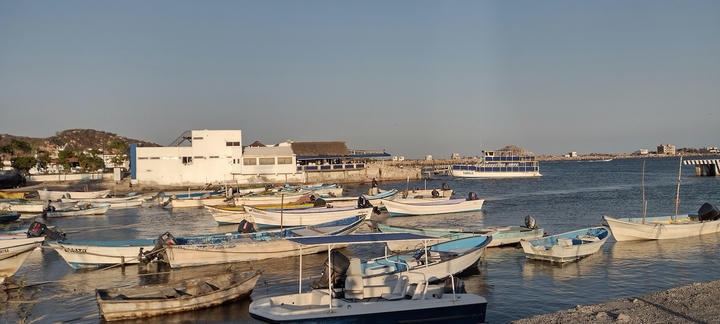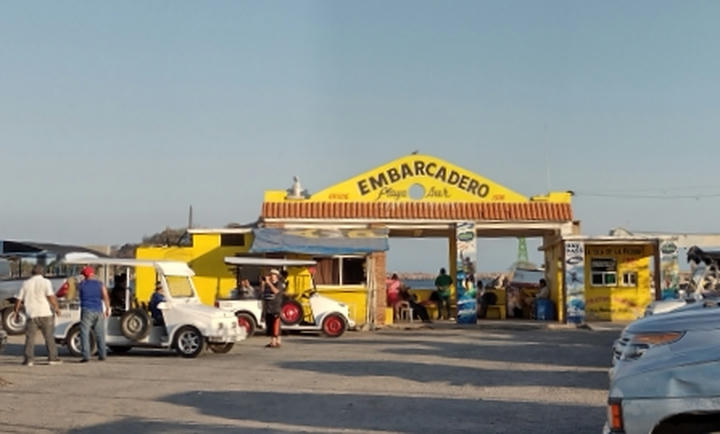 We reached the Old Town uneventfully, found a restaurant with outdoor sitting on one of the cool plazas and then a lovely coffee shop which had a rooftop and good internet to spend our afternoon. The margin we had allocated ourselves to walk back and get the last panga ride in time, got literally eaten up by an ice cream stop and, later down the road, a stop at the "Euro bakery" which sold chocolatines, croissants and baguettes at an affordable price (a blast after Berkeley!) and would make for a lovely breakfast the next day. Luckily, we got to the dock in time, rode our panga back and reassured the thoughtful driver that we wouldn't need a ride back (we were still commuting the wrong way compared to the crowds). It was way past 5 when we reached the beach and Miguel was long gone. But Bouchon was waiting for us slightly higher on the beach, tied to the trunk of the wooden umbrellas. Nice! We even got to meet the thoughtful person who had tied it up to make sure the rising tide wouldn't carry it away. Miguel had told him we were supposed to come before 5 but hadn't showed up yet. We thanked everyone, including the kid who casually came to sit on the floats while we were already looking at our next challenge: paddling past the breakers to reach Tire-Bouchon, who luckily, was also waiting for us at the tip of his anchor chain!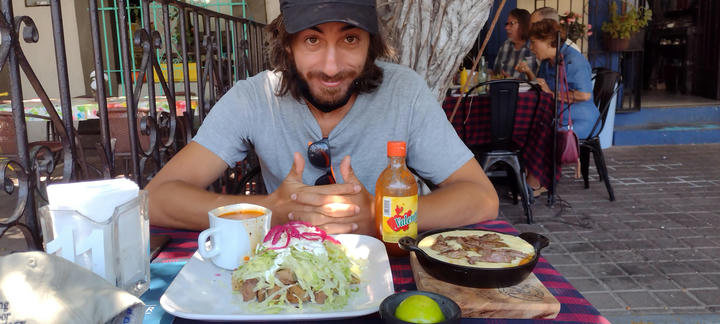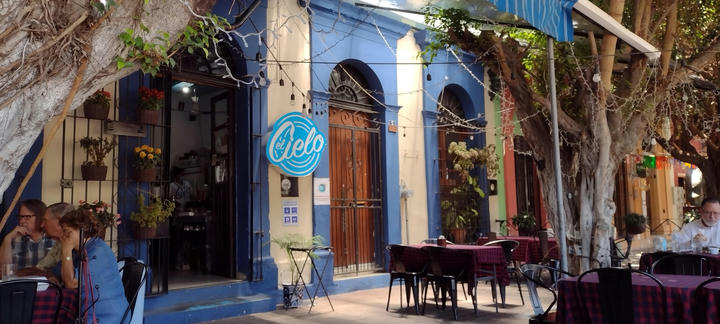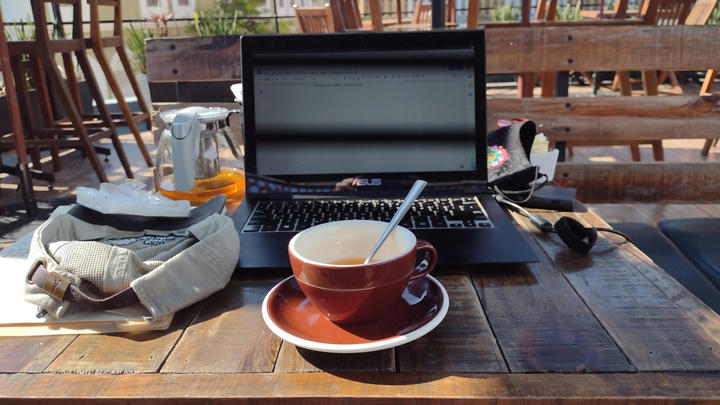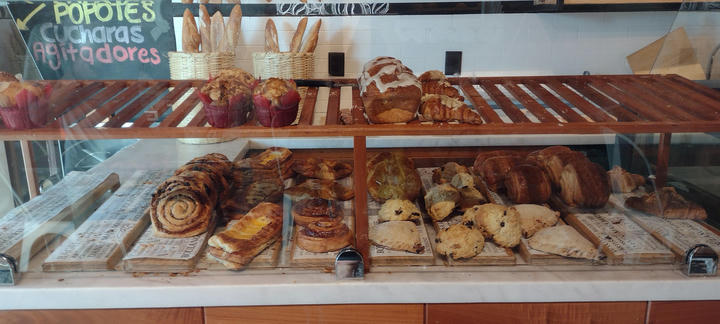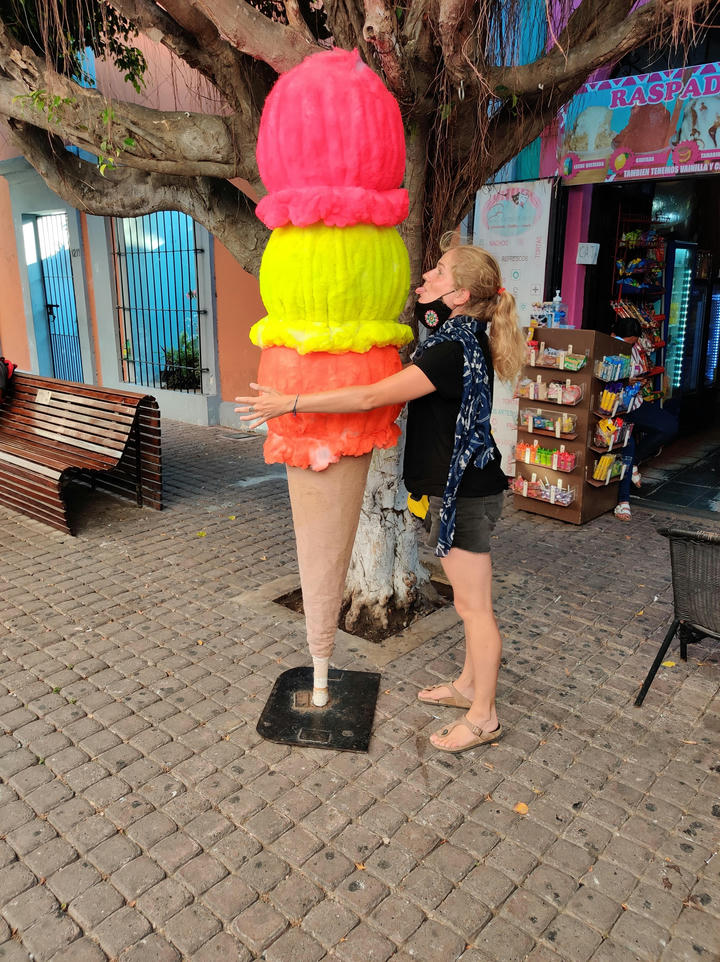 Launching from the beach works along the same lines at the landing: pick a small breaker spot, wait for small nicely spaced out surfs, commit and go! The swell was up as we had walked on the beach, it had seemed more manageable when we were discussing about the best strategy, but now that we were ready to go seemed a little impressive again. We were in position on the beach, waiting for a cycle of smaller waves. That last one didn't seem that bad: let's let one more pass and then go, go, go! This time, the sync was good: run with the dinghy, jump in and paddle paddle paddle! Yet, something may have been wrong in our timing as a wave was forming in front of us. Turning back to surf it from the stern crossed my mind for a second, but, even if it had been a good idea (which wasn't really a certainty given our morning experience), I didn't manage to communicate it properly on the spot. Moreover, the sight of the boat flipping beam to the wave was enough to convince me that the only path was forward, we had to paddle into this wave head (or more precisely bow) first. We paddled ("as if we were paid for it" if you have the reference :p), the bow rose, we stood up and intuitively pushed it down and we were passed. I'm pretty sure I heard cheering from the beach, but we didn't look back. Laughing uncontrollably and still paddling frenetically, we were stoked to have made it: We had stood up to the wave and managed to take off!!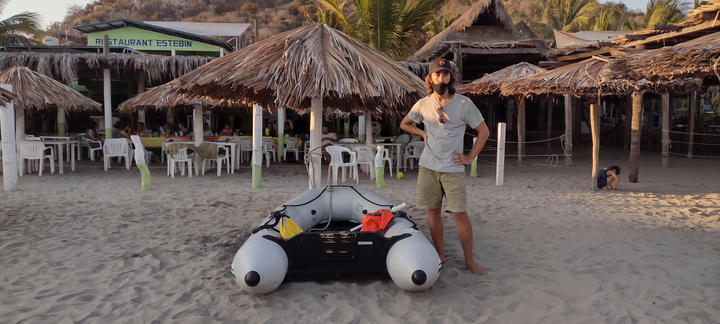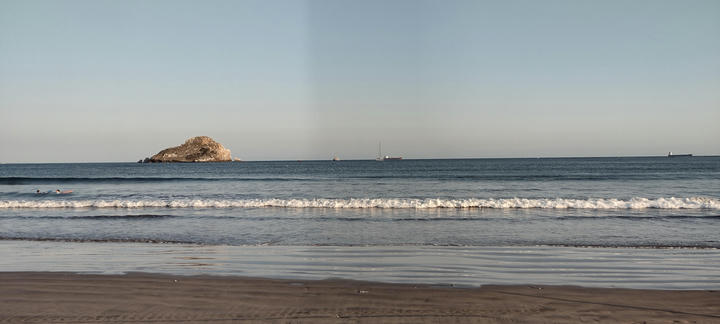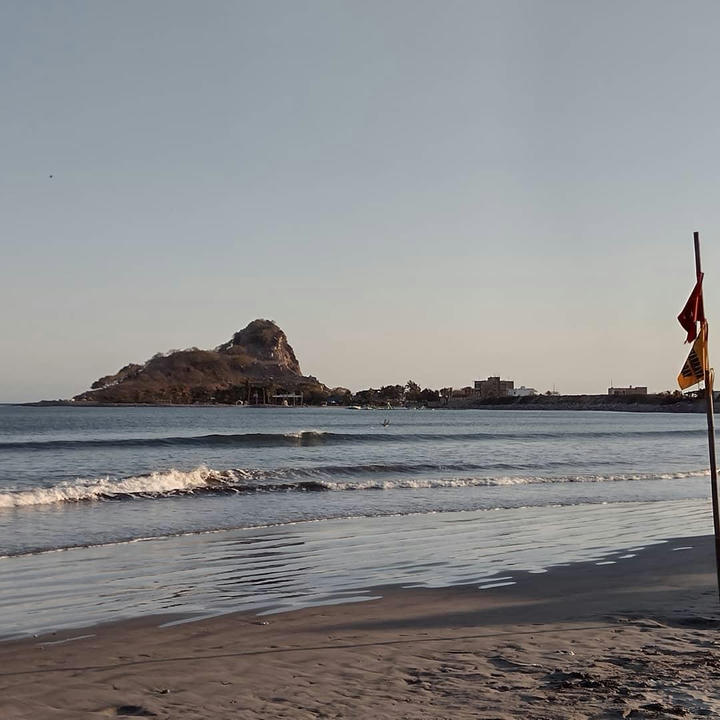 The rest of the ride was joyful. We took advantage of the fact of having the dinghy out to set a stern anchor that would orient our boat into the swell and make our night more comfortable. That became an adventure in itself too, with the stern line tangling around the rudder shaft at first, then Yalçın stand-up-paddle-boarding the dinghy upwind and finally using the main engine to reset the front anchor to correct an angle that was a little off, but all in all, it worked out as well. We were just learning the ins and outs of our new life at anchor in the swell of the Pacific ocean: dinghy beach landing and bow and stern anchoring would likely be part of our routine in the weeks to come.
Wednesday, May 5th